The story written by Ivaylo Penchev, Bojan Petrov and Vesel Tzankov follows the amusing experiences of several vacationers, who spend their holidays in a family hotel at the Black Sea. Together they go through comic situations up to the moment when a former rowing champion dies of a heart attack. Finding themselves on a deserted island and left to the mercy of fate, they will experience fear, hunger, thirst, love and infidelity.
The film stars popular actors Aneta Sotirova, Kitodar Todorov, Vasil Banov, Philip Avramov, Anton Raditchev, Malin Krastev and Nikolay Urumov.
"The film focuses on entertainment, but in an intelligent way. The main characters reveal a humorous, yet somehow true picture of today's Bulgaria. It is a genre film with laughter and gentleness," Ivaylo Penchev told FNE.
It was produced by Urban Media with support of nearly 600,000 EUR from the Bulgarian National Film Center. Shooting took place mostly in the Sinemoretz Black Sea village and in Sofia in May-June 2015. "Although it was summer, the nights were extremely cold. In addition, while shooting in front of hotels and in order not to disturb the real tourists, the crew was obliged to whisper," Penchev said.
Theatrical distribution will start on 7 October 2016.
Penchev graduated in cinematography at the Russian State University of Cinematography - VGIK in 1982. His debut feature Tough Old Men was produced by the Bulgarian National Television in 2011.

Production Information:
Urban Media
51-55, Krum Popov Str.
1421 Sofia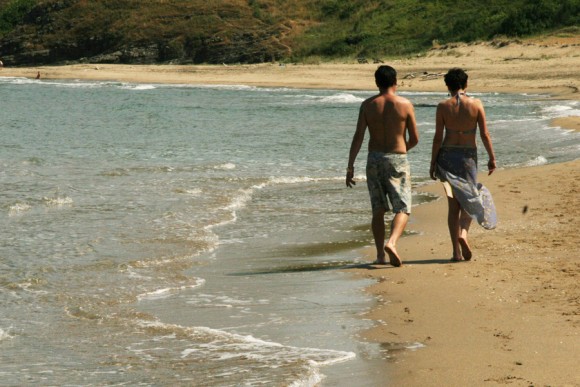 Bulgaria
Phone: + 3592 963 3131
+ 359888 616 601
This email address is being protected from spambots. You need JavaScript enabled to view it.
Credits:
Director: Ivaylo  Penchev
Scriptwriters: Ivaylo Penchev, Bojan Petrov, Vesel Tzankov
DoP: Hristo Bakalov
Production Designer: Miroslav Marinov
Costumes Designer: Boriana Semerdjieva
Composer: Georgy Strezov
Sound Design and Mix: Momchil Bojkov
Editor: Stefan Boyadjiev
Cast: Aneta Sotirova, Kitodar Todorov, Stanimir Gumov, Milena Avramova, Sofia Bobcheva, Ivaylo Dragiev, Vasil Banov, Plamena Getova, Raisa Polyakova, Philip Avramov, Anton Raditchev, Gerasim Georgiev - Gero, Malin Krastev, Nikolay Urumov, Georgi Mamalev