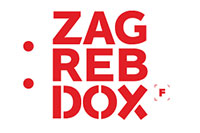 A total of 104 documentaries will screen in 16 programmes including popular official programmes Biographical Dox, Music Globe, Happy Dox, Controversial Dox, Dox Masters, The State of Things, Teen Dox or ADU Dox, but also in special programmes such as Slow Dox or the Celebrity programme.
A retrospective will be dedicated to Sergei Loznitsa, while during the Author's evening, a selection of films by award-winning director Nebojsa Slijepcevic will be shown.
Twelve projects from 12 countries were selected for ZagrebDox Pro. In addition to the one-day pitching forum, two masterclasses will be held by Želimir Žilnik and Sergei Loznitsa, as well as a case study by the film publisher Mirjam Wiekenkamp (NOISE Film PR).
ZagrebDox is held with the support of the City of Zagreb and the Croatian Audiovisual Centre, while ZagrebDox Pro is supported by the Creative Europe - MEDIA sub-programme.
International Competition:
Minding the Gap (USA)
Directed by Bing Liu
Black Sheep (UK)
Directed by Ed Perkins
On Her Shoulders (USA)
Directed by Alexandria Bombach
Still Recording (Lebanon, Syria, France, Qatar, Germany)
Directed by Ghiath Ayoub and Saeed Al Batal
Summa (Belarus)
Directed by Andrei Kutsile
Now Something is Slowly Changing (the Netherlands)
Directed by Menna Laura Meijer
Hale County This Morning, This Evening (USA)
Directed by RaMella Rossa
Island of the Hungry Ghosts (Germany, UK, Australia)
Directed by Gabrielle Brady
To the Four Winds (France)
Directed by Michel Toesca
Three Identical Strangers (UK)
Directed by Tim Wardle
The Raft (Sweden, Denmark, USA, Germany)
Directed by Marcus Lindeen
That Night We Fell (Denmark)
Directed by Cille Hannibal
My Unknown Soldier (Czech Republic, Latvia, Slovakia)
Directed by Anna Kryvenko
Bruce Lee and the Outlaw (Czech Republic, the Netherlands)
Directed by Joost Vandebrug
Symphony of the Ursus Factory (Poland)
Directed by Jaśmina Wójcik
Up the Mountain (China)
Directed by Yang Zhang
I Have Sinned a Rapturous Sin (Iran, UK)
Directed by Maryam Tafakory
A Life of Pleasure (Estonia, Peru)
Directed by Marte Pulk
All Inclusive (Switzerland)
Directed by Corine Schwingruber Ilić