The programming is determined by a Programme Board consisting of six personalities from the Slovak film industry: Marek Leščák, ArtD. (Slovak Film and Television Academy), Silvia Dubecká (Association of Slovak Film Clubs), Ivana Petríková (IFF Art Film Fest), Richard Šteinhübel (National Film Archive, NFA SFI), Katarína Tomková (National Cinematographic Centre, NKC SFI) and Zita Hosszúová (manager of Cinema Lumière).
Zita Hosszúová, who holds a Bachelor of Arts in Film History &Theory at Film & TV Faculty of the Academy of Bratislava, is managing Cinema Lumière since 2011. Before that she edited the website of the Slovak Film Institute and was programme and shipping coordinator for Bratislava IFF. Since 2008 she has also been head of production at Art Film Fest, Trenčianske Teplice, Trenčin.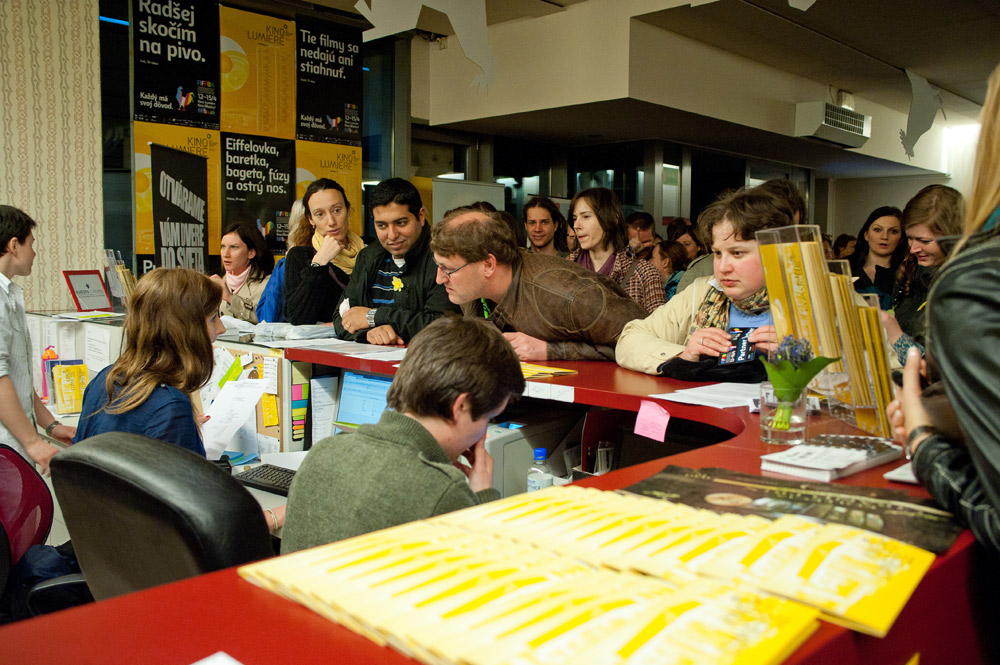 FNE: What is the biggest challenge of running a cinema such as yours?
Zita Hosszúová: Cinema Lumière, located in the centre of Bratislava, is the former Film Club (established in 1976). It is owned by the Slovak Republic and it has been under the administration of the Slovak Film Institute since 1991. The premises were leased from the outset, and the SFI used the premises to operate the archive cinema Filmothèque. The situation changed in September 2011, when SFI started to operate the cinema directly. Cinema Lumière has nowadays two screens (87 and 209 seats) and our biggest challenge is to prove that it is possible to run art house cinemas in Bratislava, that Bratislava is interested not only in cinema as entertainment but also in cinema as an art.
What kind of films do you prefer to screen and why?
We are focused on out-of-mainstream production: European and worldwide art house films, national films as well as archive titles taking advantages of the Slovak Film Institute being a member of FIAF and having an archive screen Filmothèque. Cinema Lumière also takes advantage of the fact that there was a gap on the market as our region was missing serious alternatives to multiplexes.
The cinema is home to many festivals, events and film weeks. Why are these important and what do they achieve?
We offer our screens to very different kinds of festivals. We host the biggest film events in region – Bratislava IFF, Febiofest, Projekt 100, as well as smaller festivals such as One World, Slovak Queer Film Festival, Festival of Freedom, Francophone Film Festival and many others. Festivals help us diversify our programming, give us opportunity to screen films that are not in the Slovak distribution circuit and make the cinema more vivid place open for different kinds of audiences.
What is the role of Europa Cinemas for cinemas such as your cinema and why is it important?
Europa Cinemas in terms of financing helps us keep the programming faithful to its basic aim, to focus on art house films and national cinematography, films that have no chances in multiplexes and cinemas that are focused on cinematography as an entertainment. Europa Cinemas is also an essential source of inspiration, ideas as well as useful advice. It also helps run the cooperation among cinemas.
How does a cinema like yours serve the local community?
We are the cinema without popcorn and commercials having four or more screenings per day; we are the alternative to three multiplexes in Bratislava. We have special prices for Slovak and Czech Cinemas Art House card holders as well as for seniors and children with parents. We try to diversify our programme as much as possible focusing not only on distribution titles, but other productions that might not have opportunities to be screened publicly in regular cinemas. We run the EUNIC programme EuroFilmClub in cooperation with Embassies and cultural institutions in Bratislava, and we screen Slovak films with English subtitles to promote national cinema among tourists and foreign people studying or working in Bratislava. We undertake many other small activities that serve various social groups interested in cinema.
How does the cinema fulfil its role of cultural diversity – maybe you can give some examples such as programming of European films, films from countries outside MEDIA countries such as Asia, Latin American and in the Mediterranean region?
Our regular programming is focused especially on European films; outside-MEDIA countries have a special space especially within the screenings of the festivals which take place in Cinema Lumière.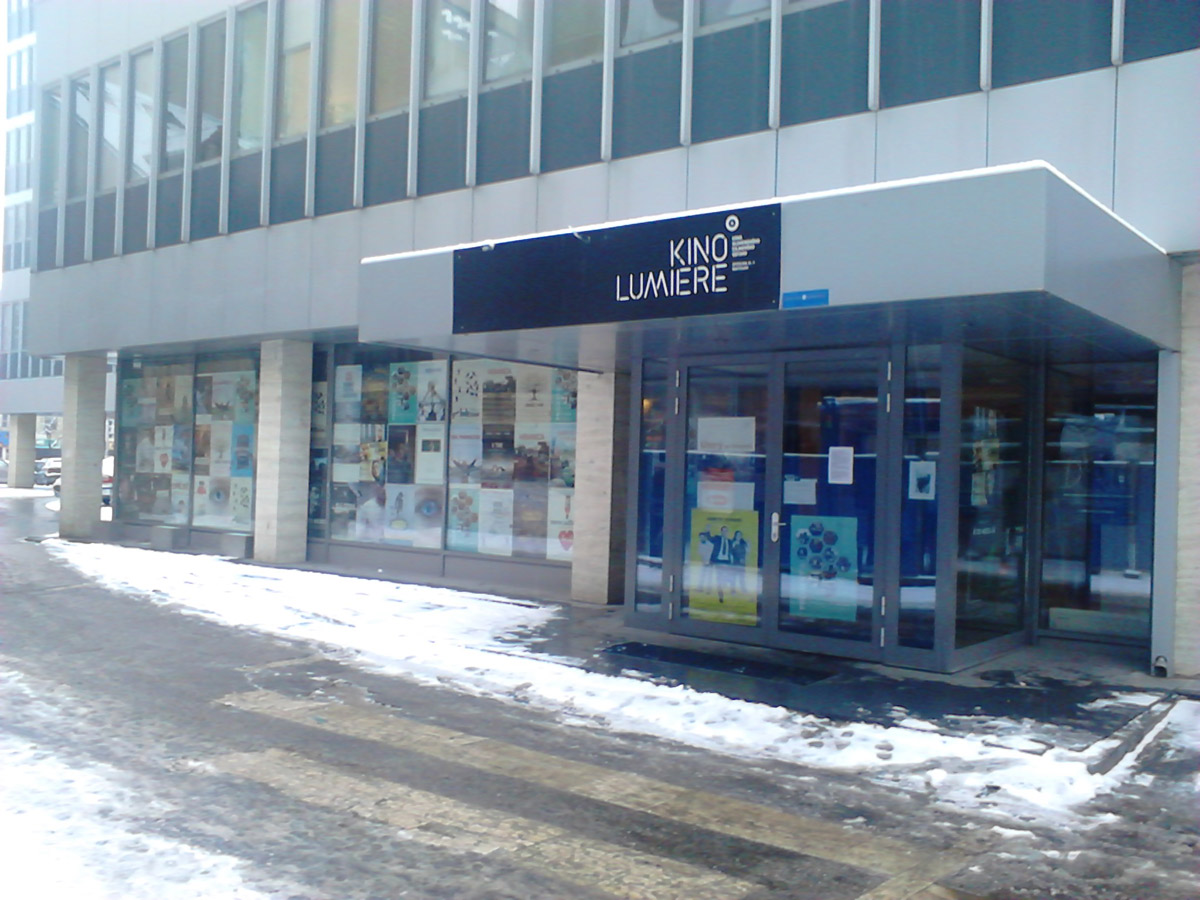 Can you say something about your work with young audiences?
We have a long term cooperation with Grosslingova elementary school in Bratislava which visits Cinema Lumière every month. Unfortunately, they demand blockbusters most of all, and we are doing our best to persuade them that there are other films for children than Ice Age or Shrek. We work with high schools via film festivals (One World, Festival of Freedom) organising free screenings during the festivals. In addition, we occasionally organise special school screenings of selected distribution titles in cooperation with Slovak Association of Film Clubs, For example, the Polish Sala Samóbójcow is one of the most successful films.
What about the upcoming digitalization of cinemas? How will it affect your work and your cinema?
Digitalization is a necessity. In 2013 we do not expect many films to be distributed on 35 film prints. Digitalization means survival and of course opens plenty of new opportunities. We do not plan to change the programming focus radically. However, we are planning to work with alternative programmes that will help us to focus on new target groups.
And of course, digitalization means much more vivid audiovisual experience for our audience, so we are really looking forward to our first digital screening. That should happen in the beginning of 2013.

Contact:
Cinema Lumière – Cinema of Slovak Film Institute
Špitálska 4, 811 08 Bratislava, Slovak Republic
http://www.aic.sk/kinolumiere
Phone: +421 917 105 882
This email address is being protected from spambots. You need JavaScript enabled to view it.