This month we speak with Greta Akcijonaite, the co-owner and manager at Kino Pasaka, a distribution, exhibition, film education and audience projects' development company in Lithuania. Kino Pasaka was founded in 2009 as an art house movie theater in the old town of Vilnius, Lithuania. It is still the only private art house cinema in Lithuania, which offers two screens, a VOD platform and also distributes films in Lithuania and the Baltic states.
FNE: How would you describe your lineup? What are your upcoming titles?
Greta Akcijonaite: We carefully select the titles that we like and believe in. Our motto is "Films selected by hand and heart", and in this way we release six to eigth films per year. Also, we try to balance somewhere in the middle between extreme art house and purely commercial titles. Our upcoming summer releases are Heal the Living / Reparer les vivants by Katell Quillévéré and The Teacher / Ucitelka by Jan Hrebejk.
FNE: Do you have good examples of fruitful collaborations or partnerships with local cinemas? Do you have your own cinema and if so how do you use it to accompany the release of your films?
Greta Akcijonaite: There are too few screens in Lithuania and even fewer independent cinemas, so it's quite difficult to book more than four or five screens for the release week. Moreover, our distribution activities wouldn't be possible without our own cinema PASAKA, which has two digital screens and a small room with Blu-Ray projection.
Only by running our own screening venue we can secure a longer life for the films, usually they drop out after the first week in other cinemas. We have titles that count 20 months on screen in PASAKA. Also, in September 2016 we opened our online cinema, that complements our releases and mainly serves as day-and-date release platform. It is the first TVOD service in Lithuania.
FNE: If you think of a good success you had in 2016, what's the percentage of income you got from each window (theatrical, VoD, Home Video, TV)?
Greta Akcijonaite: One of our favourite releases was a Finnish/Lithuanian coproduction 2 Nights till Morning / 2 yötä aamuun (Mjolk, Artbox) directed by Mikko Kuparinen. We never exploit Home Video rights, there's no market for it, so the income comes 87% from theatrical, 9% from TV and 4% from VOD sales.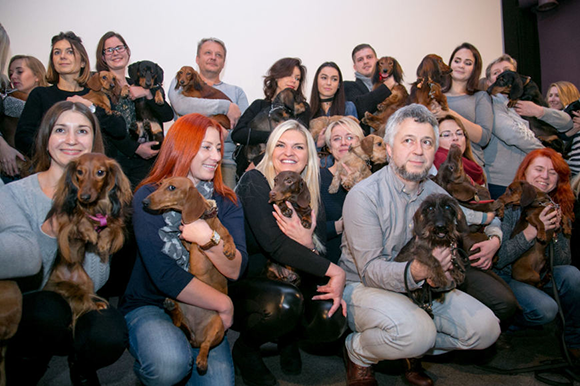 FNE: What is your marketing campaign you are more proud of? How did you develop the campaign on different windows?
Greta Akcijonaite: In November 2016 we were releasing Todd Solondz's Wiener-dog and we invited the Lithuanian Dachshund Lovers Club members with their pets to the pre-premiere event. It was the most amazing audience ever - dogs were very responsive to the images and sounds onscreen, but also, very polite and respectful. We counted 39 Dachshunds at the screening and registered an official Lithuanian record of a film screening attended by the biggest number of animals.
FNE: Where do you see your company in five years?
Greta Akcijonaite: At the moment we are oriented toward improving quality, but not so much quantity. Being innovative and aware of the industry currents and trends. However, in five years we will definitely be a bigger company, so we'd like to open more screens (also, VR experience rooms) and to release more films. Still, we'll try to keep the exclusivity and to remain a cinemaboutique.
FNE: Do you have have any advice for a new distributor?
Greta Akcijonaite: Invent your own ways and don't take advice :) That way there's a bigger chance of inventing new success models that we really need right now.
Contacts:
Kino Pasaka
Šv.Ignoto 4/3, Vilnius, Lithuania
Phone: +37052611516
This email address is being protected from spambots. You need JavaScript enabled to view it.
www.kinopasaka.lt