Dogs by Bogdan Mirică was also awarded six awards including best debut feature, best leading actor and best supporting actor.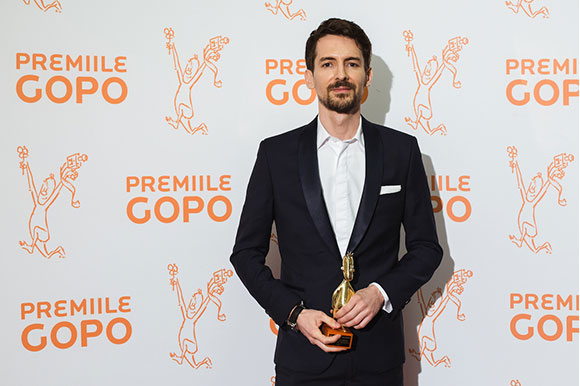 Sieranevada and Dogs led the nominations with 16 and 13 nominations respectively, followed by Scarred Hearts by Radu Jude with 12 nominations and Graduation by Cristian Mungiu with nine nods.
Son of Saul / Saul Fía (Hungary) directed by László Nemes was awarded best European film.
Nominations were chosen from among a total of 21 feature films by a jury of eleven film professionals and the winners were decided by the votes of Romanian film professionals.
Gopo Awards are organised by Romanian Film Promotion with the support of the Romanian Film Centre and Babel Communications.
FULL LIST OF WINNERS:
Best Film: Sieranevada (Romania, Bosnia and Herzegovina, Croatia, Macedonia, France)
Directed by Cristi Puiu
Produced by Mandragora
Coproduced by Studioul de Creaţie Cinematografică Romania, 2006 d.o.o., Spiritus Movens, Sisters and Brother Mitevski Production, Alcatraz Films
Supported by the Romanian Film Centre, Fondacija za Kinematografiju Sarajevo, the Macedonian Film Agency, Eurimages, Region Ile de France
Best Director: Cristi Puiu for Sieranevada
Best Scriptwriter: Cristi Puiu for Sieranevada
Best Leading Actress: Dana Dogaru for Sieranevada
Best Leading Actor: Gheorghe Visu for Dogs / Câini (France, Romania, Bulgaria)
Directed by Bogdan Mirică
Produced by EZ Films 14
Coproduced by 42Km Film, Argo Film
Supported by the Romanian Film Centre, Bulgarian National Film Center
Best Supporting Actress: Ana Ciontea for Sieranevada
Best Supporting Actor: Vlad Ivanov for Dogs
Best Cinematography ex-aequo:
Andrei Butica for Dogs
and
Marius Panduru for Scarred Hearts / Inimi cicatrizate (Romania, Germany)
Directed by Radu Jude
Produced by Hi Film
Coproduced by Komplizen Film
Supported by the Romanian Film Centre and the Media Programme
Best Editing: Letiția Ștefănescu, Ciprian Cimpoi for Sieranevada
Best Art direction: Cristian Niculescu for Scarred Hearts
Best Costume designer: Dana Păpăruz for Scarred Hearts
Best Make-up and Hair Styling: Bianca Boeroiu, Domnica Bodogan for Scarred Hearts
Best Sound: Sam Cohen, Sebastian Zsemlye, Herve Buirette for Dogs
Best Original Music: Codrin Lazăr, Sorin Romanescu for Dogs
Best Debut Feature: Dogs directed byBogdan Mirică
Best Documentary: A Mere Breath / Doar o răsuflare
Directed by Monica Lăzurean-Gorgan
Best Short Film: 4:15 The End of the World / 4:15 PM Sfârşitul lumii
Directed by Cătălin Rotaru, Gabi Virginia Șarga
Best Newcomer: Producer Anamaria Antoci for Ilegitimate / Ilegitim (Romania, Poland, France)
Produced by Domestic Film
Coproduced by Film Produkcja and Damned Films
Achievement Award: Valentin Uritescu
Lifetime Achievement Award: Ion Dichiseanu
Special Prize: Constantin Petre
Audience Award (for the domestic film with best box office in 2016):
#Selfie 69 (Romania)
Directed by Cristina Iacob
Produced by Zazu Film
Supported by the Romanian Film Centre
and
Two Lottery Tickets / Două lozuri (Romania, Spain)
Directed by Paul Negoescu
Produced by Actoriedefilm.ro
Coproduced by Papillon Film
Suported by Erka Synergy Communication, Cinelabs Romania, HBO Romania and UNATC
Best European Film: Son of Saul / Saul Fía (Hungary)
Directed by László Nemes
Distributed by Transilvania Film