After being sent to a youth detention centre, 18-year-old Andrej has to fight for his place within the group of inmates while getting closer to Željko, their informal leader, and struggling to keep his repressed secret in the dark.
"We decided to develop Consequences to shed light upon issues the youth of today are facing while entering adulthood. Society is putting tremendous pressure on them while forgetting to equip them with the tools and knowledge necessary for finding their way in the world. A correctional facility for troubled youth is an extreme example, where all of this becomes painfully obvious – what do teenagers in this forgotten part of society really have to hope and strive for," producer Andraž Jerič told FNE.
The main characters are played by Matej Zemljič, Timon Šturbej and Gašper Markun.
The film was produced by Jerca and Andraž Jerič through Filmsko društvo Temporama in coproduction with NuFrame, 100 and Austria's Zwinger film, with a total budget of 394,117 EUR. The project was supported by the Slovenian Film Center with 220,000 EUR, while Studio Viba Film provided technical support in the amount of 69,003 EUR. "Temporama contributes 51,366 EUR, Zwinger 38,500 EUR, NuFrame 10,760 EUR and 100 5,730 EUR," producer Jerca Jerič told FNE.
The 25-day shoot took place in Ljubljana and its surroundings between August and September 2017.
Demiurg will release the film domestically on 18 October 2018. The French Wide Management is handling the sales.
Darko Štante, one of the voices of the young generation of directors and screenwriters, graduated from the Faculty of Social Work and is finishing his master's degree in film directing at the AGRFT. He worked on a variety of commercial projects as assistant director, and on a series of audiovisual projects as director and screenwriter. He is currently working as a teacher in a residential treatment centre for teenagers.
Production Information:
Filmsko društvo Temporama
www.temporama.si/ 
This email address is being protected from spambots. You need JavaScript enabled to view it.
This email address is being protected from spambots. You need JavaScript enabled to view it.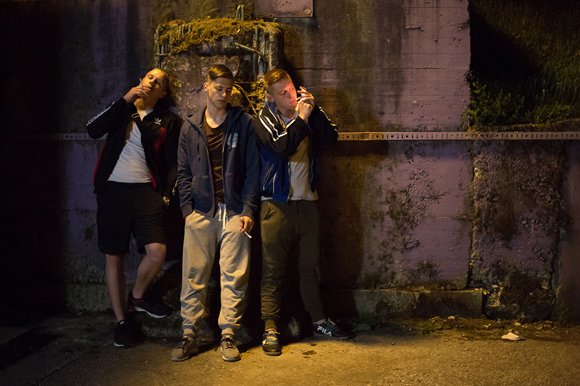 NuFrame
www.nuframe.si
This email address is being protected from spambots. You need JavaScript enabled to view it.
Credits:
Director: Darko Štante
Screenwriter: Darko Štante
DoP: Rok Kajzer Nagode
Editor: Sara Gjergek
Production designer: Špela Kropušek
Costume designer: Ina Ferlan
Sound: Julij Zornik
Cast: Matej Zemljič, Timon Šturbej, Gašper Markun, Lovro Zafred, Rosana Hribar, Dejan Spasić, Blaž Setnikar, Iztok Drabik Jug, Lea Cok