Eleven-year-old Gaja lives with her father and older sister Tea while her mother is on a Doctors Without Borders mission in Liberia. She hangs out with her best friend Matic, plays the saxophone and helps her father in everyday family routine. She is very protective and when Tea and her best friend find themselves entangled in the dangers of the internet, she decides to help no matter what.
The cast includes very young newcomers, Tara Milharčič as Gaja, Neža Smolinsky as Tea and Anže Gorenc as Matic, joining the well-known Slovenian theatre and film actors Sebastian Cavazza, Nataša Barbara Gračner and Ajda Smrekar.
The film was produced by Peter Bratuša and Tilen Ravnikar through Felina Films in coproduction with RTV Slovenija. The total budget is 623,220 EUR. RTV Slovenija contributed 427,920 EUR, Felina 100,973 EUR, Studio Viba Film provided technical support in the amount of 64,327 EUR and the Slovenian Film Center supported the project with 30,000 EUR.
The shooting took place in Maribor and Ljubljana between August and September 2017.
Peter Bratuša was born in 1962 in Maribor and studied cinematography at the Academy of Dramatic Art in Zagreb. As a DoP and producer he made two feature films and he directed more than 250 commercials. In recent years, his focus has been back on live action with the TV series The Life of Tomaž Kajzer. He is also competing in this year's festival with his debut feature Awakenings (Felina Films).
Production Information:
Felina Films
This email address is being protected from spambots. You need JavaScript enabled to view it.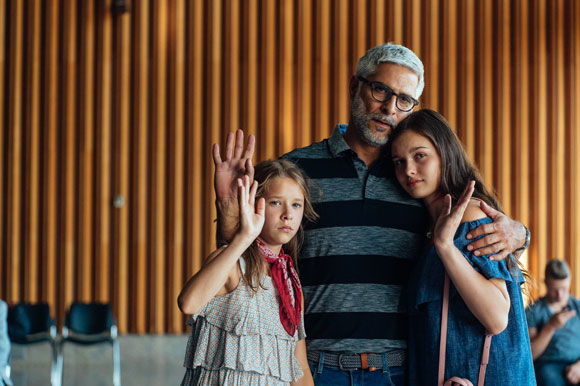 Credits:
Director: Peter Bratuša
Screenwriter: Peter Bratuša, Špela Levičnik Oblak
DoP: Mirko Pivčević
Editor: Tomislav Pavlic
Production designer: Miha Ferkov
Costume designer: Vesna Črnelič
Music: Sebastijan Duh
Sound design: Matjaž Moraus Zdešar
Cast: Tara Milharčič, Sebastian Cavazza, Neža Smolinsky, Jana Zupančič, Anže Gorenc, Lotos Vincenc Šparovec, Ajda Smrekar, Gitica Jakopin, Primož Pirnat, Nataša Barbara Gračner, Boris Ostan