The concept of CINÉ GRAND is unique not only for Bulgaria, but also for the region - all its halls are fully equipped with recliners – comfortable loungers, instead of normal cinema seats. Both of the cinemas have two TSAR halls (King in Bulgarian) providing additional value to customers as service to every seat, welcome drinks and water. CINÉ GRAND Ring Mall also operates its own Italian type sandwiches and wine restaurant.
FNE: What is the biggest challenge of running a cinema such as yours?
Milena Modeva: The environment is very competitive - six more multiplexes for not such a big city as Sofia, with its 1.5 million inhabitants.
We have outlived different challenges over time, from the bold decision the launch the concept, requiring significant funds, to day-to-day challenges to develop and maintain a quality team providing the best customers service along with the customers experience provided by the setup of the cinemas – recliners, silver screen, 3D and sound systems, food and beverages.
Last but not least, the competition is not only at the cinema level. The performance of the shopping mall itself is crucial for the business as well.
FNE: What kinds of films do you prefer to screen and why?
Milena Modeva: The main part of our programme is curated for big studios' movies, although we never miss the opportunity to show independent studios' productions and especially European films, when they are distributed and available on the Bulgarian market.
Bulgarian productions have been showing a significant uplift and progress in the last couple of years and we strongly support every local film by providing the opportunity for media screenings, premiere events and also including them in our programme.
We try to show as many European and Bulgarian films as possible, along with the big productions, in order to provide diversity and versatility to our content.
FNE: The cinema is home to many festivals, events and film weeks. Why these are important and what do they achieve?
Milena Modeva: The importance of the cultural and educational aspect comes first. We also believe that festivals and events are strong tools in the tie-up process along with building up a loyal audience, especially among the youngsters.
Having said that, it will be the fourth time in a row when CINÉ GRAND will be a part of the Sofia International Film Festival in 2018. The festival is the largest in Bulgaria and one of the leading film events in Central and Eastern Europe.
In 2017 CINÉ GRAND was an exclusive partner of TED in cinemas, and for the first time live captured and satellite broadcast TED events form Ontario, Canada were screened simultaneously in all the ten halls of CINÉ GRAND Ring Mall. The three consecutive evenings gathered more than 1,800 visitors, including the former President of Bulgaria, Rosen Plevneliev. The TED event is taking place again at CINÉ GRAND Park Centre in April 2018.
We are also planning to be part of the Master of Art–Documentary Film Festival in April 2018 and the Golden Kuker – International Animated Film Festival in May 2018.
Bolshoi Ballet live and other art programmes also have their place on our screens. Last but not least, we broadcast UEFA Europa League 2016 and FIFA World Cup will be broadcast on our screens this summer.

FNE: What is the role of Europa Cinemas for cinemas such as your cinema and why is it important?
Milena Modeva: Europa Cinemas challenged us to see the approach to young audience from a different angle. We are more motivated to borrow ideas and to implement them so as to widen the communication platform with the young audience.
The support we are receiving for the efforts to incorporate European content, programmes and events is important and highly appreciated.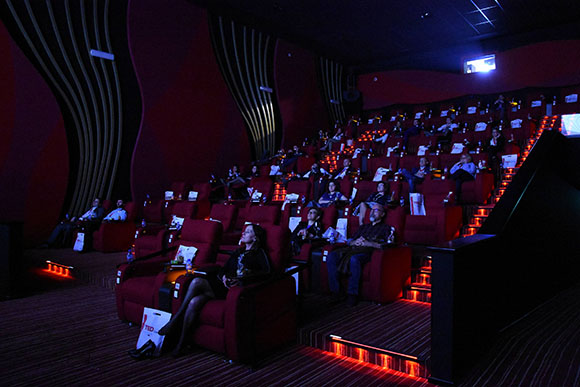 FNE: How does a cinema like your serve the local community?
Milena Modeva: Our philosophy is that a cinema is a place where people go to socialise. Having said that, good movies and interesting events, tasty food, quality drinks, tempting popcorns are to contribute to this experience. We are therefore trying to make our cinemas cozy and welcoming. We aim to be a place to go and to spend a nice time with friends and family. People can come to our restaurants to have a coffee or a meal without even purchasing a film ticket. Customers are welcome to stay in our premises even after the film ends because we don't let them leave through the back exits, but we take them back to the lobby.
FNE: Can you say something about your work with young audiences?
Milena Modeva: Several activities targeting young audiences have been developed so far: morning screenings for kids groups including fresh breakfast at a special price, an incentive programme for teenagers, constant communication with schools and kinder gardens.
Workshops for movie animation with teenagers and educational cultural mornings are in our plans for 2018.
Young audience is the future not only as moviegoers or business related targets. We take very conscientiously the task and responsibility to talk to youngsters, to educate them and even to help them find their point of interest in a variety of the opportunities in the modern world.
FNE: What about the digitalisation of cinemas? How it is affecting your work and your cinema?
Milena Modeva: The digitalisation has completely changed the ways we watch a film. We have a cloud based ticketing system, which helps us as well as our guest and other related parties with live information. Customers can book tickets through computers, mobile phones, third parties, kiosk etc. They can buy and also reserve seats. All the ticketing is connected to our loyalty programme.
Screening is on digital projection with silver screens, that has improved the quality of picture as well has helped in programming. We use one of the best 3D technology, that is very popular in our cinemas. All the lightning sequence is digitally controlled through servers. The latest sound technology has improved the screening experience. 
Contact:
CINÉ GRAND Park Centre Sofia
Sofia 1421
2 Arsenalski blv.
This email address is being protected from spambots. You need JavaScript enabled to view it.
CINÉ GRAND Sofia Ring Mall
Sofia 1434
214a Ring Road
This email address is being protected from spambots. You need JavaScript enabled to view it.
www.cinegrand.bg