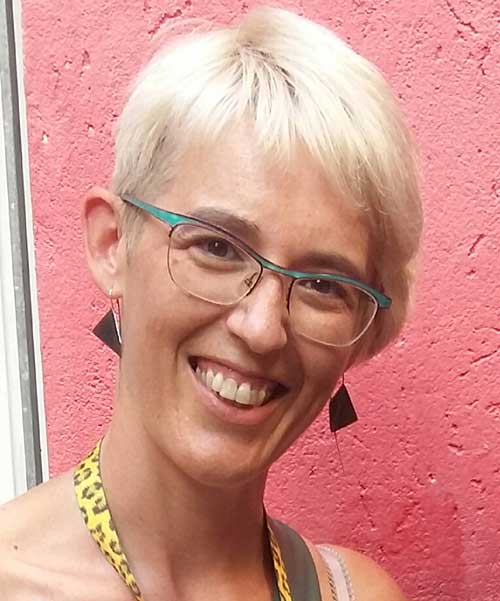 As a member of the Slovenian Art Cinema Network, as well as Europa Cinemas and CICAE, the cinema is looking for diversity and an aesthetic quality in its mostly non-commercial films.
The cinema has a main hall with 437 seats (equipped with a digital projector) and also a small hall with 85 seats. During summer, it organises open-air screenings in its outdoor amphitheatre once a week.
FNE: What is the biggest challenge of running a cinema such as yours?
Nina Ukmar: The Kosovel Cultural Centre is among several cultural centres in Slovenia that bring together theatre, dance, music, visual arts (three galleries) and film under the same roof. The cinema in Kosovel Cultural Centre (a public institution) is a regional film venue offering quality feature and art films, with a special emphasis on European and Slovenian cinema.
The biggest challenge for sure is programming and making cinema visible among so many different events held in an institution like this. Cinema screenings are a significant part of the Kosovel Cultural Centre's programme. For example, we have two Facebook profiles: one for Kosovelov dom Sežana and one for Kino Sežana.
FNE: What kinds of films do you prefer to screen and why?
Nina Ukmar: As a member of the Slovenian Art Cinema Network, as well as Europa Cinemas and CICAE, we look for diversity and of course the aesthetic quality of mostly non-commercial films. We are very happy to show Slovenian films and to welcome filmmakers for screenings and Q &A's whenever possible, as we are here to promote our national production as a public institution as well.
We are also quite focused on film educational programmes during morning screenings for schools that include a short introduction to the film and a discussion after the screening. We can only raise a cinema lover & a critical audience if we invest in youngsters.

FNE: The cinema is home to many festivals, events and film weeks. Why are these important and what do they achieve?
Nina Ukmar: From my point of view the main purpose of bringing festivals, film weeks etc. into different and smaller cinemas is the education of the audience as they all usually encourage and create dialogue between people. Film festivals and film weeks are importa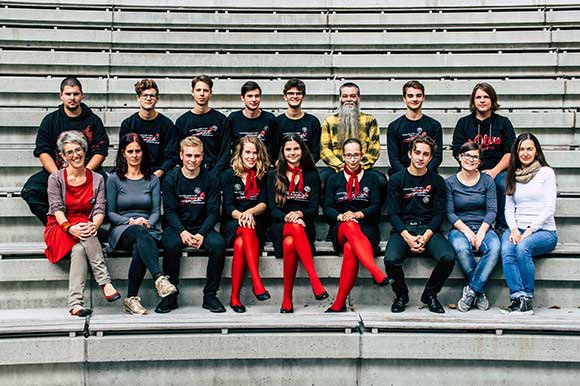 nt also for building a community. Festivals are mostly run by very passionate people, who curate their programmes and can bring you some important fresh themes and films that you can only watch during the festival. Sometimes it is an opportunity for our audience to meet filmmakers and guests who would never come to such a small cinema if it wasn't for the festival.
Smaller film festivals tend to stick with the basic purpose, which is to show and to appreciate art in cinema. Most films screened at film festivals eventually will not be picked up by distributors. These film festivals stay away from the glamour of the bigger and more popular film festivals, but they take pride in exhibiting quality films from independent filmmakers.
They all bring to our audience films which they might not have the opportunity to see otherwise.

FNE: What is the role of Europa Cinemas for cinemas such as your cinema and why is it important?
Nina Ukmar: Networks are very important for building a community and for sharing common challenges. It is a kind of affirmation for a small cinema to see that also bigger cinemas from elsewhere deal with the same problems. Then there is an educational effect / focus like Innovation labs or good practices / examples, which are also very important. Networks like this inspire cinema programmers and keep the excitement alive for cinematic experiences. 
FNE: How does a cinema like yours serve the local community?
Nina Ukmar: Cinema screenings are a significant part of the Kosovel Cultural Centre's programme. Cinema brings the diversity of European and world films to the small communities. Our inhabitants can feel part of a wider community. I think they appreciate getting new releases so close to their home.
In a small community, going to the cinema becomes a social event by bringing a sense of occasion. It's an experience where people socialise: they catch up with friends they haven't seen for ages. Or on the other hand they know most of the people there and are able to chat afterwards and to get a more nuanced view of the ideas expressed in the film.
During summer (July and August), we organise free open-air screenings in our outdoor amphitheatre once a week. Those films also focus on getting people together.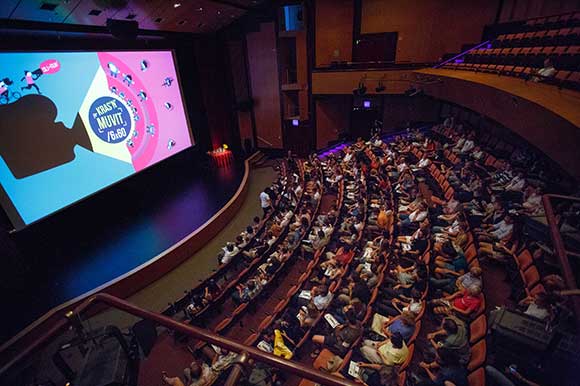 Local film exhibitors offer a focal point for the community, a safe and trusted place to go, and a way of bringing the community together.
FNE: Can you say something about your work with young audiences?
Nina Ukmar: Over the past few years we have been steadily developing our own film education programme for youngsters, called Filmšula. The activities are done in cooperation with the local secondary school and the local youth centre. The aim of the project is to develop the critical thinking of youngsters through active viewing of films, reflecting on them and discussing them, and this is supplemented by learning about film language. Once a month (on Fridays) we watch a film together and we discuss it later. Occasionally we organise workshops. In 2019, for example, we are planning a workshop on video editing with smartphones.
In 2017 we introduced a huge film education project called Filmarija, co-financed by the Slovenian Film Centre, which also incorporates the above-mentioned Filmšula. In the framework of the project we offer morning screenings for schools, that include a short introduction to a film and a discussion after the screening. Our film educational activities also attract audiences beyond Sezana and are one of the main reasons why they like to attend our events. Once a month, we organise special weekend screenings for children (and their parents) with discussions afterwards. This project alone has attracted almost 3,000 children and young people so far.
We also published KULdnevnik (COOLdiary), which could be described as a cultural diary distributed (for free) to all the children attending film events in all the venues of the project. The diary presents cultural codes of behaviour and manners, instructions on how to maintain the diary, and free space for noting down impressions after film screenings and workshops. In 2019 we enhanced the diary with presentations of filmmaking occupations.
Additionally, we are proud to have spread the project to the towns of Cerknica and Postojna. As neither town has a cinema theatre and their film programmes are still in the early phases, the programme is reduced (five screenings in each town, with discussions and optical toys workshops). The response of the public has far exceeded our expectations.
FNE: What about the digitalisation of cinemas? How it is affecting your work and your cinema?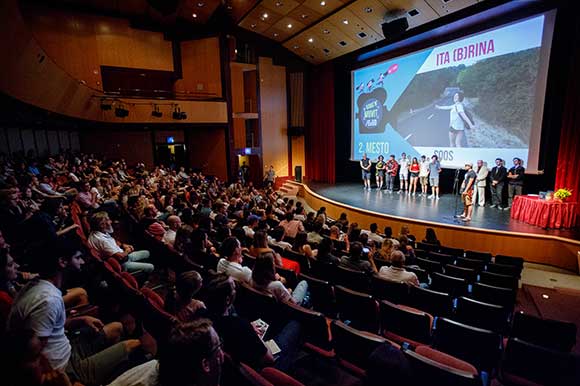 Nina Ukmar: The digitalisation brought us the opportunity to have premieres in a small city like Sežana at the same time with our capital city. It is a priceless feeling. On the other hand, I think it is a challenge for the programming. For our technical staff the work is now easier, but more complex.
Approaching its 30th birthday, the Kosovel Cultural Centre is still facing multiple challenges and generating many ideas. The building itself is in need of some renovation work and the equipment requires some technological improvements (a new DCP projector and a new portable DCP projector, refurbishment of seats).
Contact:
Kosovelov dom Sežana
4 a Kosovelova                                               
6210, Sežana                                        
Slovenia
Phone: +386 5 7312010
https://kosovelovdom.si/
This email address is being protected from spambots. You need JavaScript enabled to view it.