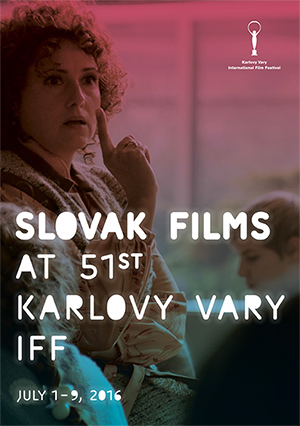 Dear colleagues & friends,
we are truly glad to inform you that two Slovak films will vie in the Main Competition of 51st Karlovy Vary IFF and further interesting Slovak films can be found in the official programme sidebars. Moreover, a number of compelling film projects will be presented during the KVIFF INDUSTRY Days: 
SLOVAK LINE-UP @ 51st KARLOVY VARY INTERNATIONAL FILM FESTIVAL
>>Official Selection – Competition<
> THE TEACHER 
Jan Hřebejk SK-CZ 2016
> THE WOLF FROM ROYAL VINEYARD STREET 
Jan Němec CZ-SK-FR 2016

>>Seven Close Encounters<
> THE SUN IN A NET 
Štefan Uher CS 1962
>>Imagina<
> 5 OCTOBER 
Martin Kollar SK-CZ 2016>>Czech Films 2015-2016<
> EVA NOVÁ
Marko ŠkopSK-CZ 2015
> IN YOUR DREAMS! 
Petr Oukropec CZ-SK-BG 2016 
> I, OLGA HEPNAROVA 
Tomáš Weinreb, Petr Kazda CZ-PL-SK-FR 2016
> FAMILY FILM 
Olmo Omerzu CZ-DE-FR-SI-SK 2015 
> TIGER THEORY 
Radek Bajgar CZ-SK 2016
>>Pitch & Feedback<
> THE MESSAGE Peter Bebjak
> SUMMER WITH BERNARD Martina Saková
> WAITING Zuzana Liová

>>Works in Progress<
> LITTLE CRUSADERVáclav Kadrnka
> FILTHYTereza Nvotová>>Eurimages Lab Project Award<
> FREMViera Čákanyová
> FLICKERING GHOSTS OF LOVES GONE BY
André Bonzel 
> LYING CARPET Željka Sukova, Aleš Suk>>Docu Talents @KVIFF<
> A TALL TALELucia Nimcová
>A LONG DAYPavol Pekarčík
>PEPIK THE CZECH GOES TO POLAND IN A QUEST FOR LOVE OF GOD
Filip Remunda, Vít Klusák
Our traditional "Slovak Terrace" takes place on Monday, July 4, 6:00 pm, at the Garden Restaurant of the Thermal Hotel (ground floor). Please note the change of location.
Invitations will be distributed with the Festival Protocol (located in the Festival´s Accreditation Hall).
Slovak Film Institute representatives at the 50th Karlovy Vary IFF:
Peter DUBECKÝ / General Manager
Alexandra STRELKOVÁ / Director of the National Cinematographic Centre
Imelda SELKOVÁ / International Department
Soňa BALÁŽOVÁ / Audiovisual Information Centre
Miroslav ULMAN / Audiovisual Information Centre, Film.sk magazineWe look forward to seeing you soon!
Alexandra & Imelda & Soňa
National Cinematographic Centre / SLOVAK FILM INSTITUTE
W: www.sfu.sk | www.aic.sk