17.11.2017-  Malatya International Film Festival announced its awards on Thursday, November 16, 2017 with a closing ceremony. The first to speak was the director of the festival Suat Kocer, thanking all the festival team and the municipality for this wonderful collaboration for the festival. He warmly thanked the participants for their kindness and talent, and for their moral and material support. Then the Mayor Ahmet Cakir spoke and gave his warm wishes for the festival as well.
Ibragim Dzhunusov, the Ambassador of the Republic of Kyrgyzstan from Ankara was one of the guests of this night and he also reminded the Kyrgyzstan-Turkish bond with warm wishes.
Rakhshan Banietemad, the powerful Iranian director was considered worthy for the Honorary Award and she said she was so proud to have taken this award. She also thanked the Malatya community for their hospitability.
All the awards found their owners in this significant awards night. "Pomegranate Orchard" by Ilgar Najaf was considered worthy as the Best Film in the International Competition; a loose adaptation of "The Cherry Orchard" by Anton Chekhov which has been selected as the Oscar nominee of Azerbaijan and won the Young Cinema Award from Asia Pacific Screen Awards (APSA) as well.
Besides, Daha/More from Onur Saylak won the Best Film Award in the National Competition of this years festival. Daha was screened in competition at the Karlovy Vary Film Festival this summer, was chosen for the Flash Forward section of this year's Busan International Film Festival, and is an adaptation from a Turkish novel by the same name by Hakan Gunday which was one of the first novels to document the refugee crisis in Europe, Asia, and the Middle East.
Crystal  Apricot awards of 2017 are as follows:
International Awards
Crystal  Apricot Best Film Award: POMEGRANATE ORCHARD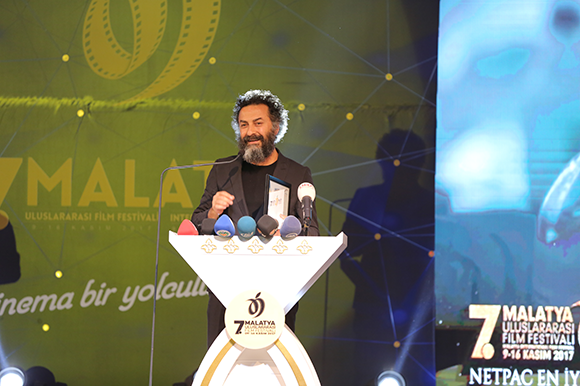 Crystal  Apricot Special Jury Award:  HAYAT VAN ECK (MORE/DAHA)
International Best Short Film: SUMMER TIME WITH MY MOTHER
Special Awards
NETPAC Award: BLUE SILENCE/MAVI SESSIZLIK
SIYAD AWARD: BUGDAY/GRAIN
Kemal Sunal Audience Award: SOFRA SIRLARI/SERIAL COOK
Malatya Film Platform Awards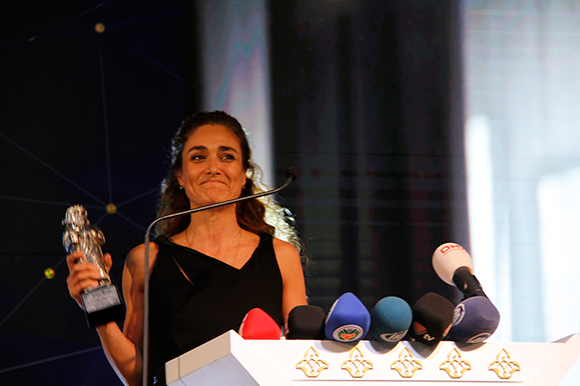 Trt Pre-Production Support Award: BIRLIKTE OLECEGIZ
Family Films Production Support Award: JULIA'YA ASIK OLMAK
National Awards
Crystal  Apricot Best Film Award: DAHA
Crystal  Apricot Best Director Award: FIKRET REYHAN (SARI SICAK)
Crystal  Apricot Best Script Award: SARI SICAK (FIKRET REYHAN)
Crystal  Apricot Best Cinematography Award: GILES NUTTGENS (BUGDAY)
Crystal  Apricot Best Actress Award: BASAK KOKLUKAYA (ISE YARAR BIR SEY)
Crystal  Apricot Best Actor Award: AHMET MUMTAZ TAYLAN (DAHA)
Crystal  Apricot Best Editing Award: OMER GUNUVAR-FIKRET REYHAN (SARI SICAK)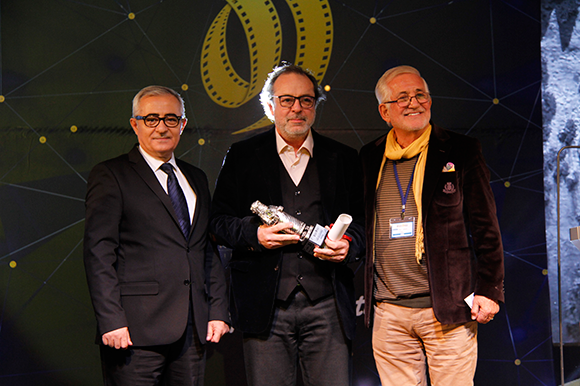 Crystal  Apricot Best Art Director Award: NAZ ERAYDA (BUGDAY)
Crystal  Apricot Best Film Award Best Music Award: KORHAN FUTACI (KIRIK KALPLER BANKASI)
Crystal  Apricot Special Jury Award: EKSI BIR (ORHAN OGUZ)
Crystal  Apricot Best Supporting Actress Award: OYKU KARAYEL (ISE YARAR BIR SEY)
Crystal  Apricot Best Supporting Actor Award: MEHMET OZGUR (SARI SICAK)
Crystal  Apricot Best Promising Young Actress Award: INCINUR DASDEMIR (MURTAZA)
Crystal  Apricot Best Promising Young Actor:  HAYAT VAN ECK (DAHA)
Best Short Film Award: KOT FARKI (AYRIS ALPTEKIN)
Second Best Short Film Award: BIR IS GORUSMESI HIKAYESI (ALKIM OZMEN)
Third Best Film Award: TOPRAK (ONUR YAGIZ)
Special Jury Best Short Film Award: VADI (SALIH TOPRAK-CAN ERKAN)
Internatıonal Press Attache: Melis Zararsiz