From 9 through 17 April, 2021, the network presents its first regional online film festival in Bosnia and Herzegovina, Croatia, Montenegro, North Macedonia, Serbia and Slovenia. The online programme will feature award-winning European art-house films previously presented at the Festival de Cannes (THE DEATH OF CINEMA AND MY FATHER TOO, dir. Dani Rosenberg), the Venice Film Festival (NEW ORDER, dir. Michel Franco; WHALER BOY, dir. Philipp Yuryev), the Berlin International Film Festival (SERVANTS, dir. Ivan Ostrochovský; WILDLAND, dir. Jeanette Nordahl) and Sarajevo Film Festival (ONE OF US, dir. Djuro Gavran). The line-up also features films by two Yugoslav master filmmakers: FRAGRANCE OF WILD FLOWERS (Srđan Karanović, 1971) and PAVLE PAVLOVIĆ (Puriša Đorđević, 1975). Reflecting on this look at the history of regional cinema, SFF Director Mirsad Purivatra remarked: "To understand where we are we today, we need to look back to where we once were and to how we used to do things. Through the Yugoslav Classics programme, we will shine a new, contemporary light on our shared heritage."
The festival can be accessed via https://ondemand.kinomeetingpoint.ba/
The Network of Festivals in the Adriatic Regions will develop and present its joint programming activities, which will become regular sections of all the network's festivals in 2021. These sections include European Discovery, a selection of European box-office hits that will vie for the European Discovery Award—the best film as voted by the audiences of the four network festivals; and Yugoslav Classics, a celebration of the cultural heritage and memorable cinematic output of the region. Moreover, the network will stimulate the exchange of knowledge among film professionals in the territory of the former Yugoslavia, through initiatives including a workshop dedicated to festival organisers in the region, a joint programme for film critics, a joint cinephile audience group and a programme dedicated to the development of young audiences.  
Regarding the inspiration for the network's collaborative online programme, Purivatra noted: "The ongoing health crisis caused by COVID-19 has disrupted the film business worldwide. Increased solidarity is required among the various stakeholders, so that the circulation of film content and its fair monetisation can be secured. In our already fragile culture market, the repercussions of the pandemic period will be severe, and we believe that only by working together can we ensure that the future of our entire industry will be a bright one. We are pleased to raise the festival business in our region to a new level of cooperation through this great partnership with other festivals that share our passion for film. The governing principles for this network are putting our audiences first, ensuring the excellent quality of the content, and securing access to it. Our aims are to bring the best European content to as many people as possible in our region, not only on site, but also via a variety of platforms, and to increase film appreciation across generations."
Download Press Release here.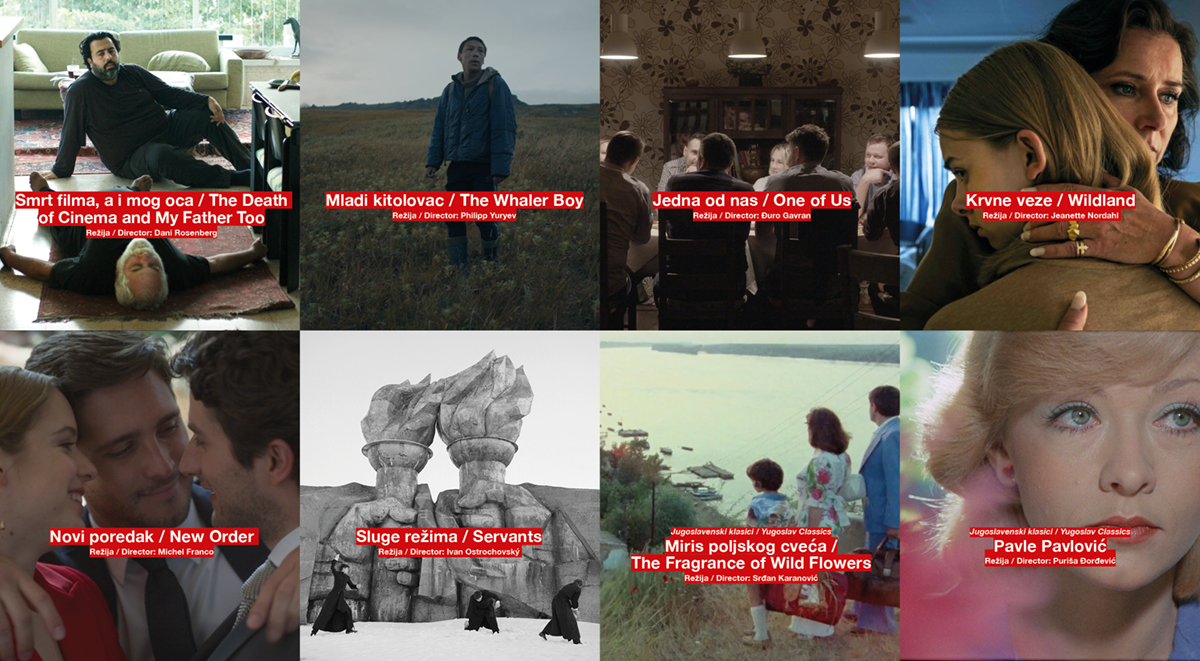 Ekskluzivni sponzori / Exclusive Sponsors

Realizovan uz podršku / Supported by
Festivalski partneri / Festival partners
Pokrovitelji / Patrons

---