This is the second film, following the successful This Life / Hvidstengruppen, 2012, also directed by Bjarup Riis, based on the true story of the Fiils, a family of innkeepers who took up arms against the German occupiers during Nazi-Germany's occupation of Denmark.
While most of the film was shot in Denmark, the Danish crew went to Latvia for the last six shooting days (31 May - 5 June 2021), where the shooting was done in the backlot of Cinevilla, as well as the deserted Brasa prison in Riga.
"We were looking all over Europe to find a backlot which would look like a bombed city in Germany in 1944, so it was perfect. We were also looking for empty prisons, and there are very few in Europe. And then we got the Brasa prison, which is a gift for a filmmaker. We shot four different prisons in one prison there. We actually chose Latvia because it was the only place in Europe you could shoot these scenes. The production team here is on a very high level, especially in production design, make-up department, and the extras are amazing. You really can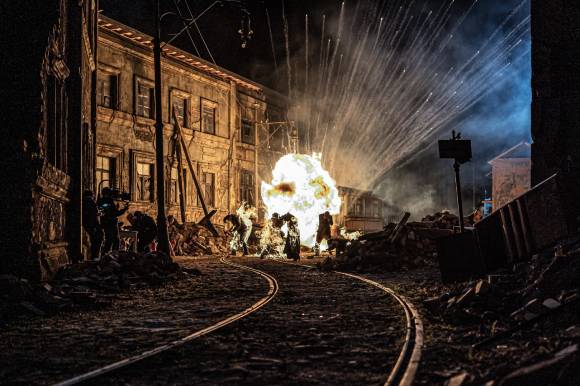 feel that they are used to doing this. It's very professional", producer Regner Grasten, who produced through Danisg Regner Grasten Film, told FNE.
The bombing scenes of Kiel in 1944 were shot in Cinevilla, by joining SFX, stunt and art department teams of Denmark and Latvia, Danish, Polish, German and Latvian actors, as well as over 200 Latvian extras.
The expected release date of the film is the end of 2021.
Film Angels was established in 2002, producing its own films: Homo novus by Anna Viduleja (2018), Burning / Degošais by Jānis Putniņš (2016), Vogelfrei by Jānis Putniņš (2007), working on coproductions such as Dawn of War by Margus Paju (Estonia, Finland, Lithuania, 2020), Out by György Kristóf (Slovakia, Hungary, Czech Republic, 2017), Dissidents by Jaak Kilmi (Estonia, Finland, 2017), King's Shift by Ignas Miskinis (Lithuania, 2016), and servicing projects like Age of Iron by Philippe Béranger, Henrike Sandner, Yuri Wintemberg (France, Germany, 2018), A Gentle Creature by Sergey Loznitsa (France, Germany, Lithuania, the Netherlands, 2017), Yae No Sakura by Taku Kato (Japan, 2013), Chinese Zodiac by Jackie Chan (Hong Kong, 2012), My Way by Je-kyu Kang (South Korea, 2011), Das Blauevom Himmel by Hans Steinbichler (Germany, 2011) or Cloud Over the Hill by Taku Kato (Japan, 2011).