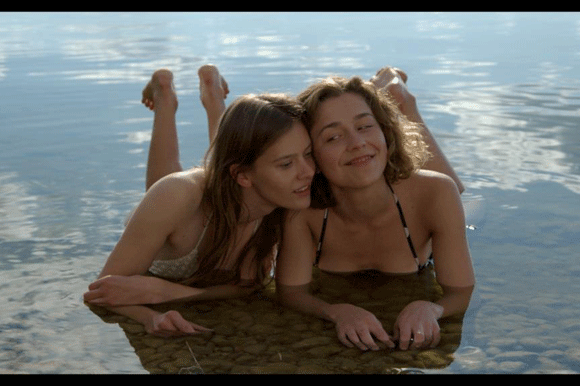 Films in Berlinale programmes
The Summer of Sangaile, dir. Alantė Kavaitė
Production: Lithuania (Fralita Films), France (Les Films d'Antoine), The Netherlands (Viking Films)
Section: Panorama
Starring Julija Steponaitytė and Aistė Diržiūtė (European Shooting Star 2015)
Festival and market screenings' schedule can be found here.
More information about the film.
Squirrel, dir. Tomas Vengris
Production: Greece, USA
Section: Generation 14plus Short Film
More information about the film.
European Shooting Stars 2015
Aistė Diržiūtė – the first Lithuanian at European Shooting Stars programme and one of the two of Europe's ten most exciting young actors who will be featured on screen during this year's Berlinale festival's programme.
More information about Aistė Diržiūtė at Shooting Stars.
Berlinale Talents
Domantė Urmonaitė, director&producer
Paulius Juočeris, producer
Gabrielė Urbonaitė, director&screenwriter. Her project 'Back' is part of Short Film Station 2015.
More information on Lithuanian Berlinans at Berlinale Talents.
Lithuanian Films Stand at EFM
Lithuanian Films at EFM: Stand No. 112, Marriott Hotel.
Here you can meet Lithuanian representatives, receive the newest information on Lithuanian films, film industry, Tax Incentives, shooting locations and more.
Lithuania at Co-production Market
Country-in-Focus session
Monday, February 9, 2015
15.45 –16.45
Overview of co-producing with Lithuania and accessing financing
Coffee & Cake hosted by Lithuanian Film Centre
The full programme here.
Share Your Slate at the EFM (Creative Europe Media)
Arūnas Matelis (Studio Nominum) in production with a feature film "Searching for anti-gravity"
Available for meetings Feb 9th a.m.,  Feb 10th p.m.
More information.
The representatives of the Lithuanian Film Centre at EFM 2015:
Rolandas Kvietkauskas
The Head of the Lithuanian Film Centre
This email address is being protected from spambots. You need JavaScript enabled to view it.
Liana Ruokytė-Jonsson
The Head of Film Promotion, Information and Heritage Department
This email address is being protected from spambots. You need JavaScript enabled to view it.
Aušra Lukošiūnienė
The Head of Film Production Department
This email address is being protected from spambots. You need JavaScript enabled to view it.
Eva Brazdžionytė
The Head of Creative Europe Desk Lithuania MEDIA Office
This email address is being protected from spambots. You need JavaScript enabled to view it., This email address is being protected from spambots. You need JavaScript enabled to view it.
Audrius Kuprevičius
Department of Film Production.
This email address is being protected from spambots. You need JavaScript enabled to view it.
Daiva Jurkonytė
Lawyer
This email address is being protected from spambots. You need JavaScript enabled to view it.