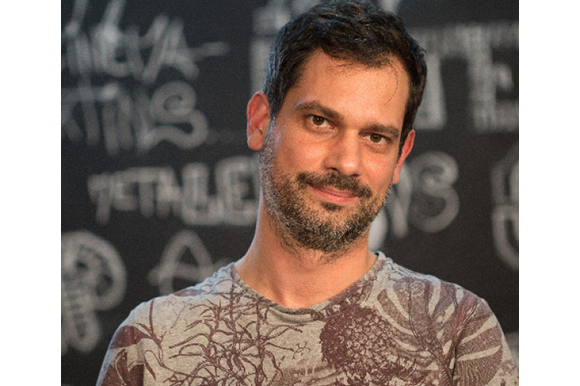 The center has its own team and is operating through six laboratories (Creative Digital Technics in Cinema, Digital Interactions Sound-Light, Digital Animation, Virtual Set Design and Amplified Reality, Digital Interaction, Cognitive Development and Applied Psychology through Immersive Experiences).
CINETic has the mission of technological innovation and research in the fields of digital interaction and applied neuroscience in the performing arts. Within CINETic, knowledge and expertise gained in the field of theater and film, through research and innovation, are used in interdisciplinary art-science-technology projects.
At CINETic the National University of Bucharest opened a new programme, ART of  GAME DESIGN. It is the first programme dedicated to game design in Romania. Thought in English, the Master programme offers courses in digital storytelling, character and environment design as well as basic coding for gaming and game design. First round of students started in October 2018. The programme is a natural consequence of the interest of UNATC to develop new training programmes for digital environments and research in the field of digital interaction, based on which the CINETic center was established through an 8 m EUR grant in 2015.
In 2017 the UNATC opened a master programme for NEW MEDIA, dedicated to developing computer generated immersive environments, and INTERACTIVE TECHNOLOGY FOR PERFORMING AND MEDIA ARTS, dedicated to building computer assisted interactions in art installations or performances.
In the tradition of the UNATC, all the programmes have a strong practical approach, the master programme being developed with feedback from industry environment through partners like RGDA (Romanian Game Developers Association), EA Games, Ubisoft of AMC, one of the most preeminent Romanian game development companies, which are also currently involved in the programme.   
From the first days of the Master programme, the students of ART of GAME DESIGN had the opportunity to participate in the Game Jam "Games and Politics" organised at the initiative of Goethe Institute Bucharest in partnership with CINETic and RGDA at CINETic between 12-14 October 2018. During 48 hours, five teams competed in building games which would develop social awareness on the themes of the Game Jem: hatred, rulers and citizens. The game winning the most votes was Fair Race, a prototype game where you run against prejudices and social bias. Another game was Power vs Voices, inspired by the trial of medical doctor Larry Nasser, aiming at developing awareness against sexual abuse and misconduct, reflecting the good gender ratio the Game Jam had in the teams.
The Romanian game development industry employs over 6,000 people and has generated a revenue of about 156 m USD in 2017. There are over 80 studios in Romania today, ranging from indie studios with two full time equivalent employees, to industry giants with hundreds, sometimes over 1,000 people employed (Electronic Arts, Ubisoft, Gameloft, Bandai Namco).
CINETic is dedicated to develop the social and educational role of arts, its current project ranging from Theatre Therapy to social involvement of VR. Through the research project MET, a team of 15 researchers conducted by PI Ioana Carcea, neuroscientist running Carcea Lab Rutgers University, aim at developing a methodology of therapy through theatre with an effect at the neurochemical and neurocognitive levels, co-financed by the European Regional Development Fund (ERDF) through Competitiveness Operational Program 2014-2020.
In the Project Touch financed by the National Cultural Fund Administration (AFCN), CINETic researchers alongside independent artists documented Roma communities in Turkey, Sweden, Romania and Italy, resulting in five VR experiences, three of them documentaries and two of them interactive experiences. The project aims at helping people realise the perspective of people living in harsh economic conditions at the outskirts of towns and the long-lasting prejudice of antiziganism, a growing concern in Europe. The five experiences were presented at CINETic, in Napoli, Stockholm, at Internetics Digital Art Festival in Bucharest, and will be presented at the Mirage Festival in Nantes.
Other important projects in the last period at CINETic were My Life Rehearsed in One Le, a stereoscopic film directed by Bogdan Mustață, which opened in the festival Les Filmes des Cannes à Bucharest, the presence installations co-designed by UNATC CINETic students at the Fête des Lumières Lyon from 6 to 10 December 2018 and the development with Safe-Frame and O-video of a VR immersive and interactive environment based on a heart surgery for a CAVE system on four walls for MedLife.
CINETic has as mission the technological innovation and research in the fields of digital interaction and applied neuroscience in performing arts. Through the use of technologies of capture and generation of sound and image in the digital medium, in CINETic are made immersive and interactive experiences and are developed applications and innovative uses of technologies of production in the digital medium. CINETic was included in 2017 in the roadmap of national importance research infrastructures in Romania.
Alexandru Berceanu is an independent stage director and cultural manager. He staged more than 15 independent and state theater plays, which were awarded national and international prizes. Starting from his interest in new dramaturgy and expanding the areas of performance expression, Alexandru Berceanu collaborates within interdisciplinary projects in the visual area, like for example the Submersive and subversive installation 1958-1968, or within the graphic novel Mickey on the Danube, "Jumătatea Plină" Publishing House. Alexandru Berceanu is a founding member of dramAcum, an NGO operating in the field of developing new dramaturgy.
At present he is a Ph.D. candidate at the Theatere Faculty within "Babes-Bolyai" University, with the thesis on the topic of Violence in Performing Arts, from Hypnotic Power to social responsibility, coordinator University Professor, Ph.D. Miruna Runcan. His last show Interface 3 materialised his interest in the neuro-cognitive field, as within the show music was generated in real time starting from the brain waves which were EEG monitored, and the colour of the lights was controlled in the same manner. The generated music showed the emotional reaction of the EEG monitored spectator.
Alexandru Berceanu was involved in social art projects, like the art workshops "School in the street", "Rahova – Delivery" and he has a rich teaching experience, being a teacher for more than 10 years within UNATC, staging department.