This month we focus on Croatia and Tanja Miličić who is the manager of the Kino Valli (www.kinovalli.net), the only cinema in the city of Pula, and the producer of Pula Film Festival (www.pulafilmfestival.hr).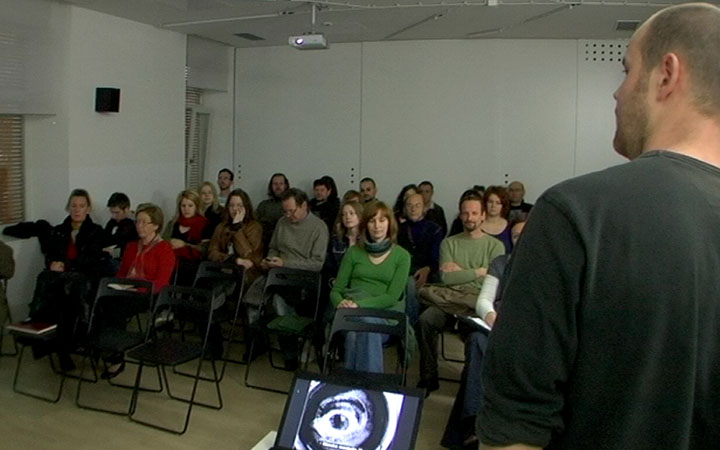 1. What is the biggest challenge of running a cinema such as yours?
The main challenge is finding the right balance in programming because Kino Valli loves film in all forms. It screens commercial, independent and art films, film classics, experimental films, features, documentaries, animations and shorts. It promotes European and World cinema and gives insight into many undiscovered film cultures. Being the only cinema in the city of Pula its role is not only the promotion of independent and art films but films in general.
2. What kinds of films do you prefer to screen and why?
I always have to keep in mind that Kino Valli is not my private cinema and that I cannot only screen films that I like. I became cinema manager and programmer in 2008, and a few months into my work I received an email asking where have all the horror films gone. I don't watch them, so I completely neglected them. I'm very careful since then and I try to offer diversity of films, but quality always comes first.
3. The cinema is home to many festivals, events and film weeks. Why are these important and what do they achieve?
Yes indeed, throughout the year we have many special film events, but our most important one is the Pula Film Festival (its 59th edition is taking place right now, or to be precise from 14-28 July 2012). Pula Film Festival is the most visited film festival in Croatia and one of the three best and most spectacular open-air festivals in Europe according to The Guardian newspaper.  Even though the Festival's main evening venues are outstanding outdoor locations such as Pula Castle and the 2000 year old Roman Amphitheatre, Kino Valli screens films from dawn till dusk and attracts lots of attention. These kinds of events draw media interest, and bring programming diversity and new audiences. Also, they make our work dynamic and exciting.
4. What is the role of Europa Cinemas for cinemas such as your cinema and why is it important?
Being member of Europa Cinemas means we can network and share experiences and knowledge with our colleagues throughout Europe, we can have better access to European films and can work together to bring films closer to the audience and the audience closer to film. Europa Cinema's financial support is vital, it's simply a miracle..
5. How does a cinema like yours serve the local community?
Kino Valli has become part of Pula's everyday life; it is so much more than a place where films can be seen. I cannot even number all the associations we collaborated with in the past. We open our doors to everyone. Once a month there are free morning matinees for senior citizens. Every weekend we organize birthday parties. Schools, universities, libraries, kindergartens, homes for abandoned children, ecological associations and so on all have had their programmes in Kino Valli and have given us an opportunity to widen our activities.
6. How does the cinema fulfill its role of cultural diversity - maybe you can give some examples such as programming of European films, films from countries outside of MEDIA countries such as Asia, Latin American and in the Mediterranean region?
Besides hosting many film events such as European Film Week or Week of Serbian contemporary film which bring cultural diversity by default, Kino Valli is also a member of EDEN (European Distribution and Exhibition Network) whose main aim is the promotion of Latin American cinematography. A few months ago we distributed our first Latin American film and opened up new horizons.
7. Can you say something about your work with young audiences?
Kino Valli is an ECFA member and we embrace their ideology that children and the young are not only our future but also our present - here and now - with great emotional, cultural and material needs.
In fall of 2009 the project Film in School was created with the intention of bringing film closer to school children and teachers. Many educational seminars and workshops are organized throughout the school year in order to give teachers the opportunity to broaden their film knowledge. The film programme is adjusted to the regular school curriculum and besides learning about film language and film as an art form, topics such as history, literature, ecology, music, arts and many other are discussed through the medium of film. Screenings are introduced and discussed by film professionals and printed material is handed out to teachers in order to assist them in discussing the films in school.
In 2010 a new project - Film Alphabet - was launched within the Film in School project in order to provide more systematic education and insight into numerous and complex components of the film as a medium and as an art form. Over the period of several years a different segment (2010/2011: film language; 2011/2012: film history, etc.) is discussed twice a month from October to April. The project is aimed at teachers and professors, students and other individuals searching for fresh and basic film knowledge.
In addition we organize special birthday parties for 7-12 year old children which gives us the opportunity to educate them in a less formal environment and develop the future cinephile audience.
Recently we introduced a programme for young volunteers who assist visitors on their way to the screenings and to help cinema staff with their routine work such as the weekly change of film posters and cinema flyer distribution. They create a positive atmosphere and in return can watch films free of charge and participate in all workshops and events that take place in cinema.
Among all the mentioned activities cinema Valli also hosts regular exhibitions of young up-and-coming photographers from all over the world who still value analogue photography.
Yes, we really do work a lot with the young.
8. What about the upcoming digitalisation of cinemas? How will it affect your work and your cinema?
Croatia is a bit slower on the question of  digitalisation, but I think once we go through with it, it will bring us more opportunities; although 35mm will be greatly missed.
Tanja Miličić , Manager of Kino Valli, was born in 1974 in Pula, where she graduated from elementary and high school as an Arts & Culture major. She was one of the first members of the City Youth Workshop, participating in numerous cultural projects. In 1993, she moved to Great Britain and in 1998 completed a course in Film, Video and Photography from Lambeth College, London. In 2002 she graduated (with merit) in Film, Photography and Digital Media from Napier University in Edinburgh. During her studies she volunteered and worked for several NGOs, which has provided her with valuable life and organizational experience.
During her studies, she worked on numerous short films and documentaries. Her graduation film Patchwork was shown in many European festivals and won the Best Director Award, Best Newcomer Award at the 12th Days of Croatian Film, as well as the Oktavijan Award given by the Croatian Film Critics Association for the best documentary.
In 2003, she returned to Pula with intention of boosting promotion of film production in Pula and Istria and thus began her lasting cooperation with the Pula Film Festival, where she has been permanently employed since 2007 as the Festival Producer and since 2008 as of Cinema Valli manager. She has been member of the master working group for the drafting of the Town of Pula culture strategy. She is also a member of the Istria County Music and Performing Arts Council and has participated in the drafting of Istria's cultural strategy.