Hosted by a castle built in 1905-1910 as a residence of the last German emperor, Wilhelm II, the ZAMEK Culture Centre in Poznań is now one of the largest cultural institutions in Poland.
Pałacowe stands out thanks to its programme, spanning the best contemporary films and also classics. It is also a venue for meetings, during which the participants can discuss and reflect on the art of cinema.
Pałacowe has been a member of the Europa Cinemas network since 2015.
FNE: What is the biggest challenge of running a cinema such as yours?
Ewa Kujawińska: Pałacowe Cinema boasts a decades-long tradition, having reopened in 2012 after a hiatus of several years, during which a substantial part of the Castle was renovated. For our daily operations, we take advantage of the Cinema Hall, an auditorium with 143 seats. Occasionally, our events are held at the Grand Hall of the ZAMEK Culture Centre (with approximately 450 seats).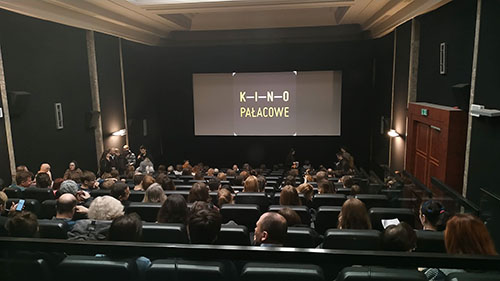 Our greatest challenge so far has been to re-emerge as a worthwhile venue among cinema-goers in Poznań. The cinema functions in a historical building which, albeit spectacular, required considerable effort to adapt it to the needs of persons with disabilities; also, the location represents a challenge in the sense that the auditorium is inside a building which tends to bring a museum to mind.
There are several art house / studio cinemas in Poznań, two of which are to be found in close vicinity to the Castle. Consequently, re-establishing Pałacowe's place on the cultural map of the city was a difficult process, but the audience figures have grown steadily with each year. Today, we are one of the leading studio cinemas in Poznań.
FNE: What kinds of films do you prefer to screen and why?
Ewa Kujawińska: Pałacowe is a place gathering enthusiasts of cinema; for the past seven years we have constantly striven to develop, welcoming guests, filmmakers and theoreticians of cinema. We have created a space of encounter and discussion for people on both sides of the screen, where the cinematic experience is not diminished by commercials and popcorn: a studio cinema as it should be.
The films that we screen are the kind of films we would wish to see ourselves. Our team is composed of aficionados of Slow Cinema, national cinematographies, as well as fans of the middle-ground cinema. We like films that provoke discussion, be it on the ideas they relate to or on the singular characteristics of the medium itself.
Pałacowe shows art house productions, runs themed series and organises showings as part of the Zamek Film Club, or special screenings for persons with disabilities. We hold university lectures dedicated to cinema, carry out educational programmes for young viewers, offer screenings for children and special events. Naturally, Pałacowe contributes and participates in other events at the ZAMEK Culture Centre, such as exhibitions, music and literary festivals. Also, we put great emphasis on documentary cinema.
FNE: The cinema is home to many festivals, events and film weeks. Why are these important and what do they achieve?
Ewa Kujawińska: We live in a reality suffering from information overload. Various forms of spending time vie for our attention, while cinema also sees a wealth of competing titles, which not infrequently originate from the same production company or distributor. Festivals, special screenings or themed series provide the much needed context, offering titles that a viewer might have missed among so many others, but also cater to a specific audience, for instance, an enthusiast of Scandinavian cinema who has not noticed the most recent Danish thriller that has just premiered.
On the other hand, the series which foster discussion with the viewer enrich a screening with insights that one does not usually have the opportunity to gain. Our diversified programme is intended for an equally diversified audience. Screenings dedicated to particular themes enjoy a great popularity among our audiences, who readily take part in the discussion that follows. We remain aware of the educational dimension of our activities, striving to promote enhanced knowledge and keener experience.
The flagship cinema event at ZAMEK is the International Festival of Documentary Film OFF CINEMA, which we have had the pleasure of hosting for 23 years. We are also happy to share our screen with other festivals taking place in Poznań: the International Young Audience Film Festival Ale Kino!, the International Animated Film Festival Animator or the Short Waves Festival..
Festivals are all about the encounter of the viewer and the filmmaker, an opportunity to talk and exchange ideas, but they are also hubs of accumulated creative energy yielding new concepts for collaboration.
FNE: What is the role of Europa Cinemas for cinemas such as your cinema and why is it important?
Ewa Kujawińska: The membership in the Europa Cinemas is a tremendous honour and distinction, and it is also translates into substantial financial support. It is a great opportunity for networking with other professionals in the field and developing oneself through trainings. I myself took advantage of the Audience Development & Innovation Lab, attending one in Bologna (2015) and another one in Sofia (2019). Such meetings are priceless, offering much new knowledge and a chance to find out how other cinemas function.
FNE: How does a cinema like your serve the local community?
Ewa Kujawińska: Our collaboration with the local community relies on openness to initiatives and new ideas, suggested both by individuals and municipal institutions. We cooperate with the universities of Poznań, various associations and foundations. Pałacowe is a place where students of the Faculty of Animation (University of Arts), local artists and ZAMEK's artists-in-residence can show their work. We also carry out projects with other studio venues in Poznań, such as three editions of the summer festival Nic Się Tu Nie Dzieje, for which we have joined forces with Muza and Rialto cinemas.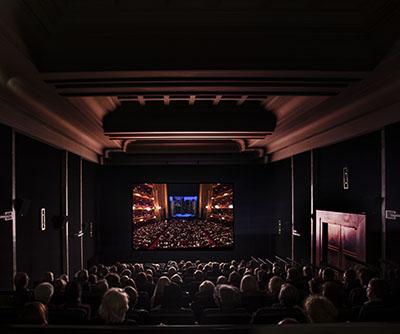 FNE: Can you say something about your work with young audiences?
Ewa Kujawińska: The young and the youngest viewers have a range of screenings and events to choose from. Every Sunday at noon there is a screening intended especially for children, for instance. We welcome collaboration with schools through CinemaSchool. This is a comprehensive educational scheme using various forms of instruction, which aims to foster greater awareness and media competence among pre-schoolers, pupils and teachers, through exposure to carefully selected works of Polish and international cinema.
FNE: What about the digitalisation of cinemas? How it is affecting your work and your cinema?
Ewa Kujawińska: Digital advancements in the cinema have made the work of the team both easier and more efficient. The standard of equipment and the resulting quality of the cinematic experience has increased tremendously. This allows us to be much more flexible; for instance, viewers can be informed about other events by means of on-screen display prepared the same day. Should there be an emergency of any kind, we can respond much quicker, so that overall functioning is much smoother.
It may be noted that we do not show commercials prior to screenings and viewers are not annoyed by the sounds of typical cinema snacks being consumed. Out of sentiment, we also organise screenings using 35 mm film from time to time, revisiting the true magic of cinema.
Contact:
Kino Pałacowe
Centrum Kultury ZAMEK
ul. Św. Marcin 80/82
61-809 Poznań
Phone: +48 61 64 65 246
www.kinopalacowe.pl
This email address is being protected from spambots. You need JavaScript enabled to view it. | This email address is being protected from spambots. You need JavaScript enabled to view it.