FNE: What is the biggest challenge of running a cinema such as yours?
Paul Staufenbiel: As incredible as it might sound, our greatest challenge is to ensure people that cinema is the supreme form of art. What can be more comfortable than going to a cinema with a friend and later discussing the movie over a drink in a café or a pub nearby? This has not been realized by many, and people should be made aware of it.
On top of that, Kuopio is quite a small town (with approximately 100,000 residents) which clearly affects the statistics of art house cinema admissions. However, this is compensated by a quality aware generation who know about the riches in film supply of the 60s and 70s. Kuvakukko reminds them of those golden times.
FNE: What kinds of films do you prefer to screen and why?
P.S.: Mostly European films and some Finnish documentaries. No one distributes films from outside the United States, Finland and a couple of other European countries such as France and the UK, and at the moment we see films from Denmark, Sweden or Spain once in a while. We really don't see in Finland anything from outside the USA and Europe.
Because there is not much selection, we show all the most interesting films, usually European but sometimes also independent films from the U.S. Kuvakukko is owned by the City of Kuopio and its purpose is to secure visibility of quality film in our city.
FNE: The cinema is home to many festivals, events and film weeks. Why are these important and what do they achieve?
P.S.: Kuvakukko's film festivals, like other film festivals, serve the purpose of enabling people see films from all over the world and enjoy that kind of sophistication which lifts you a couple of centimeters above the ground for a good while.
For example, it might take you just one weekend to be introduced to Russian, Polish, Hungarian or Baltic contemporary cinema, which is completely unknown in Finland even if those countries have long and fine traditions in film.
FNE: What is role of Europa Cinemas for cinemas such as your cinema and why is it important?
P.S.: It is important to know that you are a part of a movement which resonates with other kindred spirits, let them be cinemas and people. Every time I visit another Europa Cinemas theatre I feel like coming home. I plan to visit all of them! With the assistance of Europa Cinemas we have been able to do completely new things that weren't possible before.
On that note, last summer we had a free screening of the film Pähkähullu Suomi/Insane Finland in a local baseball stadium. We were able to bring the director Jukka Virtanen, who had succulent stories to tell. The event was a success and its influence will be present for a long time in people's minds. We will continue organizing these community events because they are important for the well-being of the people.
FNE: How does a cinema like yours serve the local community?
P.S.: Kino Kuvakukko has become almost an institute in Kuopio. Its neon lights have shined in central Kuopio for 75 years now. It is the oldest cultural institution and it has almost kept its original architecture. In Kuopio, like in other cities of Finland, old buildings have been systematically destroyed.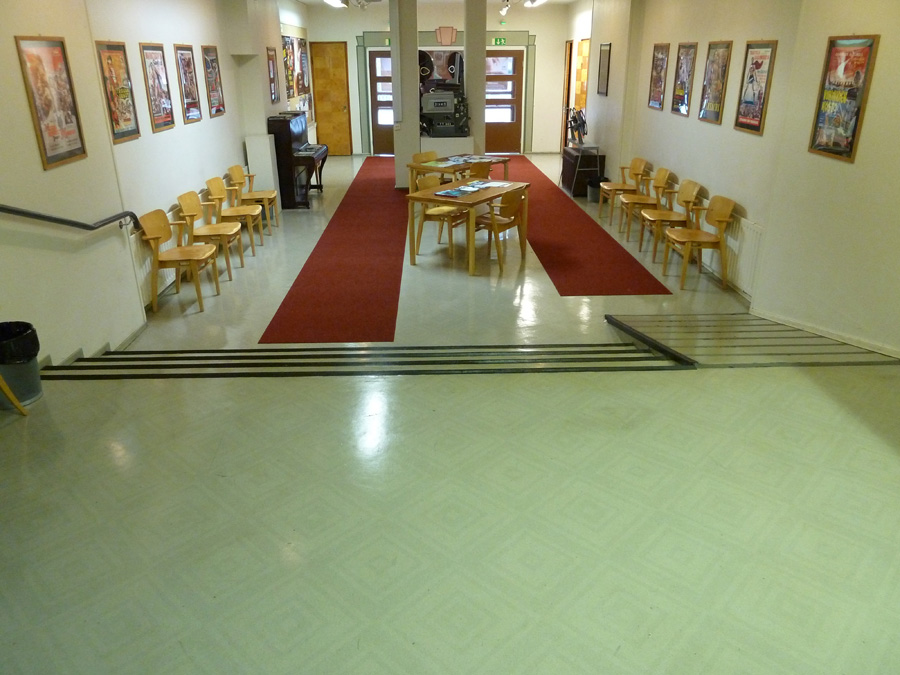 Luckily, the City of Kuopio bought the building and started developing a cinema culture with the courageous help of my determined predecessors. In the biggest cities of Finland all old cinemas have been destroyed and at the moment people are talking that the oldest cinemas in Helsinki, Maxim and Orion, will be closed down (one of these being an Europa Cinemas theater!). People are not proud of the cultural heritage in Finland.
FNE: Can you say something about your work with young audiences?
P.S.: We have annual spring and autumn festivals for 2-6 years old nursery children. Additionally, we screen at least one or two films per year for every grade level. Educational screenings for schools are also popular. Luckily, pretty good films for children have been made. The Finnish School Cinema Association is also doing important work by making educational material for movies.
FNE: What about the digitalisation of cinemas? How will it affect your work and your cinema?
P.S.: The greatest difference brought by digitalisation is the increasing amount of premieres and the flexibility and diversity of the repertoire. These are the redeeming features. The disadvantage is the modest quality of the picture. Maybe 4K will fix that problem. But I am afraid that our digital projector will not last 60 years like the Philips FP-6s standing next to it and nicely purring when fed 35-mm film.
Contacts:
Kino Kuvakukko, Vuorikatu 27
70100 Kuopio, Finland
Phone: +358 17 182 470
GSM:+358 447 182 470
www.kuvakukko.kuopio.fi