Ready to start a new life, Tina waits for her boyfriend Beka to finish a job in another city. In the meantime, she rents a room from the free-spirited Megi (27) but, as Tina soon finds out, this apartment and its inhabitant will form an unlikely refuge from her trauma and ultimately help to open new doors.
A ROOM OF MY OWN is a story about moving out and moving on, set to a backdrop of transient millennial city life. Rural homebody and urban sophisticate, the two young protagonists are nothing if not worlds apart, yet the space they share will become a sanctuary for their blossoming friendship, an island unburdened by the patriarchal world outside.
Georgia / Germany, 2022, 107'
DIRECTOR'S STATEMENT
A ROOM OF MY OWN is about 24-year-old Tina, who loses everything at first and only understands that she must become independent in order to find happiness again. The film is set in present time, during the corona pandemic in the Georgian capital Tbilisi.
Tina is like many other women in Georgia: she grew up in the province, in a conservative family. She did not learn a profession, because the common view is that girls don't need to learn. Their mission in life will be to serve their husband and raise children. Tina does not know love, nor does she marry Datuna for love. When Tina's surroundings find out she has cheated on her husband, they are ashamed of her. From this moment on, the young woman has neither family nor friends. Only her boyfriend Beka. At this point the film begins. We follow Tina as she tries to start over. It is with the help of her roommate Megi that she understands who she is and what she wants.
Three years ago, I became a father of a great girl. Since then, the subject has taken on yet another meaning for me: I worry a lot about what kind of world she will live in when she grows up. I want her to be able to live in a self-determined way. But my wish is not enough if society does not tolerate her freedom of choice.
 With this film, I want to fight alongside women and make people reconsider their point of view. I want the viewers to put themselves in Tina's shoes, a person who had no choice to plan her future, who fell in love with the wrong man and who was always the guilty one, according to society. Tina doesn't know independence and that's why she looks for another person to depend on in Beka. She doesn't know what her hobbies are, what she likes or dislikes, who she is. I hope this story encourages young women to see themselves as an independent person, to respect themselves and take away their fear of independence
This is also why I wrote the screenplay together with. Taki Mumladze, who also stars as Tina, had never written a screenplay before. That's why it was important to me that she speaks in her own voice, so that the script would be as authentic as possible. Taki knows Tina's problems and worries all too well. For a Georgian script, there are very revealing scenes in it. Taki herself decided to make such scenes part of the film, because they are part of a young woman's discovery process, and she finally finds herself through Megi's love and respect. Moreover, a woman's personal development also includes self-determination over her own body. I admire Taki's courage to open up to this story and Tina's character in such a way that others can see her as a role model.
The authenticity is also reflected in the guidance of the camera: The camera is always at the height of the main character. We see and hear everything from her perspective. Also, we shot most scenes in one take. This style gives the audience the feeling of authenticity, and I want the audience to feel the same way as the main character.
Ioseb "Soso" Bliadze, June 2022
AUTHOR'S STATEMENT
When Soso told me he had a script idea about two women and wanted me to be one of the leads, I immediately suggested to co-write the script with him. The reason for this was simple: he wanted to make a film about women, and I had a lifetime of experience as a woman in this world. I remember telling him: "You need me for this!". At the beginning I remember very vividly my struggling mindset. First, I was tempted to think as an actor wondering what would have been my ideal part to challenge me as an actor. But I tried to disengage my actor persona from my writer self and made decisions as a script writer for the sake of our story. The ideas we immersed ourselves with turned out very sensitive and painful for me.
I have fantasized about so many different archetypes of one's life in this patriarchal world. There's an explicit image of women in society defined by men, as if we have a predetermined path from the very beginning and if we diverge from those assumed expectations, we are strictly punished for it. Being in constant psychological and physical terror only because of our gender. And the question is if there's a space left for us to find ourselves under these circumstances? In this reality? It seems like our whole life is wasted for self-preservation. Can we find our identity? How can we explore our sexuality (which is utterly repressed)? Can we have freedom of choice? And if we are lucky to know we have the entitlement to be free and independent, what does all this cost a woman? To be honest, the existing pain inside of me drove the whole script. We really tried to make an honest and uncompromising story.
While working on the script, Tina became more and more real for me. I felt exactly how she would walk and talk, her body language, her energy but knew it only in a sense. Slowly I was realizing the issues I wanted to talk about while creating a character very distinctive and contrasting from my real self, which to be honest really scared me at first. So, then I decided to transfer my imagination into reality, and I started doing simple things - I cut my hair for Tina, put the costume on, walked in the streets thinking about how Tina would move her body while walking and what thoughts she could have, applied anti-acne cream that reddened my face. All these little details helped me as a writer and as an actor to come closer to the storyline and to create characters of the film.
I was uncertain about some of the dialogues but felt intuitively what could work. In written words they might not have been great, and Soso sometimes disliked them as well, but he trusted me and was open to trying it out during the shoot. Some of the decisions made were exactly because I was going to embody them and being an actress really helped me out in developing the character. I remember, as we didn't have a costume designer, that we tried out some outfits for Mariam, who plays Megi, and visualizing the character before the shoots extremely helped and got me on the right track for creating. The character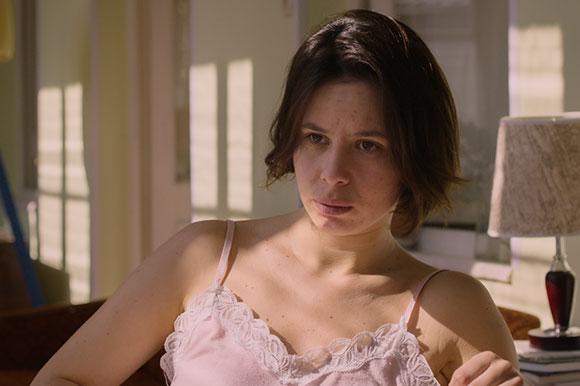 of Megi had a big influence on constructing Tina. She entirely determined how Tina shouldn't be. I will never forget the sensation I had when I saw Tina and Megi at the playback.
As women in Georgia - and not only in Georgia - we still have a long way to go. And unfortunately, we still need to fight to have our own lives without male influence, without the male gaze. But I, like Tina, believe we know that it's worth fighting for our lives and ourselves!
Taki Mumladze, June 2022
CREDITS:
Written by Taki Mumladze, Ioseb "Soso" Bliadze
Directed by Ioseb "Soso" Bliadze
Director of Photography Dimitri Dekanosidze
Edited by Ioseb "Soso" Bliadze
Sound design Irakli Ivanishvili
Music Oto Meskhy, Jan Dwertmann, Beka Ungiadze
Producers Eva Blondiau, Elmar Imanov, Ioseb "Soso" Bliadze
Co-producer Natalia Drozd
Production company Color of May
Co-production Maisis Peri
Starring Taki Mumladze as Tina, Mariam Khundadze as Megi
ABOUT THE PRODUCTION COMPANY:
Elmar Imanov and Eva Blondiau graduated their film studies at the ifs internationale filmschule köln with their common thesis film THE SWING OF THE COFFIN MAKER (Student Oscar®, more than 100 international film festivals and over 35 awards worldwide). In 2013 they founded their own production company COLOR OF MAY and produced the short film TORN which had its world premiere at Cannes' Directors' Fortnight. Their slate includes KABUL, CITY IN THE WIND (Aboozar Amini), END OF SEASON (Elmar Imanov) and OTAR'S DEATH (Ioseb "Soso" Bliadze).
Eva Blondiau was born in 1983 in Bonn and studied film in the field "Creative Producing" at the ifs internationale filmschule köln. She received a two-year scholarship from the VFF and was an assistant in editorial offices and film production companies in the field of documentary and feature film in Germany, Finland, France, Italy, Albania, Cameroon, the United States and Azerbaijan. In 2012, she was nominated at Germany's First Steps Award for "Best Production".
Elmar Imanov was born in 1985 in Baku, Azerbaijan and immigrated to Cologne, Germany in 1998. After high school he studied Film Directing at the ifs internationale filmschule köln. He participated in the production and shoots of numerous short films in Azerbaijan and Germany. In 2012 he graduated with a Bachelor of Arts. He also works as a writer and director.