Originally scheduled for March, at the National Theater in Bucharest, and postponed by three months, the 14th edition of the Gopo Awards, the event that annually celebrates and rewards the most important cinematographic achievements, took place outdoors for the first time, on June 29. Gopo Awards is a national cinema event, similar to Spain's Goya Awards or France's César Awards, named in honour of Romanian film director and pioneering animator Ion Popescu-Gopo, who won the Short Film Palme d'Or at Cannes in 1957 for "A Brief History". Trophies representing Gopo's Little Man, a humanoid character that appears in most of his animation films, are awarded after the vote of more than 600 professionals from all sectors of the domestic film industry, from the nominations chosen by 11 personalities of the cinema industry. 
The organizers chose to set up a glamorous event in a location used mainly for large open air concerts, instead of broadcasting an online event in a studio. 
Adapting such a big scale ceremony to outdoor conditions was a huge endeavor for Romanian Film Promotion, the Gopo Awards organizer, but also a sign of hope for the film world, strongly affected by the pandemic restrictions and economic repercussion. In order to minimize the risk to the 500 participants, special measures were put in place, such as temperature check at all access points, a disinfection tunnel, chair and tables distanced at 2 m, face masks and alcohol based disinfectants were provided, clear safety and physical distancing rules visibly posted in all areas, according to the law in place.
Gopo Awards 2020 VIDEO https://youtu.be/VaNjuXVLwaI 
"I am often told this was a bold move, but I always say we need to learn how to adapt and continue working in a safe manner, because the virus is here to stay. We managed to put in place all safety measures for access and physical distancing in a very short time. This event is a statement of all challenges the film industry is facing nowadays, trying to adapt shootings or screenings to the pandemic context. Another challenge lies ahead for our team: the Transilvania International Film Festival, which takes place between July 31 and August 9, in Cluj. I know it will be a test of how the new normal looks like and we will do our best to make it as enjoyable and safe for the audiences as possible", says Tudor Giurgiu, president of Romanian Film Promotion.
Corneliu Porumboiu's first film shot abroad, "La Gomera", which premiered at Cannes 2019, was the big winner Monday, June 29, at the 14th Gopo Awards, taking home trophies for nine categories, such as Best Film, Best Director or Best Script. 
***
The Gopo Awards honours the best Romanian cinematic achievements of the previous year. 91 Romanian films released in cinemas or festivals in 2019 were taken into consideration for the nominations by this year's jury: 22 feature-length fiction films, 14 documentaries and 55 short films.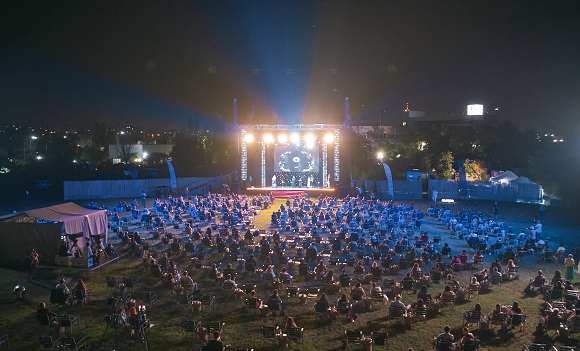 Sorin Florea Gopo 2020 DJI