WHAT KIND OF PROJECT?
The projects which can be submitted are:
TV or Web series

TV specials (min. 26 minutes)

feature films (min. 60 minutes)

transmedia projects
Note: Short films are not accepted.
WHO CAN SUBMIT A PROJECT?
European young talents (who have graduated from animation school or cursus for a maximum of 5 years) can apply and submit their animation project online.
More information in our Toolbox and on our website.
NO PROJECT OR NOT ELIGIBLE BUT INTERESTED IN ATTENDING?
Cartoon Springboard is also open to all professionals who want to improve their knowledge about how to pitch a project. This is also a great opportunity to meet other professionals (producers, broadcasters, games...) from all over Europe.
SPECIAL OFFER FOR PARTICIPANTS FROM LOW AUDIOVISUAL PRODUCTION COUNTRIES
If you are a citizen of one of the following countries (Albania, Bosnia-Herzegovina, Bulgaria,  Croatia, Cyprus, Czech Republic, Estonia, Georgia, Greece, Hungary, Latvia, Lithuania, Malta, Moldova, Montenegro, North Macedonia, Portugal, Republic of Serbia, Romania, Slovakia, Slovenia, Tunisia & Ukraine), you can apply for a scholarship in order to attend the event (with or without a project).
There is no registration fee, accommodation (3 nights) and travel expenses (up to 200€) are offered to the successful applicants.
Applicants will have to:
1/ For those who want to pitch their project:
> Submit their project by 4th September at the latest specifying their country of origin (nationality) through our online form (My Cartoon > My Projects > Cartoon Springboard > Submit a new project).
Note: Should your project be accepted by the Springboard Selection committee (on 5th September), your scholarship request will automatically be validated.
2/ For those who want to attend without pitching any project:
> Fill in and send us the scholarship form by Friday 11th September at the latest, together with a motivation letter and CV.
For further information on scholarship, please consult this page. 
You may directly address your application to This email address is being protected from spambots. You need JavaScript enabled to view it.
We remain at your disposal should you need further information.
www.cartoon-media.eu - www.facebook.com/CARTOON.eu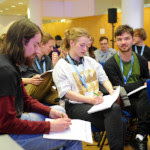 EXPERTS                       SUBMIT A PROJECT                    PROGRAMME
With the support of: