WHITE PLASTIC SKY / Műanyag égbolt – in Encounters competition
2023, Hungarian–Slovakian co-production, a sci-fi animation by a first-time feature director duo, Tibor Bánóczki & Sarolta Szabó, production: Salto Films, Artichoke
In the near future, there are no more animals or plants on Earth and the remaining humans are living under a plastic dome. The price for their continuing survival is very high: at the age of 50, they are implanted with a special seed that turns them into a tree which will provide oxygen and food for the community. A young man, Stefan, accepts this system – until the day his wife Nóra decides to give up her life and undergo voluntary implantation. Driven by his love for her, Stefan decides to break the rules of society in order to save her.
Animation duo Tibor Bánóczki and Sarolta Szabó created their dystopian epic using rotoscoping techniques. The screenplay was developed with contributions from geologists, botanists and meteorologists, thus providing its fantasy-laden story with a solid, scientific grounding. A deeply moving eco-fantasy that deals head-on with the climate apocalypse threatening life on Earth, Műanyag égbolt is a film imbued with the melancholy of those most aware of how close humankind is to extinction. Although, as is the case for the couple at the centre of this beguiling love story, this burden is lightened by their keen sense of the world's beauty.
World premiere: Feb 17 / 16:15 / Akademie der Künste
Sales: Films Boutique
More screenings: https://www.berlinale.de/en/2023/programme/202308199.html
TWILIGHT / Szürkület (1990) – in Berlinale Classics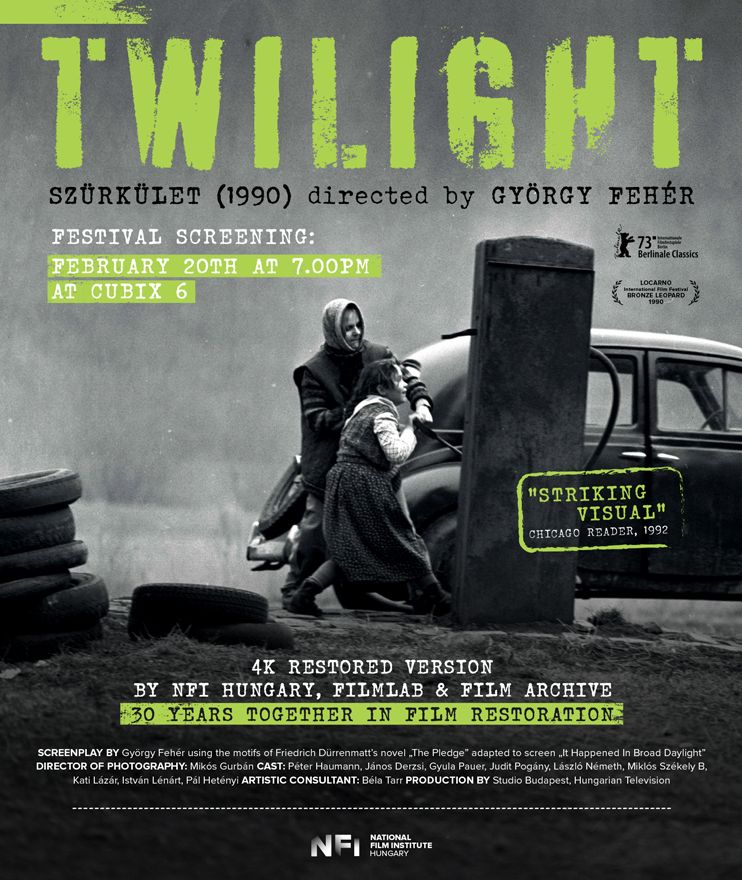 Director György Fehér made the black-and-white film Szürkület at the end of the 1980s, based on the crime novella "The Pledge" by Friedrich Dürrenmatt. It is the story of a retired detective who uses a young girl as bait to try to catch a serial killer. Fehér made only two theatrical features in his lifetime. The 4K restoration, using the original 35mm camera negative and magnetic sound tapes, was carried out at the National Film Institute Hungary – Film Archive and Film Lab. The colour grading was supervised by the film's cinematographer Miklós Gurbán. World premiere of the digitally restored version in 4K.
World premiere: Feb 20 / 19:00 / Cubix 6
Sales: NFI Film Archive
More screenings: https://www.berlinale.de/en/2023/programme/202303334.html
SZEMEM SARKA – in Generation 14 Plus
2023, short animation graduation film by Domonkos Erhardt, production: MOME Anim
Alone at the bus stop, he takes one final drag on his cigarette. Inside the bus, everything rattles and creaks, the dark city slowly passing by the window. And then there she is – reflected in the glass. Their eyes meet: she smiles; beads of sweat form on his forehead. With a style reminiscent of expressionist woodcuts and in daydreamy colours, Domonkos Erhardt's animated short captures the magic of a fleeting encounter.
World premiere: Feb 21 / 12:30 / Zoo 1
Sales: MOME Anim
More screenings: https://www.berlinale.de/en/2023/programme/202309924.html
NFI World Sales HIGHLIGHTS
FOUR SOULS OF COYOTE (2023, completed, English-language animation feature, production: Cinemon Ent.)
Annecy's Crystal Prize winner Aron Gauder (The District, 2004) new feature. - Through a unique re-telling of the creation of the universe, the film highlights the increasingly pressing need to live in harmony with the environment, before it is too late. Set in the present day, Native American teenagers confront the crew of an oil pipeline project, just down the hill from the land of their ancestors. The grandfather evokes the ancient tale of their Creation myth, reminding all of us that the challenges facing humanity are universal, and that we need to find our place in the great circle of creatures.
HADIK (2023, completed, production: BLLine)
Directed by Janos Szikora, Hadik is a thrilling adventure set in 18th-century Europe, where Andras Hadik, a charismatic Hussar General, is tasked by Queen Maria Theresa of Austria with a dangerous mission. Alongside his fearless riders, Hadik sets out to raid the city of Berlin and teach King Frederick a lesson. As they journey towards their goal, Hadik and his men face countless challenges, including treacherous terrain, fierce battles, and unexpected betrayals. But with Hadik's unwavering courage and leadership, they emerge victorious and capture the city of Berlin. However, their victory is short-lived as Hadik's arch-nemesis, the ruthless General Von Bock, tracks them down. In a heart-pounding showdown, Hadik must engage in a deadly sword duel with Von Bock, determined to protect his men and secure their victory. With the mission accomplished and Berlin captured, Hadik returns to Vienna, where the Queen rewards him for his bravery and skill in battle. But even as he basks in the glory of his triumph, Hadik knows that his next adventure awaits, and that he must always be ready for whatever challenges may come his way.
Filled with action, suspense, and heart-pounding thrills, Hadik is a movie the whole family can enjoy, a timeless tale of bravery and courage that will inspire audiences for generations to come.
SIX WEEKS (2022, completed, production: Sparks)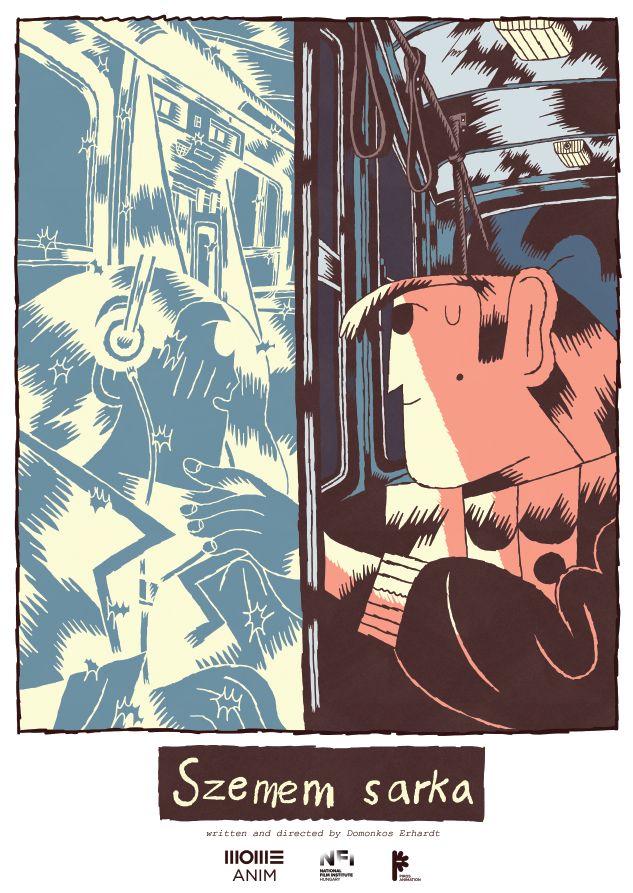 Noemi Szakonyi Veronika's Tallinn IFF Just Film Grand Prix winner debut feature tells the story of an open adoption. A table tennis player teenage girl after getting pregnant, decides to adopt the baby to a couple who had been waiting to become parents for a long time. She has six weeks to change her mind after giving birth, which is an extremely difficult period of time emotionally for both parties.
LARRY (2022, completed, production: Focus Fox)
Szilard Bernath's debut feature is a socially sensitive tale of young shepherd who lives in isolation due to his extreme stuttering, in one of the poorest region in Hungary. He soon realizes that hip-hop is the only way he can get rid of his speech impediment and his passionate lyrics make him extremely popular among the youth. The film won Best Debut Film as well as Best Youth Film at Cottbus Film Festival 2022.
NOT A THING (2022, completed, production: Partnerfilms)
Fanni Szilagyi's debut feature is about two women who are identical twins yet couldn't be more different. They are dissatisfied with their own lives and envy each other, their relationship gets even more complicated when they meet a young man, who is everything they aren't and becomes their object of desire. Amazing Natasa Stork – previously starring internationally acclaimed Preparations to Be Together for an Unknown Period of Time and European Shooting Stars of 2021 – plays the double role for which she was awarded Best Actress at New York Film Week recently.
HALF WAY HOME (2022, completed, production: Focus Fox)
Isti Madarasz' romantic-comedy/fantasy. The story of Christian is a twenty-something with no direction to his life. He starts his new job at the morgue - it seems easy: he is the nightwatchman. The only thing he is supposed to do is sit through his shift. But on the first night he finds that the dead don't rest in peace; they are waking up to walk the corridors and ask for his help.
New Series form Hungary
FAIRYLAND – AGE OF TEMPTATIONS (2023, history romance series, 8 x 60 min., production: Megafilm)
Set in tumultuous medieval times, Fairyland – Age of Temptations is an epic series about an important chapter of the Hungarian history when the country was threatened by the Habsburgs from the West and the Ottomans from the East. The last remaining free bastion is Transylvania led by the young and ambitious Gábor Báthory. Behind him stands his aunt, Erzsébet Báthory (the infamous bloody countess), and his thoughtful, educated tutor, Gábor Bethlen. The three nations of Transylvania, the Hungarians, the Székelys and the Saxons are hoping that Báthory may finally bring peace to the small principality, but Báthory had other risky plans to fight for independence. This story is not just about the battle of empires but also the internal fight between master and disciple and hidden secrets of a noble family. Gripping, multi-layered characters, epic storytelling and spectacular scenery makes this new series a bold and sexy new take on the genre.
LOCKED UP SECRETS (2023, crime drama series, 8 x 60 min., production: Megafilm)
How does a Hungarian scientist beaten almost to death help Yuri Gagarin who is floating in space? Is there a way out of the clutches of a sexually overheated Nazi prison warden? Can a mother who killed her child be forgiven? Is there an escape from the toxicity of loneliness caused by an apocalypse that will destroy our civilization in the near future?
Freedom is greatly valued by every human society but each of them ruthlessly takes it away from those who commit a crime. But what is sin really? Who are the real criminals?
Anthology series Locked Up Secrets shows through eight human stories how the definition of sin and innocence, crime and punishment changed in the very same prison cell over 200 years, from the middle of the 19th century to the near future.
GOLDEN BULL (2022, history docudrama series, 6 x 30 min., production: Aranybulla Film)
When the young King Andrew II ascended the throne, he had to face not only the Kuns invading Transylvania and the approaching Muslim influence, but also the lords who were intriguing inside the Court. With the help of his beloved wife, Gertrúd, her family from Meran and in alliance with the church, he threw himself into the fight for the further rise of the Kingdom of Hungary. His adventurous journey led him through the altars of churches and halls of beautiful palaces to the distant Jerusalem. The young king from the House of Árpád wearing the Holy Crown of Hungary became a wiser monarch during the challenges he was forced to endure. For the sake of the country and his nation he made a new alliance with his people and laid down the rules in the Golden Bull in 1222. This 6-part docudrama series includes spectacular re-enactments and intriguing explanations from historian experts.