In line with tradition, we will introduce the Emerging Producers 2023 in Berlin. Join us at Café Connect (Stresemannstraße 90) on Friday, February 17 between 6 –7.30 PM and meet the seventeen up-and-coming European documentary film producers! Access is possible with the EFM market badge only.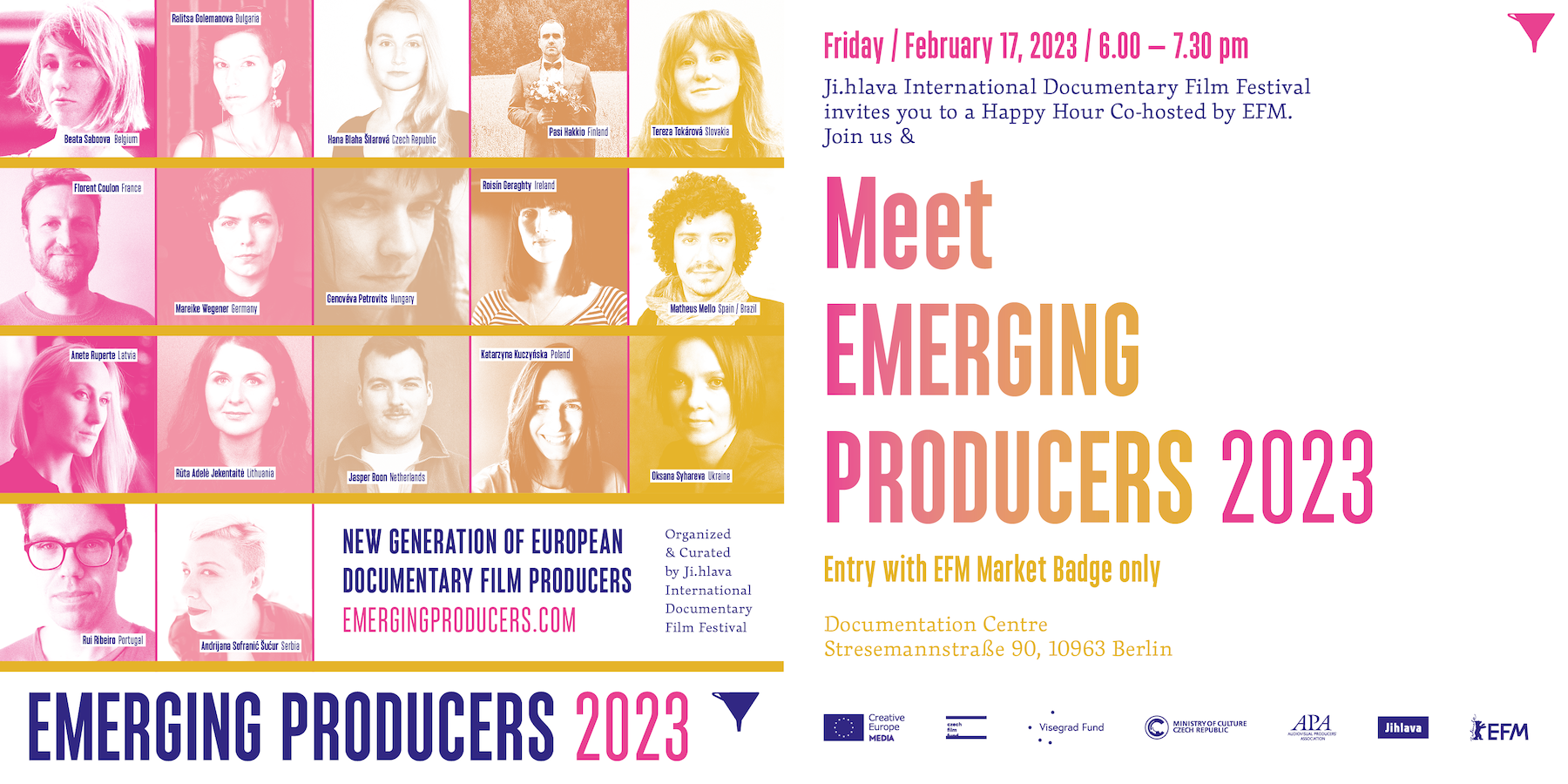 HAPPY HOUR WITH DOC ALLIANCE IN BERLIN 
Together with our festival partners we will also be happy to meet you at the Happy Hour with Doc Alliance, which will take place at the Café Connect (Stresemannstraße 90) on Saturday, February 18 between 6 –7 PM. Access is possible with the EFM market badge only.
CINEMA OF CARE AT BERLIN CRITICS' WEEK 
On February 15 starting 7 PM, Akademie der Künste Berlin will host an opening conference of Berlin Critics' Week with filmmaker Claire Denis, Ji.hlava IDFF's director Marek Hovorka and film curator Abby Sun. They will discuss the responsibility cultural workers, institutions, companies and filmmakers have towards each other. A good warm-up for the Berlinale!  
SUBMISSIONS TO THE 27TH JI.HLAVA IDFF ARE OPEN 
We are receiving submissions for the 27th Ji.hlava IDFF (October 24–29, 2023), a key European documentary film festival and the largest event of its kind in Central and Eastern Europe. We accept feature-length and short films, animated, hybrid, interactive documentaries as well as VR projects. The films premiered in Jihlava have a chance to be nominated for the European Film Academy Awards and the winners at the Ji.hlava IDFF are also eligible for Oscar® consideration in the Documentary Short Subject and Documentary Feature Subject categories. Check out the deadlines now.
INSPIRATION FORUM DISCUSSIONS ARE ONLINE 
For the twelfth year already, Ji.hlava's Inspiration Forum platform offered an opportunity to discover new perspectives, strengthen the dialogue and introduce new issues about our day-and-age. This year's edition focused on the events in Ukraine, the society moving online, the limits of economic growth and its alternatives, and the freedoms that are often still only on paper. You can enjoy the selection of the best recordings of this year's forum online here.
Ji.hlava IDFF stands with Ukraine. Please consider making a donation to DocuDays, which created a support fund for Ukrainian filmmakers.