The film, which takes place in contemporary Budapest, is about the lies in relationships and artistic creation. After the two protagonists, a burnt-out advertising expert and an author of esoteric bestsellers, accidently meet and express their mutual antipathy, they become entangled in a web of deceits, and a strange and entertaining romantic affair emerges.
"The audience started laughing at what we thought was funny and also what we didn't think was funny. They connected to the film and reacted enthusiastically," Varsics told FNE.
The popular theatre actor Ernő Fekete plays the advertiser with literary ambitions and Márta Béres stars as the celebrated writer. This is the first lead film role for both of them.
"For this type of film, casting is the most important thing. If we don't have the right actors, or if they can't cooperate, the feature fails. One of the main considerations in their selection was that I didn't want typical protagonists already seen in countless romantic comedies, but two flesh and blood people, who deceive themselves and others," Varsics told FNE.
Several well-known Hungarian actors appear in the film, including Nóra Trokán, Dorottya Hais, Tamás Lengyel, Géza D. Hegedűs, Szabolcs Thuróczy, Tibor Gáspár, Eszter Ónodi and Ferenc Elek.
The author of the screenplay is Csaba Csurgó, who had previously written the highly successful romantic comedy What Ever Happened to Timi / Megdönteni Hajnal Tímeát.
"I saw the potential to create a more exciting film in this genre using romantic toposes in a way that allows the film to stay honest, and even turning the toposes inside out a little bit," Varsics said about the script.
Perfect As You Are / Így vagy tökéletes was shot in August and September 2019 on location in Budapest. It was produced by Tamás Lajos and Ábel Köves through Szupermodern Studio. The cinematographer is András Nagy. The National Film Institute - Hungary supported the production with 984,221 EU / 350 million HUF. This is the first feature film from Varsics, who works as creative director at HBO Europe.
The film is distributed by InterCom in Hungary. It will open in local cinemas on 19 August.
The Hungarian Motion Picture Festival took place in Veszprém 23 - 26 June 2021.
Production information: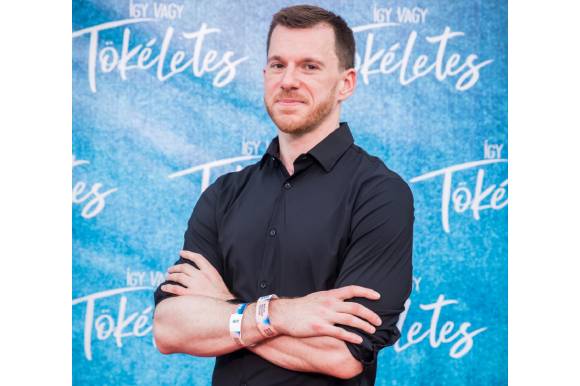 Producers: Tamás Lajos and Ábel Köves
Szupermodern Studio (Hungary)
Supported by the National Film Institute - Hungary
Credits:
Director: Péter Varsics
Scriptwriter: Csaba Csurgó
DoP: András Nagy
Editor: Zoltán Kovács
Cast: Márta Béres, Ernő Fekete, Nóra Trokán, Dorottya Hais, Tamás Lengyel, Géza D. Hegedűs, Szabolcs Thuróczy, Tibor Gáspár, Eszter Ónodi, Ferenc Elek.