The historical drama The Poet / Poetas directed by Giedrius Tamoševičius and Vytautas V. Landsbergis won in three categories: leading actor, supporting actor and cinematography.
The sci-fi drama Vesper by Lithuanian director Kristina Buožytė and French director Bruno Samper also received three awards: for make-up, costume design and production design.
The AVAKA and Lithuanian Film Centre Award went to the Baltic film & Creative Tech Cluster for the contribution to the development of the Lithuanian film industry and the strengthening of cooperation with foreign countries.
Actor Juozas Budraitis was presented with the Golden Crane Lifetime Achievement Award.
The Silver Crane Awards 2023 are organised by the Lithuanian Film Centre and the Audiovisual Works Copyright Association AVAKA.
FULL LIST OF WINNERS: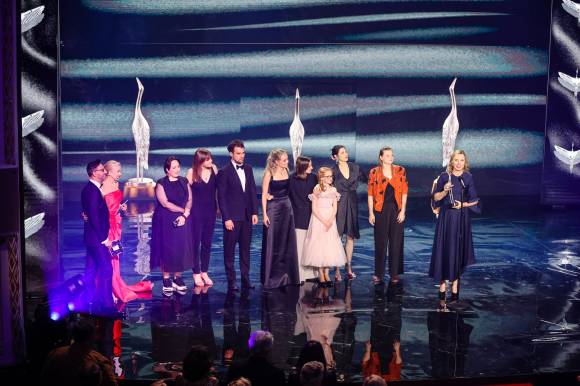 Best Feature Film:
Remember to Blink / Per arti (Lithuania)
Directed by Austėja Urbaitė
Produced by Fralita Films
Supported by the Lithuanian Film Centre, LRT
Best Short Film:
Once upon a Vilnius / Čiabuvo Vilnius (Lithuania)
Directed by Eitvydas Doškus
Best Long Documentary:
Mariupolis 2 (Lithuania, France, Germany)
Directed by Mantas Kvedaravičius, co-directed by Hanna Bilobrova
Produced by Studio Uljana Kim, Extimacy film
Coproduced by Easy Riders films, Twenty Twenty Vision Filmproduktion
Best Animated Film:
Purga (Lithuania)
Directed by Gintarė Valevičiūtė Brazauskienė, Antanas Skučas
Best Director:
Austėja Urbaitė for Remember to Blink / Per arti
Best Leading Actress:
Rasa Samuolytė in Parade / Paradas (Lithuania)
Directed by Titas Laucius
Produced by After School
Supported by the Lithuanian Film Centre
Best Leading Actor:
Donatas Želvys in The Poet / Poetas (Lithuania)
Directed by Giedrius Tamoševičius, Vytautas V. Landsbergis
Produced by Studija APropos
Supported by the Lithuanian Film Centre, LRT
Best Supporting Actress:
NelėSavičenko in Feature Film about Life / Ilgo metro filmasapie gyvenimą (Lithuania)
Directed by Dovilė Šarutytė
Produced by Studio Uljana Kim
Supported by the Lithuanian Film Centre, LRT
Best Supporting Actor:
Dainius Gavenonis in The Poet / Poetas
Best Screenplay:
Titas Laucius for Parade / Paradas
Best Cinematographer:
Vytautas Plukas for The Poet / Poetas
Best Music Composer:
Šiaurės Kryptis for Songs for a Fox / Dainoslapei (Lithuania, Latvia, Estonia)
Directed by Kristijonas Vildžiūnas
Produced by Studio Uljana Kim
Coproduced by Studio Locomotive, Joonisfilm
Supported by the Lithuanian Film Centre, the National Film Centre of Latvia, the Estonian Film Centre
Best Production Design:
Ramūnas Rastauskas, Raimondas Dičius for Vesper (Lithuania, France, Belgium)
Directed by Kristina Buožytė, Bruno Samper
Produced by Natrix Films
Coproduced by VFX, 10.80 Films, EV.L Prod
Supported by the Lithuanian Film Centre
Best Editing:
Gintarė Sokelytė for Feature Film about Life / Ilgo metro filmas apie gyvenimą
Best Sound Design:
Julius Grigelionis for Remember to Blink / Per arti
Best Costume Design:
Christophe Pidre, Florence Scholtes for Vesper
Best Make-up:
Eglė Mikalauskaitė Gricienė for Vesper
Best Minority Coproduction:
January / Janvāris (Latvia, Lithuania, Poland)
Directed by Viesturs Kairišs
Produced by Mistrus Media
Coproduced by Artbox, Staron Film
Supported by the National Film Centre of Latvia, the Ministry of Culture of the Republic of Latvia, the Lithuanian Film Centre, the Polish Film Institute, Eurimages, Latvijas Mobilais Telefons, Latvian Television, Latvian Foundation, Culture and Sports Department of the Riga City Council
Best Student Film:
Through Gloom / Blausos (Lithuania)
Directed by Arnas Balčiūnas
Public Choice Award:
Generation of Evil / Piktuju Karta (Lithuania)
Directed by Emilis Vėlyvis
Produced by Kino kultas
Supported by the Lithuanian Film Centre
AVAKA and Lithuanian Film Centre Award:
Baltic film & Creative Tech Cluster (for the contribution to the development of the Lithuanian film industry and the strengthening of cooperation with foreign countries)
Golden Crane Lifetime Achievement Award:
Actor Juozas Budraitis