The LATGA Award for Best Lithuanian Long Film went to the documentary Mariupolis 2 by Mantas Kvedaravicius, which was completed by Hanna Bilobrova after Kvedaravicius was killed in Ukraine.
The Audience Award went to Eight Mountains directed by Charlotte Vandermeersch and Felix van Groeningen (Belgium, France, Italy).
Ten films screened in the main competition and 30 films in the international and Lithuanian short film competitions.
The festival wrapped with the screening of Letter to Ukraina / Laiškas Ukrinai directed by the Lithuanian film collective, an observational documentary about Lithuania's support to Ukraine.
Meeting Point Vilnius, the industry segment of the festival, was held 20 – 22 March 2023.
The festival was held in person and 80,000 attended the screenings.
WINNERS:
Competition:
Best Film:
La Palisiada / Ля Палісіада (Ukraine)
Directed by Philip Sotnychenko
Short Film Competition:
Best Film:
Neighbour Abdi / Buurman Abdi (the Netherlands)
Directed by Douwe Dijkstra
Special Mention:
Shadows of the Butterflies / L'hombre des papillons (Qatar, Portugal, Morocco, France)
Directed by Sofia El Khyari
Best Lithuanian Short Film: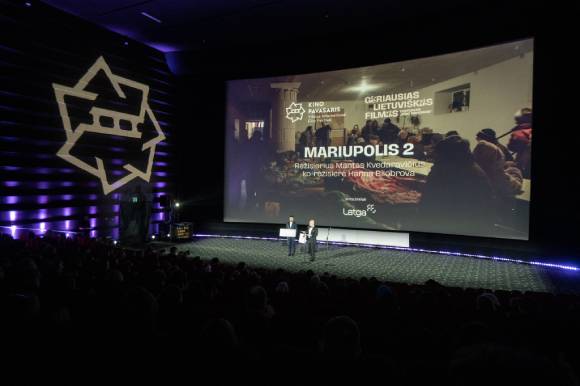 Cherries / Uogos
Directed by Vytautas Katkus
LATGA Award for Best Lithuanian Film:
Mariupolis 2 (Lithuania, France, Germany)
Directed by Mantas Kvedaravicius
Co-directed by Hanna Bilobrova
Audience Award:
Eight Mountains / Le otto montagne (Italy, Belgium, France, UK)
Directed by Charlotte Vandermeersch, Felix van Groeningen
Click HERE to see the winners of Meeting Point Vilnius 2023.