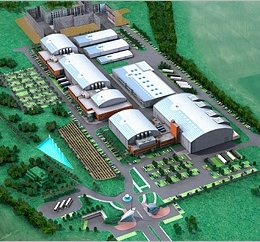 Hungary's Korda Studios has changed the landscape of film production in Central Europe since it opened its doors just over a year ago. Korda scored high marks from director Guillermo del Toro who shot the $72m Hellboy 2 at Korda last year giving other studios in the region a new benchmark to shoot for. According to Del Toro after a six month shoot at Korda the studios are "perfectly calibrated to host a film of any caliber."Hellboy 2 was the largest ever production to shoot in Hungary with an international cast and crew of over 350. Chris Symes exec producer of the movie declared that "Korda Studios is a high-tech facility as good as anywhere you'll find."
Named after Sir Alexander Korda, the famous Hungarian filmmaker who revived the British film industry, $127M Korda Studios development is backed by Sándor Demján, the region's most respected real estate developer, known for the construction of new cultural buildings such as The Hungarian National Theater and the Palace of Arts, winner of the prestigious 2006 FIABCI Prix d'Excellence. Now Korda is set to up the ante with the opening of its new 6000 m2 stage Superstage with an interior clear height of 20 m which is understood to be the largest soundstage in the world. While the opening is slated for 2009 Korda already has five of the most modern, sound-proofed, air-conditioned soundstages in central Europe on offer. But if size really does matter-its not the only thing that matters in filmmaking. One of the other important factors is the sophisticated infrastructure that is on offer at Korda. Korda has signed an alliance with Budapest-based post-production company Colorfront whose owners developed the digital cinema (DCI) colour-grading technology now known as Lustre. This will give filmmakers using Korda facilities access to cutting edge technologies without leaving the Korda complex at all. Using this technology it is possible to see the previous day's shots in color-graded, cinema-quality, as it will actually appear in the final film. Colorfront creates low-cost digital "dailies" using the original shooting footage.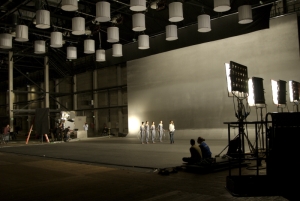 The studio complex is 34 hectares, of which 10 hectares are designated backlot space. Korda currently has Europe's largest permanent outdoor backlot set: a 360 degree gritty Brooklyn, NY set with 4 story buildings and two intersections. Professional expertise from overseas aids the next phase of Korda's construction, in the form of Charlie Arneson, who has come to Korda Studios late last year to run the studio. Arneson played a key role in the production of James Cameron's mega-production, Titanic, by supervising the construction of the numerous water stages – including the world's largest watertank – purpose-built for the shoot at the Fox Baja Studios. After the production wrapped, Arneson was asked to stay and run the studio, and during the next 10 years he created the studios' theme park, and further developed the watertanks and the on site special effects technologies. But Korda Studios has also been given the thumbs up by local Hungarian filmmakers looking for international production values within the local filmmaking scene. Starting this month Korda Studios will be servicing its first Hungarian production starting next week: Krisztina Goda's (Children of Glory, Just Sex and Nothing Else) new film Kameleon will be using Korda Stage's and facilities in May and June.
Korda Studios has everything needed for international film productions: star, regular, and crowd dressing rooms, hair and make-up facilities, production offices, a 50 person movie theater, small screening rooms, an audio post and editorial wing, workshops of various sizes with adjoining offices, and state-of-the-art security, all in beautiful, quiet rural surroundings just outside of Budapest.
Sound Stage 1: 2000 m2, 11m clear height

Twin stages 2/3: opened together 3600 m2, 11 m clear height

Sound Stage 4: 1000 m2, 11m clear height

Sound Stage 5: 2350 m2, 14m clear height
Each stage has NC-25 sound proofing, high-powered air-conditioning and heating, broadband connections, and sound trap doors.
The Korda Studios team will be in Cannes this year. If you want to discuss your next production or co-production please contact us.

SPONSORED STATEMENT: KORDA STUDIOS
For further information please contact:
This email address is being protected from spambots. You need JavaScript enabled to view it.
Daniel Kresmery
international marketing
Korda Studios
tel: +36 70 455 6830 (in Cannes)
tel: +36 22 556 004
fax: +36 22 223 980
www.kordastudio.hu