The Atlas Cinema is located in Prague's district of Karlín and has been working under CinemArt distribution company since 2013. It has two screening halls- the Big Red Hall with 143 seats and the Small Blue Hall with 58 seats, both open for mainstream and art house productions. The cinema is visited by about 45,000 spectators every year and regularly organises opening nights, press screenings and conferences, broadcasts from opera houses, as well as school screenings and screenings for elderly people.
The Evald Cinema is located in the very centre of Prague on Narodni Street. In 1997, the cinema was established by CinemArt distribution company as a place focused on art house production. That is also why the cinema was named Evald, after the name of Evald Schorm, a renowned Czech New Wave film director. Evald is a single-screen movie theatre with an air-conditioned hall with 72 seats. Around 31,000 spectators attended the cinema in 2015. Evald regularly organises performances for children and screenings for schools and senior citizens. It also serves as a social centre of several major film festivals and significant exhibitions.

FNE: What is the biggest challenge of running a cinema such as yours?

Ondřej Trantina: Nowadays, the lifespan of films in cinemas is very short. Hearing about films "on the grapevine" (through previews, awards won at renowned film festivals, interesting promotion, etc.) helps prolong their lifespan in cinemas before they end up on DVD or TV channels.
People generally like screenings that can offer something "extra": e.g. an art competition for children, filmmakers' panels, a guided tour of the cinema, etc., and that´s exactly the biggest challenge for us – to come up with such "extra" events, to care for our audiences, to encourage young spectators to go to the cinema regularly and think about films. Then people speak about the films, they come to the cinema to see them, sometimes they even come for the second time, they recommend the film to their friends and family – and that´s good, because otherwise the film would be just one of the many in a tough competition.
Petr Farkaš: The biggest challenge is to make the viewers come to our cinema. Despite the fact that the Atlas cinema is situated in the centre of Prague, in the district of Karlín, there are other cinemas not far from there, particularly mainstream cinemas (multiplex cinemas). It is a big challange for us to attract the public. We must be able to compete with cinemas situated nearby and we must be able to prepare something special for our audiences. That includes an interesting programme, a nice atmosphere or a lower tickets price.
FNE: What kind of films do you like to screen and why?

Ondřej Trantina: We screen not only popular Czech films, but also European titles as well as American films. Spectators like festivals and events that offer mostly art house production and have a rich supporting programme. At the Evald cinema, for example, Nordic Film Thursdays organised once a month in cooperation with The Scandinavian House in Prague, always screen contemporary Scandinavian cinema because, in spite of being very good and gathering many international awards, it didn´t make its way to the Czech film distribution network.

Petr Farkaš: We prefer to screen mainly high-quality European films. However, the range of films on our programme is really wide. We screen a lot of European art house films, the best Czech films, unique alternative concerts, but also standard commercial films. We believe that all viewers can find something interesting for them in our cinema.
FNE: The cinema is home to many festivals, events and film weeks. Why are these important and what do they achieve?

Ondřej Trantina: Our cinemas regularly host several festivals and events – one of the most interesting is One World Human Rights International Documentary Film Festival. It offers, among others, school screenings, which have great impact on young spectators.
Another festival is Das Filmfest, a festival of films made in Germany, Austria and Switzerland. And last but not least, there is the 3Kino Festival, featuring films from Poland, Hungary, Slovakia and the Czech Republic. Such events are very interesting for our spectators and are usually attended by a lot of people.
Petr Farkaš: We are very proud of the fact that many festivals, events and film weeks take place at our cinema. It is a good opportunity to screen art house European films that are not distributed in the Czech Republic. We cooperate with many film festival teams and it is a great opportunity for us to attract a lot of new people to our cinema. The audience can see a variety of new European films at our beautiful cinema, in a historical functionalist style building with its own cultural traditions. We hope that the viewers come back because they were really satisfied with the programme and cultural events at our cinema.
    
FNE: What is the role of Europa Cinemas for cinemas such as your cinema and why is it important?

Ondřej Trantina: The support of Europa Cinemas is crucial for the Atlas and Evald cinemas; without it, the cinemas would be in a really difficult situation in Prague, where there are many multiplex cinemas with substantial support in the mass media.

Petr Farkaš: Being a member of the Europa Cinemas network is very important for our cinema. With the support of Europe Cinemas we can screen most of European films distributed in the Czech Republic.

FNE: How does a cinema like yours serve the local community?

Ondřej Trantina: In the Atlas and Evald cinemas people can see many interesting films that often lack commercial potential for multiplex cinemas and therefore are withdrawn very soon after their premiere. Thanks to our Bio Senior and Bio Junior clubs, both elderly and young spectators can see such films at an affordable price. The cinemas provide a congenial atmosphere (e.g. in the cinema cafés) for people to come together and discuss the films they have just seen or are planning to see.

Petr Farkaš: We serve the local community as a cultural film centre in the district of Karlín. The Atlas cinema is situated in the centre of Prague and it has a café, which is an ideal place to discuss films and cultural events. On the other hand, we are open for our viewers every day. We communicate with our visitors through newletters, our website, printed programme and Facebook.  
FNE: Can you tell us something about your work with young audiences?

Ondřej Trantina: For young audiences we offer regular screenings during the week (Bio Junior) and weekends (as part of family/children screenings). We regularly address local schools with our offer of school screenings. In cooperation with the Dítě v krizi (Children in Crisis) organisation we offer screenings followed by discussions with experts.

Petr Farkaš: The CinemArt distribution company, which runs both the Atlas and Evald cinemas, regularly issues a list of films suitable as school screenings for all the cinemas in the Czech Republic. On the CinemArt website, there are also some methodological sheets, showing how to work with children after watching a film.
The films we offer can be considered to be part of civic education and social science education in schools. The list comprises screenings for kindergarten children, basic school pupils and secondary school students. It is regularly updated and sent out to schools. The listed films are also on at the Atlas and Evald cinemas.    
FNE: What about the digitalisation of cinemas? How will it affect your work and your cinema?

Ondřej Trantina: Both our cinemas have gone through the process of digitalisation and are therefore prepared to provide high-quality screenings for our spectators.

Petr Farkaš: The digitalisation has a very positive side-effect: now we have the possibility to screen films immediately after they premiere. Another great side-effect is that we now can much easier repeat the screenings of successful films. Before the digitalisation it took at least a few weeks before we had a film in 35mm, and we could screen it only once or twice. It is now much easier for us to prepare the programme, because we keep all films in a digital version (DCP, BD).
Contacts:
Kino Atlas
Sokolovská 1, Praha 8
Czech Republic
Phone: +420 2 22312278
This email address is being protected from spambots. You need JavaScript enabled to view it.
www.kinoatlas.cz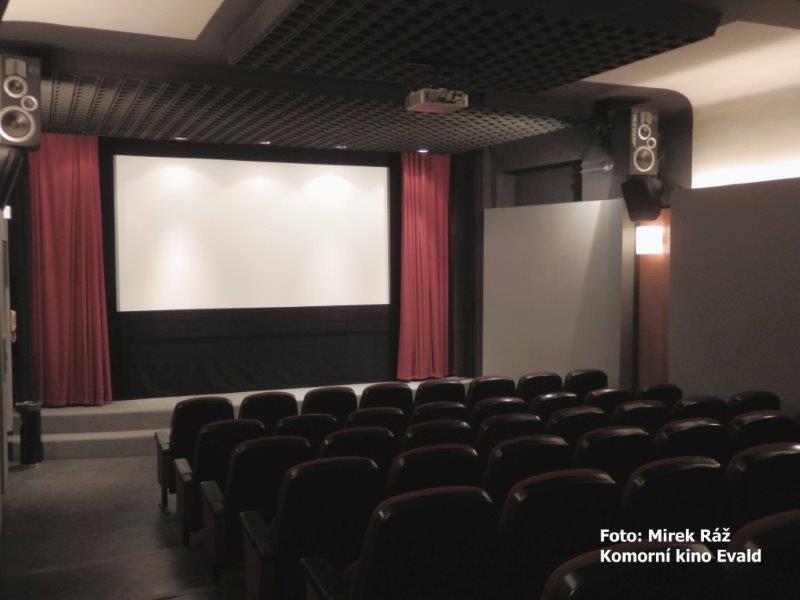 Komorní kino Evald
Národní 28, Praha 1
Czech Republic
Phone: +420 2 24949110
This email address is being protected from spambots. You need JavaScript enabled to view it.
www.evald.cz