This week we focus on Latvia and we speak with Dita Rietuma, the Head of the Latvian National Film Centre and with the scriptwriter Martins Slisans, winner of the Krzysztof Kieslowski Award in 2012. 
Latvian scripts selected at ScripTeast:
Celebration of Life by Antra Cilinska – 2nd edition (2007-2008)
Riders by Janis Vingris – 4th edition (2009-2010)
The Apartments by Martin Slisans – 6th edition (2011-2012)
---
 Interview with Dita Rietuma, the Head of the Latvian National Film Centre
by FNE Staff
FNE: What was the most important development in your national cinema in 2015?
Dita Rietuma: The most important development was launching the programme Latvian Films for Latvia's Centennial with the aim to produce six feature films, two long animated films and eight long documentaries. The total amount of financing in 2017 is 7.5 m EUR. 
The programme Latvian Films for Latvia's Centennial was launched in 2014, in order to contribute to the production of films high in quality, diverse in genre and socially significant, promoting themes related to the Latvian history, statehood and national identity, sustaining understanding of the national identity and development of the state of Latvia among the broadest audience. 
Several rounds of the call for application were held to attain the objectives of the programme, ensuing with granting funding for the project development and preproduction stage. The premieres of the supported films will be held in 2018, when we will celebrate Latvia's Centennial.
FNE: What is the major step to be taken in your national cinema in 2016?
Dita Rietuma: We are happy that 2016 started with the international recognition of Latvian Cinema. Renārs Vimba's directorial debut Mellow Mud, a coming-of-age drama produced by Tasse Film, has won Berlinale's Crystal Bear for Best Film in the Generation 14Plus sidebar. We hope that this is the first, but not the last international prize for Latvian films in 2016.
FNE: Why is ScripTeast important for your country and how do you evaluate its activity so far?
Dita Rietuma: Professional and well developed script is the most important part of the successful movie. We are grateful for ScripTeast for their input and hope that more Latvian scripts will be developed with the help of ScripTeast in the future.
---
 Interview with Martins Slisans, winner of Krzysztof Kieslowski Award in 2012 
by FNE Staff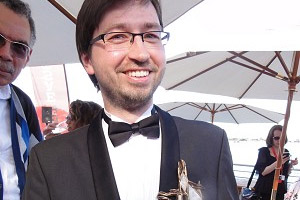 Martins Slisans, writer, director and producer, has been closely connected with film business since 1995. His point of entry was film critics. He's been involved with creative script development and international coproduction process since 2002. 
His film credits in production development, research coordinator or administrator include the Estonian/Belarus/Latvia coproduction Lonely Island (2012) by Peeter Simm and the documentaries My Husband Andrei Sakharov (2006) and Vijaya (2005), both by Inara Kolmane.
He published his first book, Terracotta Army, in 2006.
FNE: What is your most vivid memory from ScripTeast?
Martins Slisans: The week in Poland, our initial meeting. The people, the place, the whole set-up at Sterdyn, a splendid manor house out in the country. Very memorable experience and very well thought out, both work-wise and in the way of recreation. 
And then the award ceremony in Cannes, an exercise in what one should expect when winning big. Real success is not an easy thing to survive, especially on the initial run.
FNE: How important it was for you to participate? 
Martins Slisans: Paramount. One does talk about life altering experiences. I would call it a major upgrade, for me ScripTeast was just that – at the right time and the right place. 
FNE: What was the most important advice you received at ScripTeast?
Martins Slisans: For me the most important part was meeting the host of advisers and get their take on my work. Once you hear several people express similar things, you know you're on the right track. Even more important, it helps to navigate opinions and single out ones that most inform your work. 
A major surprise was to find out that instead of an epic drama, I have written a comedy. People kept saying, they laughed again and again while reading The Apartments, which apparently doesn't happen that often in script reading. This revelation changed the whole perspective of my writing, which is profoundly ironic: sometimes it takes someone from outside to tell you what your work is all about. 
FNE: In which ways ScripTeast is different from other script development workshops?
Martins Slisans: It provides access to Berlin and Cannes, which for young writers, who usually sit in their own room, in their own country, is an important insight in the industry, the cogs and wheels that drive the business. 
FNE: What are you working on now?
Martins Slisans: Several things, but the most important one right now and least expected - directing. It is one thing to put a unique story on paper, and entirely different matter to find a way to bring it to screen which, (per) as the story demands, has to be equally inspired. The problem is that you have no set samples or guides to consult or follow, you have to discover something new.
Another thing I'm working on is an adaptation of a young adult novel, a bigger genre picture. And the third one, which kind of has to take a backseat while I'm "actually working", is an English language novel, my first.