In his first feature film, the surrealist drama Mammalia (aka Double Happiness), Romanian director Sebastian Mihăilescu is decomposing the masculine hero archetype by following a 39-year old man who discovers a secret community dedicated to fertility while looking for his missing girlfriend.
Mihăilescu wrote the script together with Andrei Epure and the main characters are played by István Téglás, Mălina Manovici, Denisa Nicolae, Steliana Bălăcianu and Rolando Matsangos.
The film is produced by Romania's MicroFILM, Poland's Extreme Emotions and Germany's Pandora Film in coproduction with Bord Cadre films (Switzerland), Sovereign Films (UK) and HiFilm Productions (Romania), and in association with Visual Walkabout (Romania), nomada.solo (Romania), Aeroplan Studios (Poland), XANF (Poland), Les Films d'Antoine (France) and Wunderlust (Germany).
Diana Păroiu and Ada Solomon are the producers, Ewa Puszczyńska and Nina Frese are the coproducers, Dan Wechsler, Andreas Roald and Jamal Zeinal-Zade are the executive producers, and Antoine Simkine is the associate producer.
Lights On is handling the sales.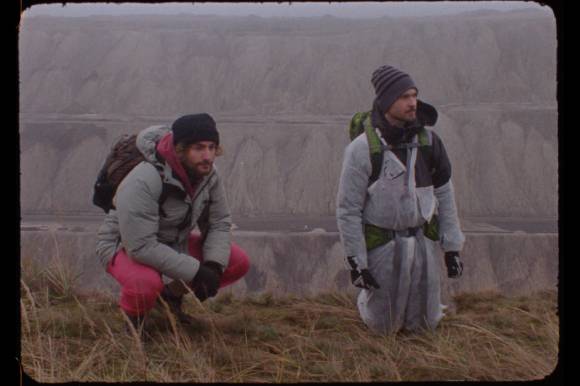 Notes from Eremocenes / Poznámky z Eremocénu explores the potential of artificial intelligence and blockchain technologies in dealing with complex global problems we generate: climate change and the crisis of parliamentary democracy.
It is also a hands-on, personal film, based on a fictive conversation with the author's future virtual copy. It combines Super 8 and 16 mm diary style footage with the LiDAR point cloud technology, also formally emphasising the tension between analogue and digital future of mankind.
The film is produced by Dorota Zacharová through Slovak Guča s.r.o. in coproduction with Czech Marina films and RTVS.
Notes from Eremocenes is the last part of a trilogy which includes Čákanyová´s debut, the experimental documentary FREM, produced by Hypermarket Film in coproduction with Punkchart Films and the Czech Television, which premiered at the Berlinale Forum 2020, and White on White, produced by Guča s.r.o. in coproduction with Marina Films from the Czech Republic), which won the Opus Bonum International Competition of the 24th Ji.hlava IDFF.
FILMS FROM FNE PARTNER COUNTRIES SELECTED FOR BERLINALE'S FORUM SECTION 2023:
Mammalia (Romania, Germany, Poland, Switzerland, UK)
Directed by Sebastian Mihăilescu
Produced by MicroFILM (Romania), Extreme Emotions (Poland) and Pandora Film (Germany)
Coproduced by Bord Cadre films (Switzerland), Sovereign Films (UK) and HiFilm Productions (Romania), in association with Visual Walkabout (Romania), nomada.solo (Romania), Aeroplan Studios (Poland), XANF (Poland), Les Films d'Antoine (France), Wunderlust (Germany)
Supported by the Romanian Film Centre (CNC), the Polish Film Institute (PISF), Film-und Medienstiftung NRW, Creative Europe – MEDIA, the Romanian public television TVR
Notes from Eremocenes / Poznámky z Eremocénu (Slovakia, Czech Republic)
Directed by Viera Čákanyová
Produced by Guča s.r.o.
Coproduced by Czech Marina films, RTVS (Radio and Television Slovakia)
Supported by the Slovak Audiovisual Fund, the Bratislava Region