FNE: How were you filming in the Ukraine?
Wanda Adamík Hrycová: In the preproduction phase, which lasted from November 2018 to April 2019, I had visited Ukraine intensively to prepare a budget, approve decorations and costumes. The shooting started in May and lasted until the end of October 2019. During this time I was there practicaly non-stop.
FNE: After such a long time spent shooting in the Ukraine, what can you say about coproducing and shooting there?
Wanda Adamík Hrycová: Shooting was very long and challenging because the project itself was difficult. Although the budget of 3.6 m EUR may seem over standard on our terms, in reality it's far from ideal for such an epic historic series, and we felt that during the production. As for the actual shooting, we managed to put together a great crew. People in the Ukraine are incredibly dedicated, passionate about the thing, and I have to say that I am not sure I have ever seen people so much devoted and loyal to the project.
FNE: Do you see coproducing with the Ukraine increasing in the next years?
Wanda Adamík Hrycová: I cannot answer this question completely at this time. I think it will take some time to evaluate it because it is really a project "redeemed with sweat and blood". Personal sacrifices and job sacrifices were indeed quite large.
FNE: When is the premiere of Slavs scheduled for?
Wanda Adamík Hrycová: We already have the final cuts of the first six episodes (out of a total of 12 episodes) so we are starting to do sound postproduction, visual effects and grading. The premiere date depends on the television, but the series is expected to be released in the autumn of 2020.
FNE: As the Head of the Slovak Film and TV Academy could you tell us how was the year 2019 for the Academy?
Wanda Adamík Hrycová: SFTA is the organiser of the Slovak national film awards ceremony Sun In The Net, The Slovak Film Week presentation, and also covers the Slovak nomination process for the European Film Awards and the Oscars.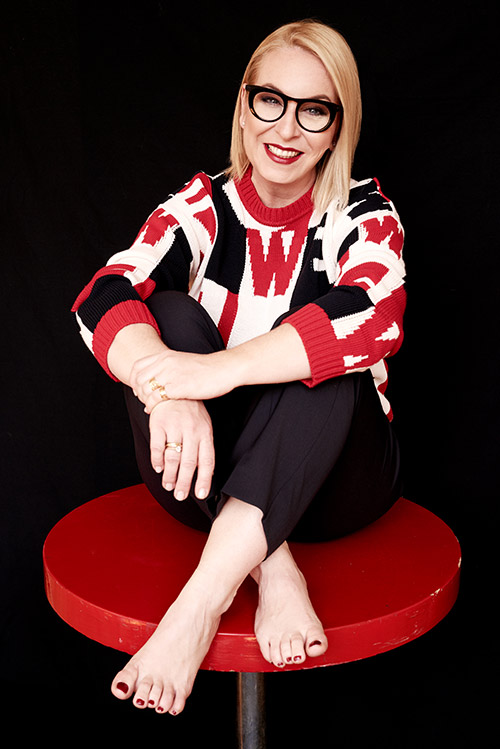 The year 2019 was my first year serving as the President of the Academy and for me it was a year of observation, learning, evaluating and planning. I was trying to identify the Academy's strengths and weaknesses, but also the opportunities it can bring to the industry. I am very happy that the general assembly of the SFTA has agreed to my proposal to create a new position of executive director in the structure of the Academy, a professional working for SFTA on a full time basis. The new executive director, Agata Jelenekova, has been appointed less than two weeks ago and has already come up with some very interesting ideas and plans for 2020. I am really looking forward to cooperation with her in the coming future.
FNE: What are your priorities for the Slovak Film and TV Academy in 2020?
Wanda Adamík Hrycová: Our goal is to create a platform where filmmakers of different professions can meet and talk about their troubles but also about their successes. We want to create an environment where they can get inspiration or inspire others, a place where they can discuss their problems and try to find solutions to them. SFTA also wants to work on the promotion of Slovak film in our country but also help to promote it abroad. We want to help the visibility of Slovakia on the world map of film and to promote it as a very interesting shooting destination. The conditions here have already been created to attract the foreign filmmakers – starting with a very fresh 33% automatic cash rebate system, available skilled crews or amazing locations, which include the High Tatra mountains, deep forests, medieval or renaissance towns or castles, Slovakia really has a lot to offer.
FNE: Was 2019 a good year for the Slovak cinema?
Wanda Adamík Hrycová: Compared to last year, 2019 was more successful. We had interesting titles that are travelling the world and representing Slovakia at festivals (Let There Be Light by Marko Škop, Cook or F**k, Kill by Mira Fornay), and I am really happy about it because they are quality films that make us thrive abroad, even though they may not have seen box office success at home.
However, this year was generous to some Slovak films also in cinemas. Whether it was The Rift / Trhlina by Peter Bebjak, that attracted 262,000 cinema viewers, or the very fresh film by Jakub Kroner, the romantic comedy The New Year´s Kiss / Šťastný nový rok, which topped the weekend box office during its opening with 56,555 admissions. I am very much looking forward to such genre films because it is a diversification of cinematography and you see that the audience reacts very positively. And that is definitely some good news for the Slovak film.