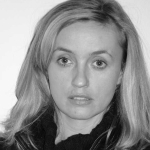 A veteran promotion and public relations officer. she headed of promotion for the Ljubljana International Film Festival and the Cankarjev Documentary Film festival, and was the public relations officer for film programmes at Cankarjec dom. She was a natural choice to move into the position of manager for film programmes in 2006, overseeing film distribution as well as two international film festivals and Cankarjev dom other film events.
With a well-structured annualtarget of acquiring and distributing five or six films each year, Bucar's job is to select primarily high-profile, European films. Along with films by notable directors such as Kusturica, Von Trier, Chabrol, Kaurismaki, Haneke, and Almodovar. Cankarev has recently distributed films from less well-known directors, such as 12:08 East of Bucharest (Parumboiu), You, the Living (Andersson), Lady Chatterley (Ferran), and Persepolis (Satrapi, Paranoud).
"We never buy packages," Bucar says. "We always buy particular films, and we strictly cover European films," although every few years, she admits to buying a non-European film. "We always do the first release of the film in our cinema." For the future, Bucar says, "It's event marketing that will attract people back to the cinema." Beyond Cankarjev dom, Bucar says that in Slovenia, "We should create a cinema network between the art house cinemas."
Along with its distribution arm and its festival arm as producer of the Lubjlana International Film Festival LIFFe, Cankarjev dom screens programs in two cinema halls throughout the year.
Contact:
Cankarjev Dom
Prešernova cesta 10
Ljubljana
Slovenia
Tel.: +386 1- 2417 167
Fax: +386 1- 2417 298
e-mail:
This email address is being protected from spambots. You need JavaScript enabled to view it.


Homepage: www.liffe.si

2007 admissions 2.4 million