The script written by Alexey Kozhuharov follows the story of a man who is also a racing driver. After having passed 15 years in prison he tries to bring back to life Luce, a car bearing the name of his dead beloved. The plot was inspired by Blatechky's passion for car races.
"The idea came from something very personal. Some years ago my wife Katerina Goranova, who is a film director, offered me a very special present, a retro car I was in love with. We showed it to our friend and writer Alexey Kozhuharov and he decided to build a fictional story rich in car races and physical fights", the popular star Asen Blatechky told FNE. "Nevertheless, this is not just an action film. It is a drama with a lot of action scenes. What the audience loved most was the psychological, not the physical, tension", Blatechky added.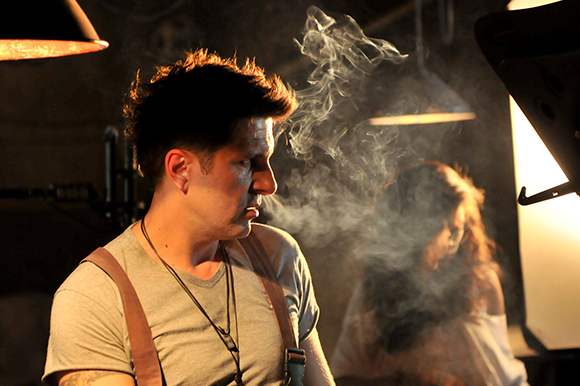 The male lead parts are played by Blatechky and Kalin Vrachanski. Snezhana Makaveeva and Lilyana Stanailova play the two main female characters, who also drive high speed cars.
The first part of the shooting took place in 2013, the rest was completed in the beginning of 2017. Over 50 cars were used, some of them in order to be smashed on purpose, and 20 highly experienced stuntmen were added to the crew. Most of the car races were shot at the Varna port.
The film was produced by Cinequanone with the support of the Bulgarian National Film Center in coproduction with Nova TV owned by Nova Broadcasting Group, and the National Palace of Culture.
The premiere took place in Varna on 16 May 2017. Domestic release brought over 90,000 admissions.
"For me as an actor and for my wife this film is very important. With our directorial debut we made our dream become true,"  Blatechky said.  
Production Information :
Cinequanone
This email address is being protected from spambots. You need JavaScript enabled to view it.
www.cinequanone.eu
Credits:
Director: Katerina Goranova, Asen Blatechky
Script: Alexey Kozhuharov
DoP: Martin Chichov, Radoslav Gotchev
Music: Christo Namliev, Temelko Temelkov
Cast: Asen Blatechky, Kalin Vrachanski, Snezhana Makaveeva, Lilyana Stanailova, Plamen Manasiev, Michael Madsen, Vesselin Kalanovsky, Vassil Banov, Stefan Ivanov, Bashar Rahal, Sully Erna, Pavel Lefterov