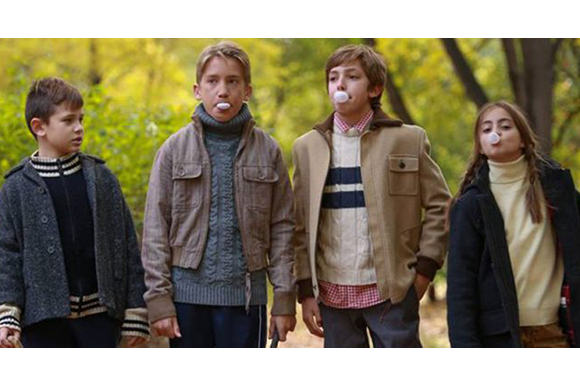 The script was written by Teodora Markova, Georgy Ivanov, Nevena Kertova and Vladislav Chepilov and tells the story of Bilyana and Kalin, whose childhood friendship and unfulfilled love during the late 1980's was suddenly interrupted. Twenty-five years later the two of them meet unexpectedly and start rediscovering their first love.
"This is a story about the generation that at present is 35-40 years old, a story about childhood in a communist country, about dreams, illusions and today's reality. It is also a romantic look at a time when it was possible to live a kind of naughty and crazy but happy and sincere childhood," co-scriptwriter Georgy Ivanov told FNE. 
The low budget film was produced by Dynamic Arts and was supported with nearly 200,000 EUR from the Bulgarian National Film Center..
Shooting started on 15 October 2016 and ended on 7 November 2016.
"As the childhood story takes place in 1988, shortly before the big political change, we had to look for locations less affected by time. At the same time the film contains a contemporary part with a modern look. And as the story is 100 percent urban, we shot in gardens, parks, streets and apartments in Sofia," producer Stanislav Donchev told FNE.
Popular theatre and TV actors Teodora Duhovnikova and Ivan Yurukov play the leads. Joreta Nikolova, Valentin Ganev and Malin Krastev are costarring.
Stanislav Todorov – Rogi was among the main directors of some of Bulgaria's most popular TV serials, including She and He, Sofia Residents in More, produced by Bulgaria's biggest private TV channel bTV and Mitrani Office, produced by TV7, which ceased broadcast on 1 February 2016.
The premiere of the film and domestic distribution are planned for 16 February 2018. The domestic distributor will be Lenta.
Production Information:
Dynamic Arts
This email address is being protected from spambots. You need JavaScript enabled to view it.
www.dynamicarts-bg.com
Credits:
Director: Stanislav Todorov – Rogi
Scriptwriters: Teodora Markova, Georgy Ivanov, Nevena Kertova, Vladislav Chepilov
DoP: Vladimir Mihailov
Art Director: Boriana Mincheva
Costume Designer: Irina Kocheva
Sound: Petko Manchev
Editing: Stefan Boyadjiev
Cast: Ivan Yurukov, Teodora Duhovnikova, Joreta Nikolova, Valentin Ganev, Malin Krastev