This Slovak/Czech coproduction is focused on the life and period of the drifter, prisoner, fencer, photographer, painter, pilgrim, action creator and performer Alex Mlynarčík.
It is also a story of a century which formed the modern identity, culture and fundamental values of Slovakia – not only as a part of Czechoslovakia, but also as an independent state, and mostly as a part of the European Community to which this protagonist, with his work and life, integrally belongs.
The shooting of the film took more than four years, and archival footage is accompanied by observational footage. "Every time we thought the film was already done and we were going to cut the material, Alex came up with another activity he thought was necessary to record, until the last 'Paris exhibition, a comeback' at the Lara Vincy Gallery in 2017. At that time, Juraj and I said that even this action could not be the last one. So we ended shooting and finished the film," Urban said.
The film was produced by Urban´s company ALEF FILM & MEDIA, with coproducers RTVS, Ateliéry Bonton Zlín, UN FILM, Filmpark productions, Fulfilm and the Slovak Film Institute. Elsewhere is supported by the Slovak Audiovisual Fund.
Production Information: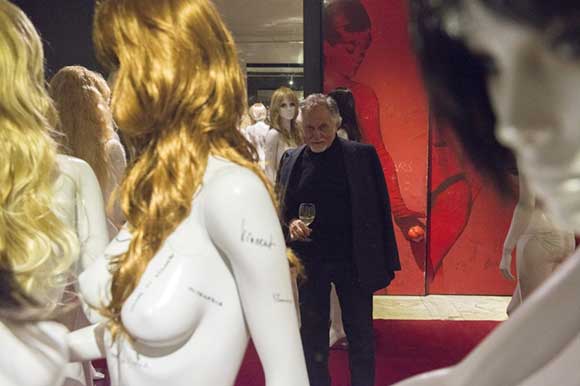 Producer:
ALEF FILM & MEDIA (Slovakia)
This email address is being protected from spambots. You need JavaScript enabled to view it.
Coproducers:
RTVS (Slovakia)
Ateliéry Bonton Zlín (Czech Republic)
UN FILM (Slovakia)
Filmpark productions (Slovakia)
Fulfilm (Czech Republic)
Slovak Film Institute (Slovakia)
Credits:
Directors: Juraj Nvota, Marian Urban
Scriptwriters: Marian Urban, Juraj Nvota
DoP: Richard Krivda
Editors: Alois Fišárek, Darina Smržová
Music: Jakub Kudláč
Sound: Michal Džadoň
Cast: Alexander Mlynárčik, Ivan Jančár, Ruiz Fernandes, Eugen A. Cernan, Milan Knižák, Max Bruise, Henri Perrier, Dušan Hanák