"The postproduction of the film is finished and now we are focusing on participation in festivals, preparing the premiere and the communication campaign for the film, which officially begins on 24 May 2020," producer Jindřich Motýl from Luminar Film told FNE.
The story is about a good-looking city girl, Marie, who marries in the small Austrian town of Schwarzwald. The town is in the area forcibly annexed by Czechoslovakia in 1920. At the beginning of WWII, most of the Czech-speaking citizens chose German nationality. While peaceful during the war, the area is swept by violence right after the war. A group of malicious neighbours forces the wealthiest citizens of the town to stand in front of a people's court and they are murdered. Marie and her two children have to cross the border into the woods, where they build a temporary shed of branches.
The 27 shooting days took place in the small village of Bořice u Mirotic, in southern Bohemia, which is also the place of Sláma´s residence. According to the producer, the inhabitants of the village became part of the shooting, even in some important roles. 
The film is produced by Luminar film in coproduction with Filmpark production, the Czech Television and i/o post. Shadow Land is supported by the Czech Film Fund and Slovak Audiovisual Fund and the final budget is 1,315,602 EUR / 36,000,000 CZ.
The release in the Czech Republic is planned for September 2020. BONTON Film will be the distributor.
Production information:
Producer:
Luminar film (Czech Republic)
This email address is being protected from spambots. You need JavaScript enabled to view it.
Coproducers:
Filmpark production (Slovakia)
Czech Television (Czech Republic)
i/o post (Czech Republic)
Credits:
Director: Bohdan Sláma
Story: Martin Růžička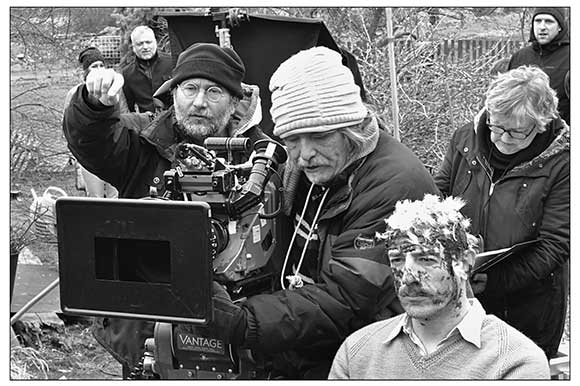 Screenwriter: Ivan Arsenjev
DoP: Marek Diviš
Edit: Jan Daňhel
Set Design: Jan Pjena Novotný
Costumes: Zuzana Krejzková
Sound: Michal Holubec
Music: Jakub Kudláč
Cast: Magdalena Borová, Csongor Kassai, Stanislav Majer, Pavel Nový, Bára Poláková, Marek Pospíchal, Ondřej Malý, Agi Gubíková, Zuzana Kronerová