Digitalisation of screens has been mostly completed, the new film law is still pending and Slovenian producers still regularly participate in international productions as coproducers and minority producers, especially for films from the former Yugoslavian countries.
PRODUCTION
The year 2014 was not successful for film production in terms of completed projects compared with the previous year, due to economic reasons, delayed (post)production and the fact that the 2013 public tenders were confirmed only this year. Therefore, most of the projects are in the pre-production phase and scheduled to be completed in the coming years. In addition some films which started production in 2012 are expected to be finished and released in 2015.
Just one public tender for Minority Slovene Coproduction was announced and confirmed in 2014 by the Slovenian Film Center. Two titles were cofinanced with a total of 95,000 EUR: the documentary On the Border, directed by Peter Zach and produced by Germany's Jana Cisar Flmproduktion; and the feature We Will be the Champions of the World, directed by Darko Brajić and produced by Serbia's Intermedia network.
The 2013 output was 17 feature films but in 2014 just 10 feature films were completed. Taking into account the eight titles which premiered at the 17th Slovenian Film Festival, there are also the Slovene-Austrian coproduction The Woods are Still Green by Slovenian director Marko Naberšnik, produced by Artdeluxe and Perfo Production; and A Role for Emma by Alen Pavšar, produced by Almedia.
No critically acclaimed titles or box office hits such as those which dominated the 2013 Domestic Box Office were produced in 2014. Surprisingly the most popular domestic film was the independent film A Role for Emma which was rejected for funding by SFC.
Notable feature film projects in postproduction phase in 2014 are: Mother directed by Vlado Škafar and produced by Gustav Film; Šiška De Luxe by Jan Cvitković and produced by Perfo Production; Nightlife by Damijan Kozole and produced by Vertigo Emotionfilm; and Perservance by Miha Knific and produced by Nukleus Film.
Notable future projects starting production in 2014 are: Ivan by Janez Burger, produced by Staragara; Yellow Boogie directed by Karpo Godina, produced by Nora Production Group; and Go With Me directed by Igor Šterk, produced by A.A.C. Production d.o.o.
The film industry in Slovenia is almost entirely dependent on financing by SFC, a public agency established by The Slovenian Film Centre legislation in 2011. In theory, its funding sources should be varied and come from the state budget, the agency's own income, collaboration with international organizations, donations and sponsorships; but in practice the majority of its funds are in the form of a subsidy from the Ministry of Culture, the amount depending on the annual budget of the Republic of Slovenia, which makes the agency highly dependent on the current political and economic situation of the country. In 2014 the Ministry of Culture provided the amount of 2,691,957.04 EUR for that purpose.
Other sources of funding originate from coproductions, the services of state backed FS Viba film studio in the form of technical assistance, international film funds and institutions and foreign taxes.
The new law on the Slovenian Audiovisual Centre (SLAVC), which will bring several major changes to the field of film and television and their related activities, is still pending. The significant changes refer to introducing new ways of funding domestic film production: the national broadcaster and commercial TV stations should contribute 2% of annual income (in the case of the national broadcaster realized through its own productions and co-productions with independent producers), distributors 0.5% of annual income, exhibitors 1% of annual box office, telecommunication operators 0.8% of annual income and other legal entities that market advertising space in programmes broadcast on the territory of the Republic of Slovenia, 2% of annual income. Combined with the funds provided through state budget, Slovenian cinema should receive 8m to 10m EUR annually, which is twice as much as it receives now. In 2010, 16 feature films were produced. There were 16 films in 2012, 17 films in 2013 and 10 films in 2014.
DISTRIBUTION
In 2013 a total of 443 films were distributed in Slovenia with an average admission of 5,141 per film. Of these, 208 films (47%) were US productions with an average admission of 8,497 per film, and 199 (45%) were European productions and productions of other countries with an average admission of 1,289, and 36 (8%) were domestic productions and coproductions with an average admission of 7,043.
The leading distribution companies in Slovenia are still Blitz Film & Video Distribution, Continental film d.o.o., Cinemania Group d.o.o., Karantanija Cinamas d.o.o. and Cenex d.o.o.. All of those, except Cinemania Group d.o.o., primarily distribute commercial films from major Hollywood studios. There are some smaller distribution companies in Slovenia that distribute independent, domestic and European films: Demiurg, Fivia, and Cankarjev dom.
The digitalisation process across the country has been mainly completed in most of the cinemas which are still operating. No official results have been published yet.
Due to incomplete digitalisation and financial problems of the biggest Slovenian exhibitor Kolosej, the situation on the distribution market (and consequently on the box office) has drastically changed. In autumn the leading distribution company Blitz Film & Video Distribution stopped distributing its titles to Kolosej which is also the key factor for a big drop of cinema attendance. The representatives of Blitz have not released an official statement yet but in fact, in the Slovene capital city of Ljubljana some of the commercially most important titles (from worldwide distributors Warner Bros and Fox) have not been released. A solution was found in cooperation with the Cankarjev Dom, which occasionally offers its cinema equipped theatre Linhart Hall for that purpose. Ljubljana cinema audience also travel to the Cineplexx in the nearby city of Kranj.
EXHIBITION AND BOX OFFICE
Total theatrical attendance in 2013 was 2,336,614 and the total box office was 11,090,784 EUR, according to the available data provided by FSF. The trend in admissions shows a 15% drop and a 7.6% drop in box office from the year before.
However, it was a good year for domestic films. The top box office hit in 2013 was the domestic film Going our Way 2 (528,564 EUR and 115,145 admissions), similar to the 2010 results when Going our Way had the top position with 696,636 EUR and 165,975 admissions. In the second place was Smurfs 2 (590,026 EUR and 113,568 admissions), also similar to the 2011 results when Smurfs was the top film with 982,250 EUR and 207,894 admissions. The third place in 2013 was Fast and Furious 6 (376,851 EUR and 71,839 admissions).
The year 2013 was also one of the most successful years for Slovenian titles after 1991. Additionally to Going our Way 2 (Vertigo Emotionfilm) there were some other successful domestic titles in 2013: Chefurs Raus (ARSmedia) with a box office of 266,887 EUR and attendance of 54,918; the acclaimed Class Enemy (Triglav Film) with a box office of 161,092 EUR and attendance of 40,576; and Good to Go (Pakt Media) with a box office of 53,577 EUR and attendance of 13,025. Altogether domestic films accounted for 9.16% of box office and 10.91% of attendance in 2013, which represents the highest domestic share in the past few years. There were 398 films distributed, including 11 domestic films, in 2012 with box office of 12,002,517 EUR and 2,742,350 admission. In 2013 there were 443 films distributed, including 17 domestic films, with box office of 11,090,784 and 2,336,614 admissions.
Estimated results for this year seem to be much worse. Almost a 30% drop of admission and more than 20% drop of box office are expected, which means that the total cinema attendance for 2014 will be around 1.6m and box office 8.5m EUR. The reason for the smaller drop in box office is higher price of the cinema ticket compared to last year.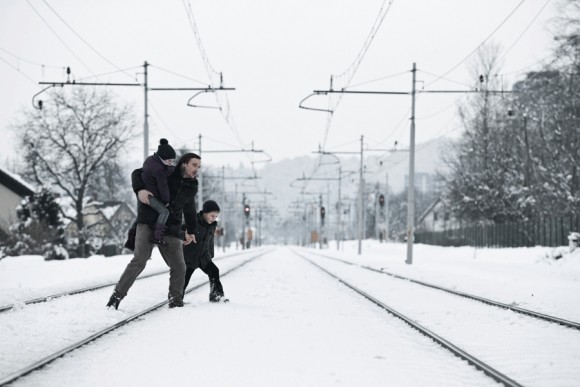 Less interest in domestic titles is also expected. So far the top Slovenian movie is A Role for Emma (Almedia) with attendance of 24,000 (98,000 EUR), followed by Sailing to Paradise with attendance of little more than 4,000. Vinko Möderndorfer's Inferno (Forum Ljubljana) and Naberšnik's The Woods are Still Green (Artdeluxe, Perfo) will probably grab more attention from the critics than the audience.
FILM INSTITUTIONS
The main film institution in Slovenia is the Slovenian Film Centre, a public agency established in 2011 when it replaced the Slovenian Film Fund. It supports national film production, post-production, distribution and film festivals. It is the main source of film funding covering production, project development, script development and educational activities.
Since its launch, SFC has been involved in production of 80% of domestic films with average funding support of over 50% per project. In 2013 the total amount of funds available to SFC was approximately 4.5m EUR which is 17% more than in 2012. In 2013 the SFC awarded grants totalling 3.49m EUR: 2.46m went for funding eight feature films, 216,000 for funding four short films, 120,000 for three coproductions and 700,000 for 15 audiovisual projects.
CONTACTS:
Institution

Address

Telephone and fax

E-mail

Slovenian Film Centre

Miklošiceva 38

SI - 1000 Ljubljana

T: +386 (0)1 23 43 200

F: +386 (0)1 23 43 219

This email address is being protected from spambots. You need JavaScript enabled to view it.

Ministry of Culture of Republic of Slovenia

Maistrova ulica 10

SI - 1000 Ljubljana

T: +386 (0)1 369 59 00

F: +386 (0)1 369 59 01

This email address is being protected from spambots. You need JavaScript enabled to view it.

FS Viba

Stegne 5

SI - 1000 Ljubljana

T: + 386 (0)1 5132 402

F: + 386 (0)1 5132 550

This email address is being protected from spambots. You need JavaScript enabled to view it.

Slovenia Film Commission

Miklošièeva 38

SI - 1000 Ljubljana

T: +386 (0)3 23 43 200

F: +386 (0)1 23 43 219

This email address is being protected from spambots. You need JavaScript enabled to view it.

Cenex d.o.o.

Preložnikova 1

SI - 3212 Vojnik

T: +386 (0)1 78 00 470

F: +386 (0)1 78 00 472

This email address is being protected from spambots. You need JavaScript enabled to view it.
Source Slovenian Film Agency, Cenex d.o.o., Ministry of Culture