The script written by Zornitsa Sofia and based on Nikolay Haitov's well-known novel Roumena Voevoda focuses on the true character of Roumena, a bold woman from the 19th century who led a male gang during Bulgaria's Ottoman occupation. Roumena's life is covered from her birth to the collapse of the rebellious group under her leadership.
"It is a story about a woman who struggles to reconcile the warrior and the mother, the male and female qualities in herself", Zornitsa Sofia told FNE. For the first time in her career she plays the main part in the film she is directing.
Valery Yordanov is co-starring. Most of the supporting roles are performed by non-professional actors. The film was shot during 33 days in August-October 2015. Numerous medieval and military sets were built nearby historic villages or directly in the woods.
Bulgaria's MQ Pictures is producing in coproduction with Croatia's Focus Media with a budget of 1.1 m EUR. Nu Boyana and Dream Team Films are the Bulgarian national coproducers. The film was supported by the Bulgarian National Film Center. 
Chieftain participated in the CentEast Market Warsaw and the Agora Thessaloniki Film Festival works in progress competitions. Nova TV has already acquired the broadcasting rights.
Production Information:
MQ Pictures Ltd
28, Ekzarh Iosif Str, floor 6, Apt.18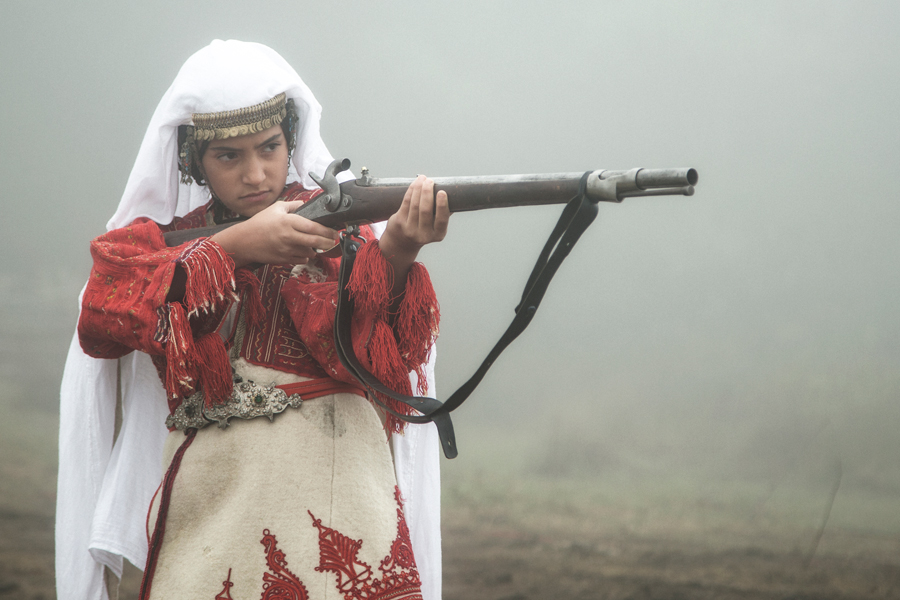 Sofia 1000, Bulgaria
This email address is being protected from spambots. You need JavaScript enabled to view it.
This email address is being protected from spambots. You need JavaScript enabled to view it.
This email address is being protected from spambots. You need JavaScript enabled to view it.
Prilaz V. Brajkovica 2
1000 Zagreb, Croatia
Phone: +385 (0)1 6524737
Fax: +385 (0)1 6524741
Mobile: +385 (0) 981715624
This email address is being protected from spambots. You need JavaScript enabled to view it.
www.focusmedia.hr 
Credits:
Director: Zornitsa Sophia
Scriptwriter: Zornitsa Sophia
DoP: Krum Luis Alirio Rodriguez
Production designer: Irena Muratova
Costumes designer: Marta Mironska
Sound:Petar Kralev, Ivan Andreev
Editing: Vicktoria Radoslavova
Cast: Zornitsa Sophia, Valeri Yordanov, Goran Gunchev, Dimitar Selenski, Yordan Bikov, Vladimir Zombori, Petar Genkov, Leart Dokle, Dimitar Trukanov