On 26 February 2020 the Polish Film Academy hosted a special meeting with the Eagle Nominees 2020, who received nominations for the Polish Film Awards from the hands of the President of the Polish Film Academy Dariusz Jabłoński. The list of this year's nominees includes, among others, Krystyna Janda, Eliza Rycembel, Aleksandra Konieczna, Maria Sobocińska, Marta Żmuda-Trzebiatowska, Tomasz Ziętek, Sebastian Stankiewicz, Robert Więckiewicz, Paweł Wilczak, Borys Szyc, Allan Starski, Marcin Krzyśmieowicz, Bartosz Kruhlik and Tomasz Siekielski. During the conference the first winner of this year's Eagles was also announced: Maja Komorowska will receive the Life Achievement Award this year.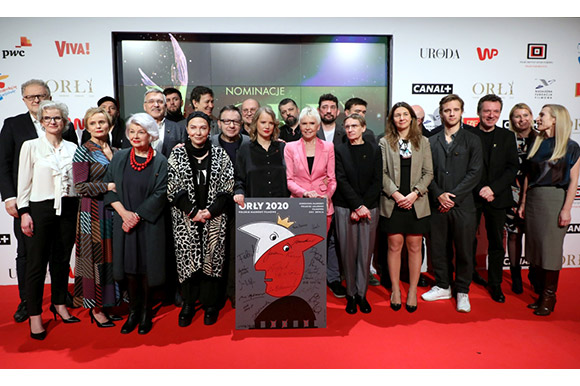 She started her career at Jerzy Grotowski's theatre first in Opole, then in Wrocław. In film, she created unforgettable roles in the works of Krzysztof Zanussi, including Family Life, Behind the Wall (TOR Film Studio), Quarterly Balance Sheet and Gallop (TOR Film Studio), for which she was awarded many times in Poland and abroad. She also starred in films directed by Andrzej Wajda - The Wedding (Zespół Filmowy X), Katyn (Akson Studio), Tadeusz Konwicki's How Far Away, How Close (Zespół Filmowy Plan), Lava (Zespół Filmowy Persoektywa), in the famous Decalogue I (TVP) by Krzysztof Kieślowski and in the film Popiełuszko. Freedom Is in Us (Focus Producers) by Rafał Wieczyński. During martial law 1981-1983, she was involved in helping families of internees, and gave them real support.
The Polish Film Awards - The Eagles have been organised by the Independent Film Foundation since 1999. They are considered to be the Polish equivalent of American Oscars, French Cesars and British BAFTA awards. The films are chosen by over 600 members of the Polish Film Academy in a two-step vote.