Circassians often appear in 19th century literature, especially the beautiful women, who pop up in the works of Byron, Mark Twain and Voltaire among others.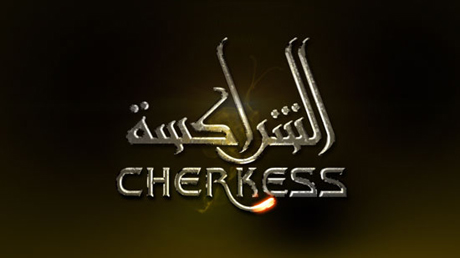 But most people really know very little about this ancient people who originated in the North Caucasus and have spread out around the world. Cherkess, a new film directed by well known author and Hollywood scriptwriter, Mohydeen Quandour, brings the dashing horsemen and fiery beauties of legend to life with a stunningly shot historical tale about the Circassians and their epic migration from their homeland in southern Russia to Jordan.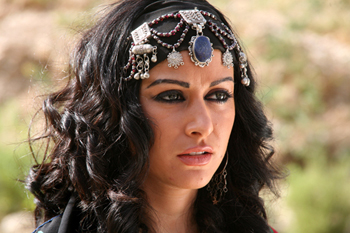 There is plenty of action and good story telling on display here but most of all Quandour gives us a heart-warming, universal tale of how people from totally different backgrounds manage to come to accept and understand each other and learn to live together without blood-shed. It's a story that should be shown in every school and maybe to a few politicians as well. The film will unspool in the official programme of the Monaco Film Festival (2-5 December)
The film's story begins in 1900 with the arrival of the Circassians who were driven out of their homeland by the Russian Tsar in what was then Ottoman Transjordan. The Circassians are farmers and their men and women are freedom loving and independent. They are determined to live peacefully with the nomadic Bedouins who inhabit the area even though it seems the two cultures are on a collision course. But the two groups find common ground in their love of horses and the courage and daring of their young men.
The seemingly peaceful state between the Cherkess and the Bedouins will soon be shattered when a young Circassian boy falls in love with a Bedouin maiden. Unable to ask her Bedouin father for her hand in marriage he follows the Circassian custom of "kidnapping" his bride and carrying her off. This looks like a prelude to all-out war between the two groups. But unexpectedly the wisdom of the elders who come to a tolerant compromise leads to a joint wedding and a happy ending. In today's world of non-stop violence both on screen and off, it makes a refreshing change to see matters resolved peacefully.
Not that there isn't plenty of action in Cherkess with magnificent scenes of horsemanship and combat. Quandour has also managed to find a talented cast of actors to people his Arab language film. But the body count is very low, there are no special effects and the sex is off screen. This is about story telling and Quandour tells a good tale that keeps up the pace from start to finish.
Quandour is not a stranger to telling good tales as he has published no less than 14 novels and was a regular scriptwriter on notable Hollywood TV series Bonanza and Mannix. His credits as director include Cold Wind, The Spectre of Edgar Allan Poe with Robert Walker and Cesar Romero and Lost in Chechnya. Cherkess is his first film in Arabic.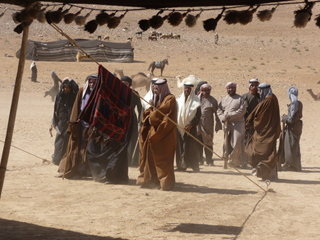 The film was backed by the Royal Film Commission of Jordan and shot primarily in Jordan and its locations are one of its greatest strengths. The Commission was set up primarily to attract international productions to use Jordanian locations and Cherkess is certainly a good calling card. As part of the Commission's programme they have opened a film school and also begun encouraging local film productions. Prince Ali bin Al Hussein (brother of the king) is also the head of the RFC.
In summer 2009 the Prince invited Quandour, who makes his home in the UK but is Jordanian by birth, to visit Jordan in the hopes that the internationally known author and director would help to kick-start the film industry there.
The project Cherkess grew out of that visit.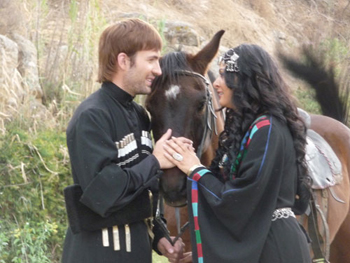 Quandour said: "The story of the presence of the Cherkess or Circassians in Jordan and throughout the Middle East has been a bit of an enigma to the inhabitants of the area. The Circassians are there, but few know how or why this blond white race arrived in their midst. Their arrival and their experience had never been dealt with in novels or in the TV media. It had always fascinated me how these two completely alien cultures met and co-existed in the territory (during the Ottoman period ) which later became Jordan. How they resolved their differences and accommodated each other's traditions contained a universal message which I felt worth sharing. The medium of cinema seemed the best medium to do that on a world-wide scale."
The film shot in Jordan in October 2009 and Russian DOP Nikolai Troukhin has captured the Jordan's dramatic landscapes with great artistry that is one of the film's highlights.
Cherkess has more than fulfilled its mission for the RFC. The film beat Avatar at the box office during its five week run in Jordan. It has also encouraged investment in the new industry and several projects are being developed for production in 2011 and financing is becoming available for film production in the country.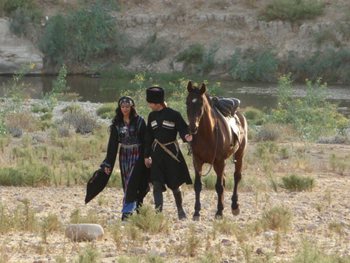 Sales:
Contact: M I Quandour. This email address is being protected from spambots. You need JavaScript enabled to view it.
or This email address is being protected from spambots. You need JavaScript enabled to view it.

Tel: +44 7933372525
or +962795966606
Web: www.sindikaproductions.com
Credits:

Cast:

Stars
Sahar Bishara
Azamat Bekov

Leading Actors
Mohamad Al Abadi
Ruslan Firov
Mohadeen Komakhov
Supporting
| | |
| --- | --- |
| Jamil Barahme | Bacir Shibzoukhov |
| Mahmoud Al Dmour | Ludmila Sharemetova |
| Ibrahim Abu El Kher | Bella Bja'omikhova |
| Rifaat Al Najaar | Jana Hamoukova |
| Mohamed Keshokov | Mohammad Kishokov |
| Basila El Ali | Kemal Jalouka |
Production Staff

Producer/Director: Mohydeen Quandour
Screenwriter: Mohydeen Quandour
Executive Producer& 2nd Producer: Luba Balagova
Line Producer: Essam Hijawi,
Art Director: Jamil Awad,
Director of Photograph: Nikolay Troukhin,
Sound Engineer: Robi Guever,
Make-up Artist: Abir Odeh


Sponsored Statement