Lavinia, a single mother, is trying to make a better living for herself and her son, in a poor Romanian village. On her own terms. She's impulsive, she miscalculates, she doesn't know very well how to love. However Dani, her 13 years old son, needs his mother more than ever during this period of his life, at the threshold between childhood and adolescence. In the course of the four seasons, Dani and Lavinia's relationship is put to the test.
Mihaela Subţirică and Ştefan Costea play the main characters, and the cast includes Vasile Pavel Digudai, Eliza Bercu, Nicu Mihoc and Iulian Postelnicu.
"I was lucky to collaborate with the screenwriter and director Andreea Cristina Borțun on her previous short films, and her careful way of probing her characters and creating some typologies of women so current made me look forward to her feature film debut. Andreea's fiction work blends visual poetry and anthropology to explore the origins, female point of view and nature, while her recent documentaries give voice to women from the rural areas and underrepresented communities of the Romanian South, all adding up to an extensive research for what Blue Banks represents", producer Gabi Suciu told FNE.
Gabi Suciu is producing through Romania's Atelier de Film in coproduction with Jean-Laurent Csinidis and Jérôme Nunes through France's Films de Force Majeure and Ales Pavlin through Slovenia's Perfo d.o.o.. The Romanian Film Centre (CNC), Eurimages, France's CNC (Cinémas du Monde) and Région Sud, the Slovenian Film Centre and MEDIA Creative Europe are supporting the project.
The budget is approximately 1.3 m EUR.
The project was developed at Less is More, First Films First and the Budapest Debut Film Forum, and it was also showcased at CineLink Sarajevo, Venice Production Bridge and the Transilvania IFF, where it won the Transilvania Pitch Stop Award presented by Dacin Sara.
The shooting started on 16 February 2023 and is planned for 47 days throughout 2023. Romanian cinematographer Laurențiu Răducanu is shooting the film in several villages in the Călărași and Teleorman counties, as well as for a couple of days in Marseille, France.
"We moved away from Bucharest's safe shooting environment and went to untrotted villages in Southern Romania to make this film. We had to build the main location, we face challenges due to changing environment from one season to the other, communities that aren't familiar with the process of filmmaking and the lack of infrastructure in lots of the locations, but it is all worthwhile to show the Western eye a glimpse into the Eastern migrant's home as never seen before," Gabi Suciu added.
Blue Banks is set to be finished in 2024 and it will be released in Romania by Follow Art Distribution. Negotiations for a sales agent are underway.
Andreea Cristina Borţun is also co-founder of the Pustnik screenwriting residency.
Production Information: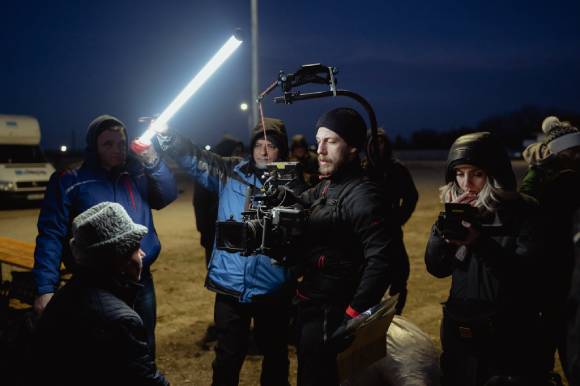 Producer:
Atelier de Film (Romania)
This email address is being protected from spambots. You need JavaScript enabled to view it.
Coproducers:
Films de Force Majeure (France)
Perfo d.o.o. (Slovenia)
Credits:
Director: Andreea Cristina Borţun
Scriptwriter: Andreea Cristina Borţun
DoP: Laurențiu Răducanu
Editor: Tudor D. Popescu
Cast: Mihaela Subţirică, Ştefan Costea, Vasile Pavel Digudai, Eliza Bercu, Nicu Mihoc, Iulian Postelnicu