The script for Stitches was inspired by the testimonial of a seamstress from Belgrade, who had been searching for her "dead son" for almost two decades. She had been fighting with hospital administration and doctors, the police, courts and municipality officials, in order to get the death certificate that would prove where her newborn son was buried. After almost 20 years, she believes that she has found her son in a suburban neighborhood some 15 kilometers from Belgrade. 
Elma Tataragić penned the script. The cast includes Snežana Bogdanović, Marko Baćević, Jovana Stoiljković, Vesna Trivalić, Dragana Varagić, Pavle Čemerikić, Ksenija Marinković, Jelena Stupljanin and Igor Benčina.
The film was produced by Milena Trobozić Garfield and Uliks Fehmiu through West End Production in coproduction with Slovenia's Nora Production, Croatia's Spiritus Movens and Bosnia and Herzegovina's scca.Pro.ba. The project was supported by Film Centre Serbia, the Croatian Audiovisual Centre, the Slovenian Film Centre, the Foundation for Cinematography and Eurimages.
Stitches had its world premiere in 2019 Berlinale's Panorama programme, where it won two awards – the Label Europa Cinema Award and the second place Panorama Audience Award.
MCF Megacom Film will release the film in Serbia on 14 March 2019.
Production Information:
Producer:
West End Production (Serbia)
This email address is being protected from spambots. You need JavaScript enabled to view it.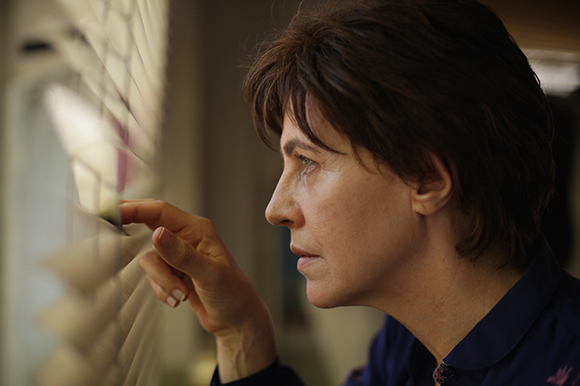 Coproducers:
Nora Production (Slovenia)
Spiritus Movens (Croatia)
scca.Pro.ba (Bosnia and Herzegovina)
Credits:
Director: Miroslav Terzić
Scriptwriter: Elma Tataragić
DoP: Damjan Radovanović
Cast: Snežana Bogdanović, Marko Baćević, Jovana Stoiljković, Vesna Trivalić, Dragana Varagić, Pavle Čemerikić, Ksenija Marinković, Jelena Stupljanin, Igor Benčinaa