It is a scorching August on the streets of Belgrade. A cocky teenage girl Aya breaks up with her boyfriend for the umpteenth time. A little while later, hanging out with her friends, she gets bullied and stabbed by a gang of local kids. The film depicts the rest of Aya's day as she struggles between taking revenge and making up with her boyfriend. In 20 sequence shots, it tells an obsessive love story set in the teenage girl's day, that might just be every parent's worst nightmare.
Dragan Nikolić wrote the script. The key roles are played by: Kristina Kika Jovanović, Đurđina Radić, Mladen Sovilj, Marko Janketić and Milan Čučilović.
The film was produced by Kinematografska kuća, Marinis media and Platforma, and it was supported by Film Center Serbia.
Cutting Close enters regular cinema distribution on 28 February 2019, distributed by MCF MegaCom Film.
Production Information:
Producers:
Kinematografska kuća (Serbia)
Marinis media (Croatia)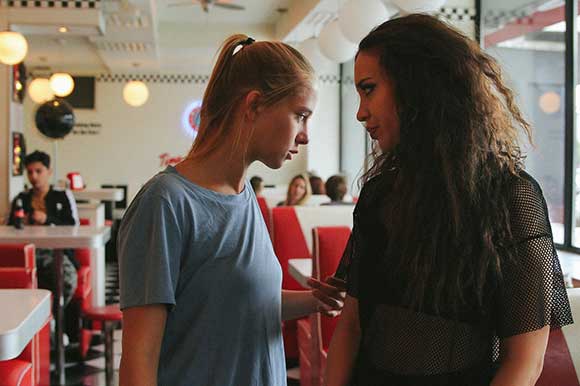 Platforma (Serbia)
Contact:
Miloš Ivanović (Platforma)
This email address is being protected from spambots. You need JavaScript enabled to view it.
Credits:
Director: Kosta Đorđević
Scriptwriter: Dragan Nikolić
DoP: Bojana Andrić
Cast: Kristina Kika Jovanović, Đurđina Radić, Mladen Sovilj, Marko Janketić, Milan Čučilović