"Right now we are in postproduction with the picture, editing and special effects, and we are waiting for a big amount of snow for the last two of the 45 shooting days," producer Silvia Panáková from ARINA told FNE.
The story of the film, which is being shot in black and white, is set in the small mountain village of Piargy on the Slovak border in 1939. The mysterious drama about the rebirth of the Antichrist reflects on human suffering and is a metaphorical allusion to the biblical story of Sodom and Gomorrah.
The main shooting of the four-season film took place during the summer and autumn of 2018 in the Czech Republic (Třebíč) and diferent parts of Slovakia (Martin, Banská Štiavnica, Sitno, Bratislava, Lozorno, Terchová, Krahule).
Piargy is coproduced by the Czech company i/o post, Story Scope of North Macedonia and RTVS. The estimated budget is 1.6 m EUR. The film was supported by the Slovak Audiovisual Fund, the Czech Film Fund, North Macedonia Film Agency, RTVS and the Ministry of Culture of the Slovak Republic.
The release is set for 2021 and the film will be distributed in Slovakia and the Czech Republic by CINEMART.
Production information:
Producer:
ARINA (Slovakia)
This email address is being protected from spambots. You need JavaScript enabled to view it.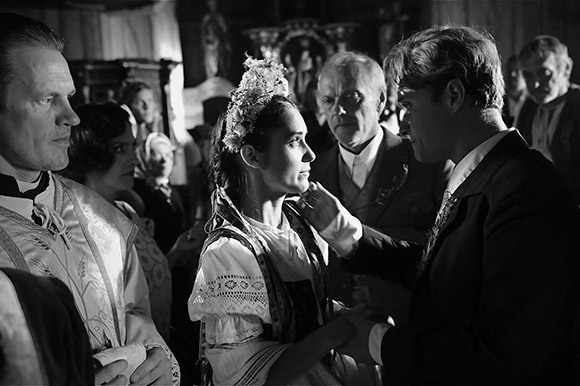 Coproducer:
i/o post (Czech Republic)
Story Scope Production (Macedonia)
RTVS (Slovakia)
Credits:
Director: Ivo Trajkov
Story based on: František Švantner
Screenplay: Jana Skořepová, Ivo Trajkov
DoP: Peter Bencsík
Editor: Michal Reich
Set Design: Tomáš Berka
Costumes: Anita Hroššová
Sound: Peter Kučera
Casting: Judit Bárdos, Attila Mokoš, Jana Kvantíková, Daniel Fischer, Marián Geišberg, Ivan Martinka, Lucia Klein Svoboda, Jana Oľhová, Lucia Siposová, Peter Nádasdi, Verica Nedeska