This year the organisers decided to announce the winners at a press conference on 27 June 2021 at the Press Centre in Kulturpark Košice, as various restrictions still apply at the border.
The winners were chosen from the nine competition films by a jury composed of playwright Maja Hriešik, director Tereza Nvotová and actress Natália Germáni.
The artistic director of the festival Peter Nagel announced the date of the next edition as 17 – 25 June 2022.
FULL LIST OF WINNERS:
Best Film:
Pleasure (Sweden, the Netherlands, France)
Directed by Ninja Thyberg
Best Director:
Ivan Ikić for Oasis / Oaza (Serbia, Slovenia, the Netherlands, France, Bosnia and Herzegovina)
Produced by SENSE Production
Coproduced by Kepler Film (NL), Tramal Films (SL), SCCA / Pro.ba (BH), Les Films d'Antoine (FR)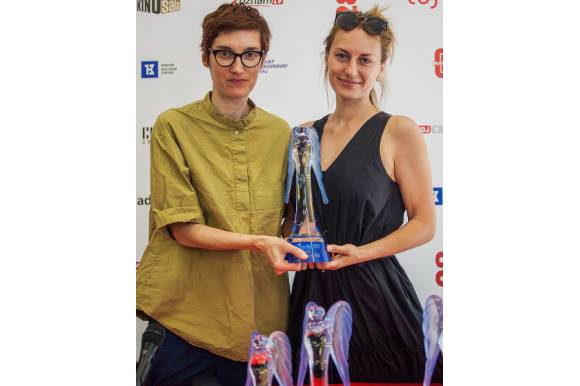 Supported by Film Center Serbia, the Slovenian Film Center, the Netherlands Film Fund, the Sarajevo Cinema Fund, Creative Europe - MEDIA and Eurimages
Best Actress:
Sofia Kappel for Pleasure (Sweden, the Netherlands, France)
Directed by Ninja Thyberg
Best Actor:
Vladimir Onochov for The Whaler Boy / Kitoboy (Russia, Poland, Belgium)
Directed by Philipp Yuryev
Produced by Rock Films (RU)
Coproduced by Orka (PL), Mans Film Productions (BE)
Supported by the Polish Film Institute
Special Mention:
Michał Dymek, the DOP of Sweat (Poland, Sweden, France)
Directed by Magnus von Horn
Produced by Lava Films (PL)
Coproduced by Zentropa Sweden (SE), EC1 Łódź – Miasto Kultury, Di Factory (PL), Opus Film (PL), Film i Väst (SE), Canal+ (PL), Ciné: ma Defacto (FR)
Supported by the Polish Film Institute, the Swedish Film Institute and Creative Europe
Audience Award:
The Big Hit / Un triomphe (Australia, Canada, Spain, France)
Directed by Emmanuel Courcol