FNE: When and how did the story of Kinodvor begin?
Koen Van Daele: Well, it's a long story. But to try to keep it brief: our hall opened in 1923 and it has remained a cinema for the past 95 years. Kinodvor was re-profiled as an art-house cinema in 2003. This was an initiative of the Slovene Cinematheque in collaboration with the Municipality of Ljubljana - that owns the building - and the Ministry of Culture. When five years later the Cinematheque's new management abandoned the project, the Ljubljana municipality immediately took over. Within less than two months they established a public institution to launch Kinodvor as a 'city cinema', basically a place that would make quality cinema permanently accessible to the capital's inhabitants. It had to be a first-run theatre for quality, art-house titles. Acknowledging the importance of audience development, Kinodvor had to have a special young audience programme and develop film-educational activities. Kinodvor also had to be the town's main film festival centre.
FNE: What is Kinodvor's formula for success?
Nina Peče Grilc: CINEMA = FILM + AUDIENCE. This means that we run the cinema as a cultural institution devoted to the development of film culture. We take films seriously, with the utmost respect. We imagine that Kinodvor is where films like to go to the movies. But at the same time, we seek audiences that will appreciate these films. Programme diversity allows us to attract diverse audiences, but our approach is as precise as possible in terms of communicating specific programmes to their targeted audiences. We see Kinodvor as more than a cinema. Its profile is based on inclusivity, where people of all ages, tastes, interests, habits and needs can enjoy films, talks, events and workshops, or simply enjoy our café - and this inclusive profile has become an integral part of Ljubljana's wider urban cultural lifestyle.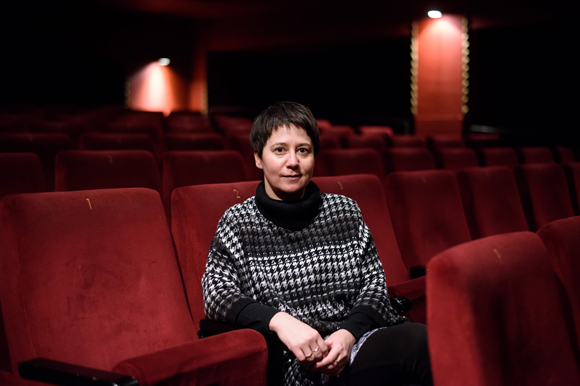 FNE: What was the main obstacle when building the story of Kinodvor?
Koen Van Daele: As far as financing was concerned, the deal with the Ljubljana Municipality was clear and simple from the start: they would cover 6 full-time salaries and 50% of its overall budget. We also got free use of the building. From our side we had to guarantee to have a minimum of 50,000 admissions per year, and we had to be able to generate the remaining 50% of the budget. For a single-screen cinema with less than 200 seats in a town with a population of less than 300.000 this was considered a very ambitious goal, especially by our strategic business partners, such as the Slovene film distributors. But to everybody's surprise, already in the first year we had over 60,000 admissions and within the next three years we doubled that number.
I think that the only serious obstacle in our development was space. Currently we have a hall of 188 seats and a couple of years ago we converted a room located under our balcony into a hall with 21 seats. We use that screening room exclusively for children and documentary programming. The fact that we have only those two screens is the main reason why we haven't been able to increase our admissions since 2012. Now we have around 120,000 admissions per year. But when we say space was the main obstacle, I would like to add it is not only about the obvious lack of screens. It is also about having enough space to let audiences of all generations feel comfortable and at home in Kinodvor. And this is a constant balancing act. For instance: at certain times during the day our cinema and cafe needs to be children and family friendly. And a couple of hours later that very same day it needs to be appealing and cool enough to be considered an attractive meeting point for teens or students.
Due to the lack of screens, the offer has always largely exceeded the number of films we were able to present. But the situation has changed quite a lot over these ten years. When we started in 2008, we opened approximately one new title every second week, so around 20 to 25 per year. Nowadays we have around 60 titles that have an extended or limited run at Kinodvor. In other words: more than 1 per week. In addition to the films in theatrical release we have festival screenings, special events, temporary imports, etc. Annually we screen around 300 to 400 films. Digitalisation has played an important role. Since films are circulating digitally, we can now screen films that a couple of years ago were simply not available.
FNE: What was the most innovative achievement in the 10-year period of Kinodvor?
Koen Van Daele: When we took over the cinema in 2008 - although the profile and practice of Kinodvor was based on the art-house cinema profile launched five years prior to that - we felt that we had to start again from scratch and re-invent the whole cinema. It was about finding fresh and new ways to connect to audiences. In a way it was about restoring confidence in the movie-going practice. In order to do that, we had to be creative and innovative. I would say that there was not one major innovative achievement, but many different innovations. For instance: we tried to create new audience habits with the help of programme labels. "Za zamudnike" is an example of this: every Sunday at 7 pm we screen a film "for latecomers". These are films that were released a couple of months ago - not only in Kinodvor, but also quality cross-over titles from the multiplexes - which we give one extra slot. Today many people have made it their habit to come once a week to Kinodvor to that particular screening. Based on the success of the series many Slovene art-house cinemas have followed our example and appropriated the label. There are many practices which we were pioneering that have now become standard practices: the open-air screenings, our Halloween horror marathon, the special screenings for mothers with babies, etc. Talking of technical innovations: we were the first art-house cinema in Slovenia that bought digital projection equipment. Since we care about the art of film in all its expressions, we also bought a second hand 16mm projector, as well as 3D digital equipment and glasses. And, of course, we also keep our 35mm projection equipment fully operational. Paradoxical as this might sound: all of this is also part our approach to innovation.
FNE: Which are the elements that make Kinodvor unique?
Nina Peče Grilc: The variety as well as the scope of the programme is quite unique. As a public institution we have a wide cultural mission, which covers activities of different fields, such as film exhibition, film education, cultural tourism, visual arts, literature and industry oriented activities. This wide spectre of engagement enables us a direct contact with diverse audiences, it encourages us as the trendsetters, which brings both advantages and responsibilities.
FNE: What do you see as your most important personal achievement?
Nina Peče Grilc: We've gone through an enormous amount of events and actions in these past 10 years. They are so different from each other and carry different values as well as achievements. Personally, I'm most proud that we have established a well respected and vibrant cultural institution for cinema. Based on its positive results as well as cultural and social impact we are able to raise the awareness of why cinema development is of vital cultural as well as social importance.
Koen Van Daele: To me one of the greatest achievements of the first 10 years of Kinodvor is that most of our visitors have come to take all that we offer for granted. Whoever comes to Kinodvor expects a film that is more than mere entertainment, a quality experience, a perfect projection, a printed monthly publication with quality background texts, a good introduction, an interesting talk after the projection, etc. It is wonderful to see how everybody is becoming more and more demanding. Wonderful because that means that we have succeeded in raising the standard.
FNE: What did the 'Europa Cinemas Prize for the best Young Audience activity' (which you received in 2010) mean to you and your colleagues?
Nina Peče Grilc: It's certainly one of the highlights of the past 10 years. We had been proud to inherit the membership within the Europa Cinemas Network and by receiving this prize, as well as later becoming a board member at this acclaimed cinema association, we have taken our involvement yet to another level. The recognition of related professionals is as important as media and audience attention. It gives your work extra weight and new opportunities. Since 2010 the award-winning Kinobalon's model for a young audiences and film education programme has spread among art house cinemas in Slovenia, we have organised two international conferences on film education and collaborated with the Slovenian Film Centre on the national strategy of film education, which will be reintroduced in the school curriculum of 2019/2020.
FNE: How can you describe your international cooperation with other art house cinemas?
Nina Peče Grilc: We've earned the respect of our international colleagues and we try to be an inspiration and example by presenting our cinema as well as numerous activities at different occasions. Europa Cinemas is a great platform for networking, inspiration and learning. We can share our ideas and experiences at biennial conferences or regular Innovation Labs. I'll have the opportunity to lead the Innovation Day Lab together with my colleague Marynia Gierat (Kino Pod Baranami in Krakow, Poland) at the Thessaloniki Film Festival in November and meet with representatives of Greek cinemas. And last week we hosted 14 cinema representatives from two cinema networks in Sweden, who came to Ljubljana for a couple of days just to be able to observe and experience Kinodvor in person. It was a wonderful visit for the 10th anniversary!
FNE: What is your most memorable moment in the history of Kinodvor?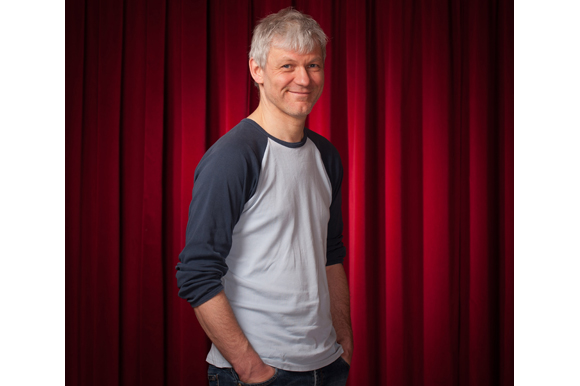 Koen Van Daele: To me this sounds a bit like asking what was my favourite film of the year. Every year when I make my Top Five, I list around 40 to 50 best films. There are simply too many great films to be able to name just five. It's the same when I look back at the past 10 years of Kinodvor. There are simply too many moments that were wonderful and memorable and make me feel proud of having been part of them, or to have enabled them. One whole season that was a particularly strong moment was our Year of Cinema, which we organised in 2013 on the occasion of the 90th anniversary of our cinema. We set up numerous special events (special screenings, exhibitions, panels, talks, etc.) in Kinodvor, as well as in town, that celebrated Cinema and Cinemas.
Nina Peče Grilc: On the day of celebrating the 1st year of Kinodvor city cinema I suddenly lost my best friend. Nika Bohinc was my entrance and tutor of cinema language. I gave birth a few months later, which armed me with a new understanding and meaning of life. I dedicate my perseverance in cinema to her memory. A few years later I was watching Tomm Moore's Song of the Sea with my daughter in my lap. Feeling her enchantment and excitement with this cinema experience was one my most joyful moments in Kinodvor.
FNE: What do you see as your favourite example of art house cinema, other than Kinodvor?
Koen Van Daele: Several Europa Cinemas members are role models for us. And we learn and steal many of their good ideas. In this respect the Europa Cinemas conferences are ideal meeting places to exchange ideas, projects, practices and experiences. During the preparation of the city cinema miniplex, which we hope to open in 2022, Nina and I have also made a number of field trips to see how our colleagues run their cinemas. Of those excursions, one of the cinemas we visited that is particularly brilliant on all levels is Watershed in Bristol.
FNE: Maybe in your personal history, some role models?
Nina Peče Grilc: My first professional experience with cinema was in 2004 when we organised the first Isola Cinema Film Festival produced by Otok Institute in cooperation with the Slovenian Cinematheque, which at the time ran an arthouse cinema Kinodvor - our city cinema today. It was an amazing event driven by cinephiles and cinema professionals such as Vlado Škafar, Koen Van Daele and the late Silvan Furlan, the director of the Slovenian Cinematheque, the people from whom I've learned how strong love for cinema can be and what measures to take for spreading this love among others. Based on that, we've developed the vision of city cinema aiming at building bridges between films and the audiences. 
FNE: Why do you believe that the audience will visit and appreciate city cinemas and enjoy watching good films in the company of strangers also in the future?
Koen Van Daele: As part of our Year of Cinema project we published a book Films You Wouldn't Want to See Anywhere Else but in a Movie Theatre. As the title suggests the idea was that there are certain films that need a cinema in order to be able to express themselves fully. We are aware that many (but not all!) films produced today can be experienced on a variety of screening platforms and have an impact that is just as powerful as if seen in a cinema. Still, for many filmmakers the cinema is still the place in which they originally intended their work to be experienced. As a mediator between the film and the audience, we consider it our duty both to the filmmaker and to the audience to present the work in the best possible conditions. And beyond that basic point - and as practice keeps on telling us - the social aspect of movie-going is still crucial. Cinema is essentially a communal experience. It is about seeing a film with other people and about sharing that experience. We also tend to forget that cinema is still a performing art. And you can have a bad or good performance. But if as a cinema you care about the film you present and the audience you show it to, and you treat both with the same respect, we are convinced people will keep on coming.
FNE: What are your three main goals for the next 10 years?
Koen Van Daele: First of all, to try to keep on deserving the trust of our audience and to keep on trying to reach new audiences. As a second - but also priority - goal: to try to open a new art-house and city cinema with 4 halls in 2022. And lastly I would like to mention two special events towards which we have began working this year: Ljubljana is making a bid to become European Capital of Culture in 2025, and we will be celebrating 100 years of Kinodvor in 2023.