The script written by Bogdan Mirică follows an ambulance driver who takes part in an armed robbery with three men he doesn't know. As the heist proves unsuccessful, he starts an investigation to uncover the true identities of his accomplices, but he will spiral into fear and paranoia.
"Boss resumes the themes I had worked on before. It is again about shattered people who are trying to survive in a hostile environment, but the difference is in the form: Boss is a film noir / a thriller where I was interested in using and interpreting the genre tropes. As a film and TV series junkie, I sometimes get frustrated by the emphasis laid on the concept and narrative at the expense of the development of the characters and atmosphere. I believe that cinema can also have a poetic side which can confuse our emotions. With Boss I wanted to see how far I can go in that direction", Bogdan Mirică told FNE.
The main character is played by Laurenţiu Bănescu and the cast includes Ioana Bugarin, Sergiu Costache, Teodor Corban, Cosmina Stratan, Cuzin Toma, Mimi Brănescu and Diana Cavallioti.
Corneliu Porumboiu and Roxana Garet are producing through Romania's 42 Km Film in coproduction with Gilles Chanial through Les Films Fauves (Luxembourg), Sean Wheelan through Filmgate Films (Sweden), and Anthony Muir and Kristina Börjeson through Film i Väst (Sweden). The Romanian Film Centre (CNC) and the Film Fund Luxembourg are supporting the project.
The budget is 1.48 m EUR.
Boss was shot during the COVID-19 pandemic and the production had to comply with all its complications. "At the end of 2019 I was just finishing the last season of the series Shadows. My plan was to start working on Boss after a short break, but the start of the pandemic turned everything upside down. Potential financements were shelved, the budget was re-calculated to allow the COVID-19 protocols and the whole relation to the project became more volatile, but I was lucky to work with a dedicated and responsible team", Mirică also said.
Boss was shot by the acclaimed Romanian cinematographer Andrei Butică in October – December 2021, during 27 shooting days.
Bogdan Mirică received the Caméra d'or Award in Cannes 2016 for his debut feature Dogs / Caini, a French/Romanian/Bulgarian coproduction between EZ Films 14 and 42Km Film, Argo Film. He also wrote and directed the three seasons of the acclaimed HBO series Shadows / Umbre (2014-2019).
Click HERE to see the newest trailer for Boss.
Production Information: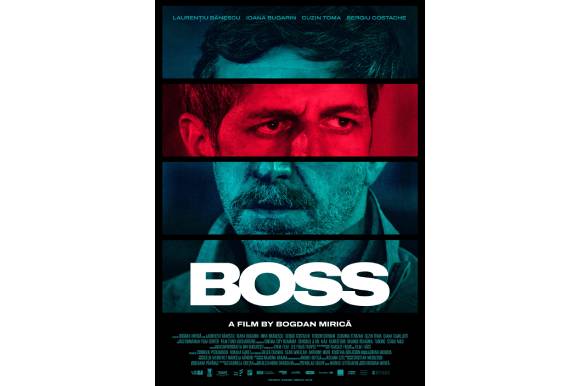 Producer:
42 Km Film (Romania)
Coproducer:
Les Films Fauves (Luxembourg)
Filmgate Films (Sweden)
Film i Väst (Sweden)
Credits:
Director: Bogdan Mirică
Scriptwriter: Bogdan Mirică
DoP: Andrei Butică
Cast: Laurenţiu Bănescu, Ioana Bugarin, Sergiu Costache, Teodor Corban, Cosmina Stratan, Cuzin Toma, Mimi Brănescu, Diana Cavallioti