The script penned by Marian Crișan is set at the end of WW2, in a remote village in the mountains in West Romania, where Nicu, a teenager whose father went to war never to return, works with the family horses pulling logs down the mountain. When more German soldiers retreating from the Russian front arrive in the village and seize his horses, Nicu takes them back and runs away into the forest trying to save them.
"One of the main themes of the film is the war and what the war means for ordinary people, in this case a teenager from a peasant family, instead of the soldiers or heroes on the battlefield. Most Romanian films from the 70s and 80s mystified history using a nationalist and false patriotic message. Usually their action was set after 23 August 1944, when the Romanians 'turned their weapons' against the Germans in order to remove the 'fascist yoke', as the words went, when the truth was that we were their allies for four years when hundreds of thousands of Romanian soldiers fought on the Eastern front and many of them were lost without trace", Marian Crișan told FNE.
The director adds that he was interested in doing a different kind of war film, one "without heroic feats and trenches" and one that could also be a universal coming of age story about a teenager in war times.
The main characters are played by Daniel Băliș, Reginald Ammons, Ovidiu Crișan, Adina Iftime, Ion Bechet and Sergiu Voloc.
Marian Crișan and Răzvan Bumbeș are producing through Romania's Rova Film in coproduction with Parmis Film (Republic of Moldova), Chainsaw Europe (Romania) and Forest Film (Romania). The coproducers are Viorel Chesaru, Dragoș Turea and Adrian Pădurețu. The Romanian Film Centre (CNC), the Moldovan National Film Centre and Cinema City Romania are supporting the project.
The budget is approximately 800,000 EUR, Marian Crișan told FNE.
The film was shot in 25 days in the summer and autumn of 2022, in the Apuseni Mountains in Romania.
Warboy is currently in the sound mix, grading and VFX stage. It is set to be finished in April-May 2023, with the release planned for the autumn of 2023 or the winter of 2024.
Production Information: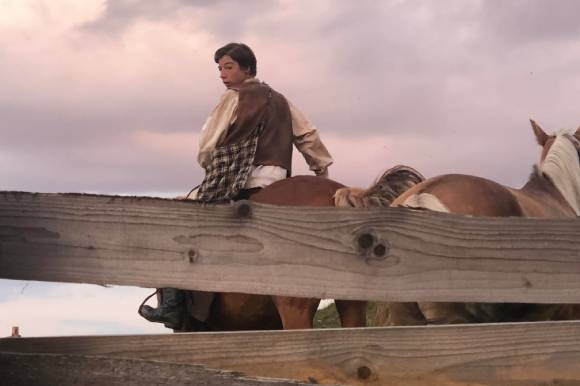 Producer:
Rova Film (Romania)
This email address is being protected from spambots. You need JavaScript enabled to view it.
Coproducers:
Parmis Film (Republic of Moldova)
Chainsaw Europe (Romania)
Forest Film (Romania)
Credits:
Director: Marian Crișan
Scriptwriter: Marian Crișan
DoP: Adrian Pădurețu
Cast: Daniel Băliș, Reginald Ammons, Ovidiu Crișan, Adina Iftime, Ion Bechet, Sergiu Voloc