Time of Hopes follows the story of the Violovský family of innkeepers during the years 1914-1952. The series shows what happens to our lives when challenged by geopolitical changes, stressing the human effort and the desire to love and to have an ordinary fulfilled life, even at the cost of defiance.
Scarlett Čanákyová penned the script and the cast includes Daniel Žulčák, Dominika Morávková-Zeleníková, Zuzana Mauréry, Katarína Krajčovičová and Róbert Sipos, among others.
"From the first to the eighth episode, the main characters age by 30 to 40 years in some cases. The make-over of the actors was more demanding with each episode. The series will have music composed and the recordings will be made with the Symphony Orchestra of the Slovak Radio," producer Zuzana Balkóová from RTVS told FNE.
Balkóová is producing together with Erik Panák. The project is supported by the RTVS and the Slovak Audiovisual Fund, and the expected budget for the 8 x 55 minute episodes is 3.8 m EUR.
The 70 shooting days took place in Slovakia (Bratislava, Malinovo, Piešťany, Trnava) and the Czech Republic (Příbram) from July 2022 until May 2023.
The estimated date of completion is November 2023 and the release date depends on the programming of RTVS.
Production information:
Producers:
Radio and Television of Slovakia (Slovakia)
This email address is being protected from spambots. You need JavaScript enabled to view it.
ARINA Film production (Slovakia)
This email address is being protected from spambots. You need JavaScript enabled to view it.
Credits: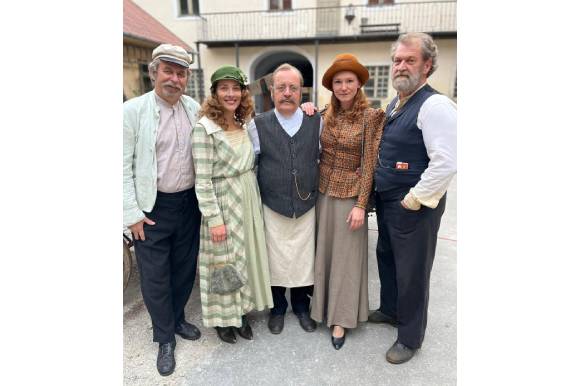 Director: Ján Sebechlebský
Screenwriter: Scarlett Čanákyová
Dramaturgy: Dana Gargulákova
Chief of dramaturgy: Jana Kákošová
DOP: Tomáš Stanek
Editors: Michal Kondrla, Richard Chomo, Zuzana Cseplo
Sound: Peter Mazáček, Marian Gregorovič
Composer: Vladimír Martinka
Architect: Tomáš Berka
Costume designer: Ján Kocman, Dorota Cigánková, Martin Kotúček
Make-up artist: Eva Unghrová
Cast: Daniel Žulčák, Dominika Morávková-Zeleníková, Zuzana Mauréry, Katarína Krajčovičová, Róbert Sipos, Martin Šalacha, Matej Landl, Dana Košická, Roman Poláčik, Judit Bárdos, Daniel Fischer, Peter Kočiš, Ady Hajdu, Marta Maťová