In a coastal town of Piran three children meet by coincidence. Robert, Barbara and Mario are coming from different social backgrounds, when a strange SMS wrongly sent to Barbara's cell phone leads them to unforgettable adventures. While solving mysteries about the medieval history of the town, friendship and first sparks of love connect them more than they can ever imagine.
"If Mark Twain had known Slovenia, especially Piran, he would have perhaps decided to write a similar story to the one as Roman Kukovič did in his novel Tartini's Key, besides his Tom Sawyer," says producer Zoran Dževerdanović, adding that youth crime genre can be also interesting to adult audiences.
The screenplay, based on Roman Kukovič's book, is written by Vinci Vogue Anžlovar. The cast includes newcomers Ella Lapajne, Maks Kerševan and Svit Šturbej, joined by renowned actors such as Goran Navojac, Jurij Drvenšek, Nenad Tokalić, Jadranka Đokić, Tanja Ribič and Boris Cavazza.
Tartini's Key is produced by Zoran Dževerdanović through Blade production in coproduction with RTV Slovenija and Italian A-LAB. The project is supported by the Slovenian Film Centre and RTV Slovenija, with technical support provided by FS Viba. "The budget is estimated at 885,000 EUR," Dževerdanović told FNE.
The shooting will take place in the Slovenian coastal town of Piran, Ljubljana and the Italian town of Muggia in May - June 2023.
Tartini's Key is expected to be finished in 2024 with the premiere scheduled for October 2024.
Production Information: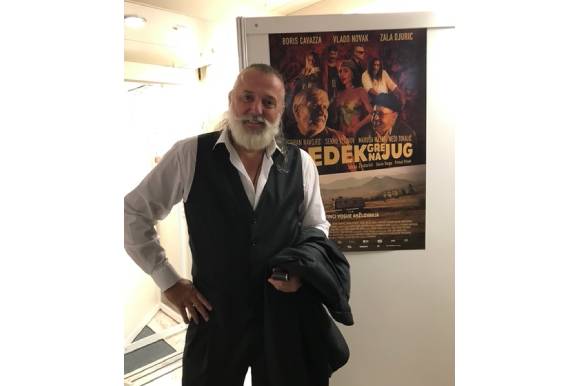 Producer:
Blade production (Slovenia)
This email address is being protected from spambots. You need JavaScript enabled to view it.
Coproducers:
RTV Slovenija (Slovenia)
A-LAB (Italy)
Credits:
Director: Vinci Vogue Anžlovar
Screenwriter: Vinci Vogue Anžlovar
DoP: Mirko Pivčevič
Cast: Ella Lapajne, Maks Kerševan, Svit Šturbej, Goran Navojac, Jurij Drvenšek, Nenad Tokalić, Jadranka Đokić, Tanja Ribič, Boris Cavazza